I know how blessed I am to have a pantry, so I'm seriously not complaining. But it's in need of some organization… especially the spices.
Awhile back, my friend Dana and I etched baby food jars for my spices, and while I love this look, sometimes it can be hard to read. So I've been wanting to add stickers to the tops too. I just went online and found free label templates, added the text for the spices I have on hand (using Picasa photo editing) and printed on a solid sheet of label paper. Then I just cut them out with a scissors, peeled off the backing, and pressed them onto the corresponding lid!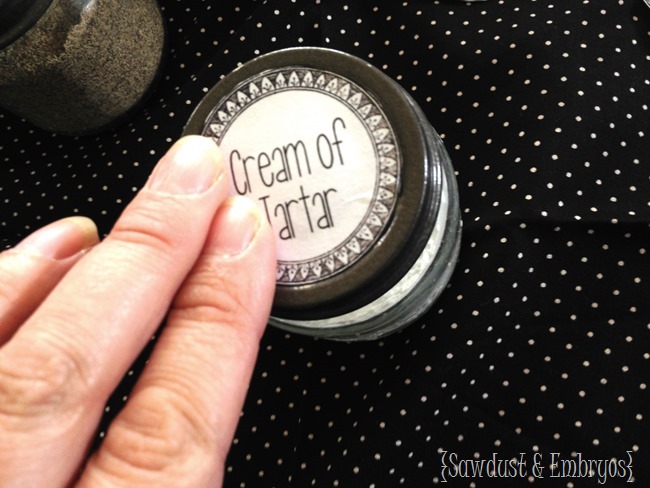 There are so many creative spice storage solutions out there, but none of them really fit my needs. Check out these genius storage solutions!
Since none of these ideas would work for our kitchen configuration, I set out to find a way to affix them below our cabinets. My two objectives were that they needed to be easily accessible while I'm at the counter cooking, and I needed to be able to see which spice is which without having to fumble through them. I used two strips of Scotch Indoor Fasteners and pressed them firmly about an inch below the cabinets. As you know, our backsplash is just drywall painted to look like a tile backsplash… but these fasteners can be affixed to just about anything (wood, metal, brick, you name it!).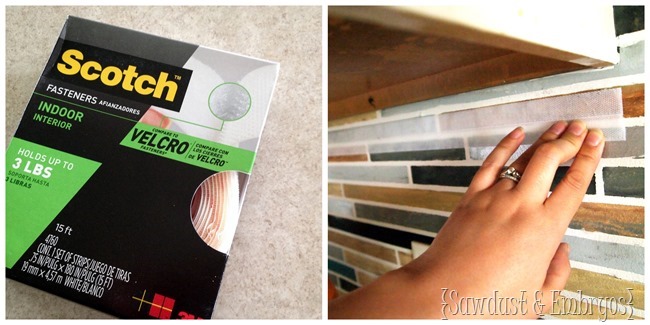 Then I took the corresponding strip of Scotch Fastener and cut two small strips to cover the bottom of each baby food jar.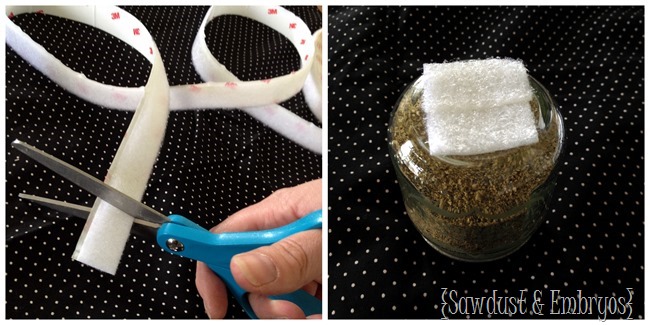 THAT IS ALL. Simplest project on the face.
Just slap those bad boys up onto their new home, and stand back and admire your intense organization skills. This project literally took me about a half hour.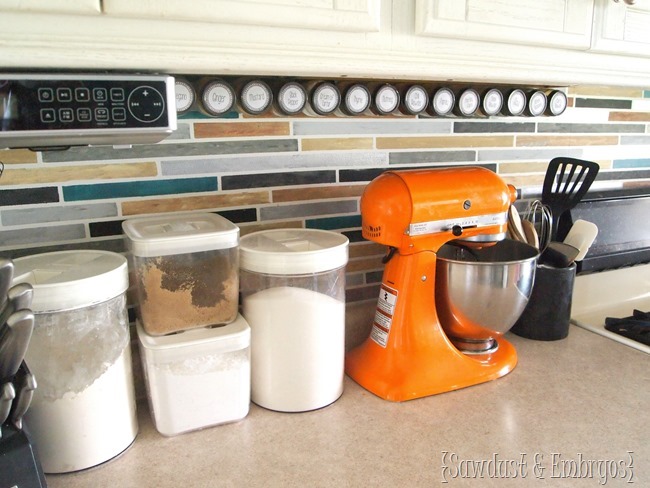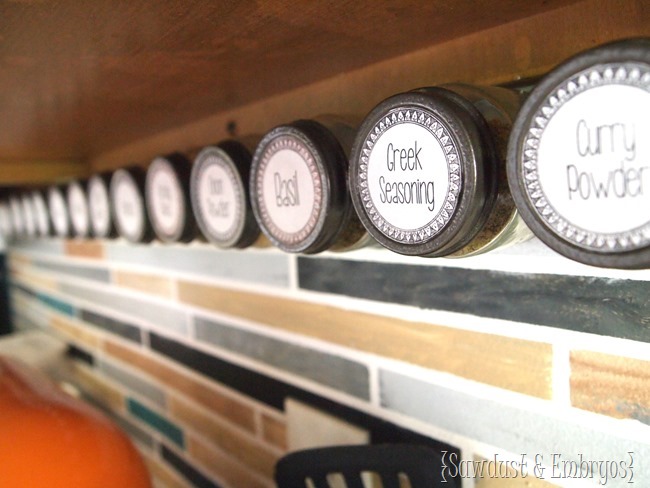 I love how they almost add a design element to my kitchen. No more cluttered spice jars!
UPDATE: the velcro situation worked for about 6 months, but then the adhesive started falling off the jars, and the strip that was on the wall actually started pulling a hunk of drywall off the wall from the weight. Since then, I've found this brilliant company called Gneiss Spice and they carry darling spice jars in two different sizes, AND they're magnetic! You can even order the magnetic plate to be a custom size to fit your needs. I did a Facebook LIVE about it if you want more info.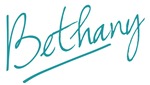 If your new around these parts, be sure to check out some of the other budget-friendly projects we've done in our kitchen!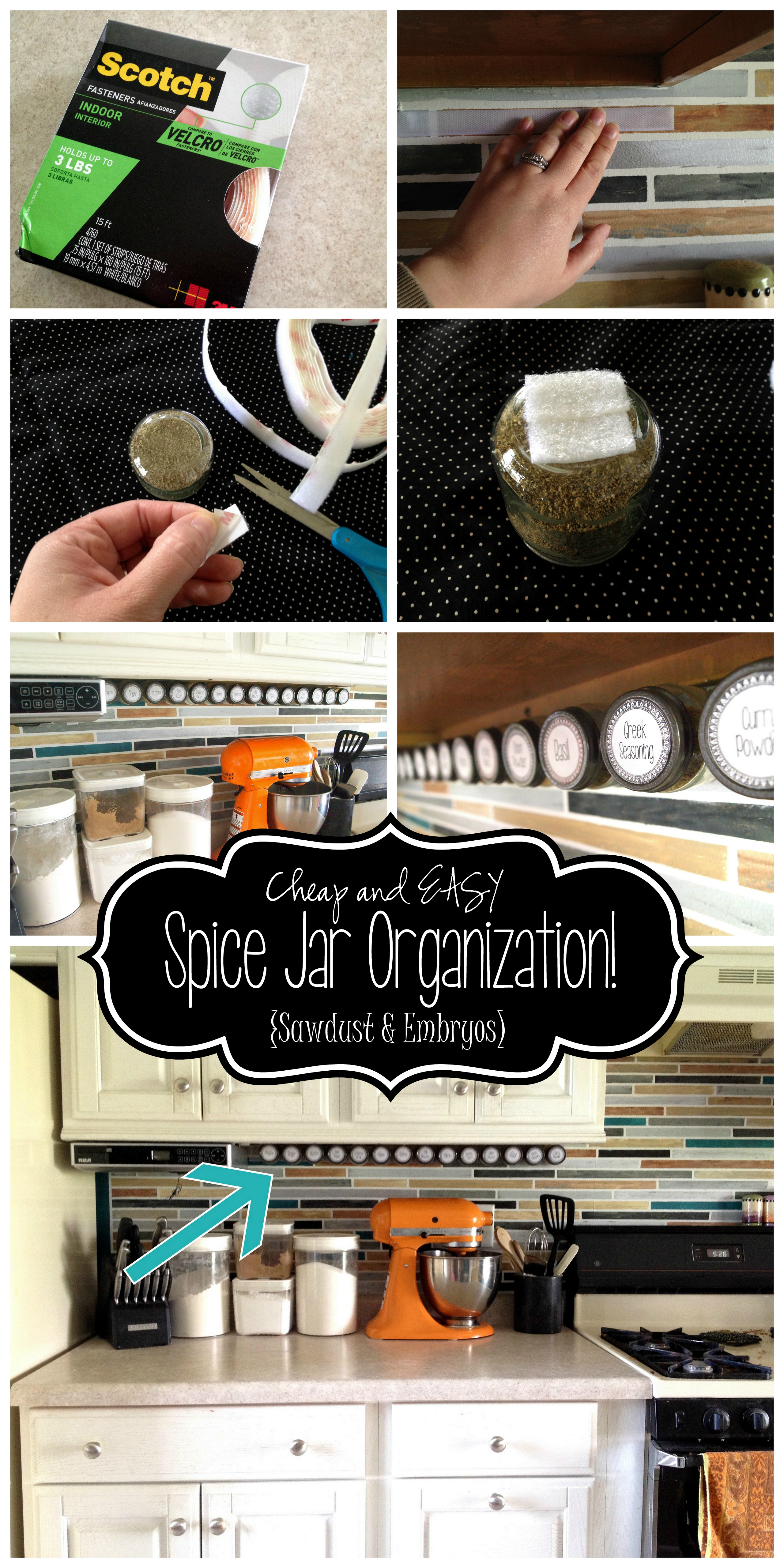 This post is sponsored by Scotch 3M, but all ideas and opinions are ours!