Hi! I'm Paisley, Bethany's daughter. I just turned 9 years old! Today, I'm making these amazing scroll saw'd rainbows, and I'm going to show you how to make them too! I do admit, they're not all perfect. But that's part of the charm, right?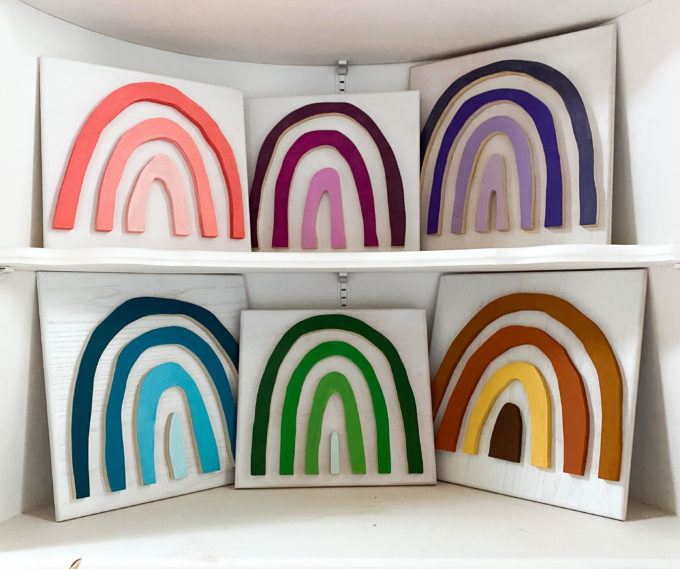 Supplies
1/2″ plywood
pencil
scroll saw
acrylic craft paint
craft paintbrush
sand paper
wood glue
additional plywood slab for mounting
Step 1
First thing we do, is grab the 1/2" of plywood. Using a pencil, lightly draw on your rainbows however big you want. If it doesn't look right, erase that spot and try again.
Step 2
When your done with drawing, take your board to the scroll saw. Start by the end of the board, where the pencil lines start.
When your done, make sure it looks like below!
Continue cutting each bow until they're all cut out.
Step 3
Now that are bows are cut out, sanding time is ready. Grab your sand paper and start sanding the edges and corners. As dust is falling from the wood, you might want to make sure that all the prickly wood that was sticking out is getting sanded off. Go Pro!
Continue sanding all bows.
Step 4
Now that we've drawn, cut and sanded all bows, you need to grab some acrylic paint while your at it. You can grab any colors. I usually do stuff like Dark purple, Normal purple and Light purple. But I am planning to do Red, Orange, Yellow, Green, Blue and purple. P.S, split the rainbows in half so that there are spaces in both of them.
These are the colors of my green rainbow. (You'll see the green bow in the end.) Set up newspaper on a table and set your rainbows on them. Fill a cup full of water and grab your craft paintbrush. Of course, it'll be easier if you have a skinny brush, but thick works as long as it fits on your bows. We used a paper plate to pour the paint on, but you can use any thing as long as it works. Use your brush and dip the top into the paint. Lightly brush the paint onto your bow. Make sure there is no blobs. I repeat, NO BLOBS!
Continue painting until both bows are painted.
Step 5
Let the bows dry for a while and continue your day.
About 10 min later
Sand the edges again to get off the drips of paint. Any how, keep sanding until both the rainbows are finished. It may take minutes, hours or even Years! Okay maybe not hours or years. But we are getting off the point. Keep sanding. Once the rainbows are done with sanding, mount them onto the additional plywood slab. You will need 2 plywood slabs.
Step 6
Grab wood glue. The glue will now say boo! We are going to… glue these rainbows onto these slabs. You need to flip the rainbow over to get the glue onto the bottom. If you don't feel comfortable doing glue on the floor you can use paper or you can do this on a craft table or outside. Start gluing a thin line on the bottom of a bow. Press it onto the slab.
Keep going until all rainbows are done. And this is really important, KEEP THE GLUE LINE SKINNY!!!!!!!!!!!!!! If you don't, the glue will press out under the rainbow when you push it. In case your wondering, let's just say I learn from mistakes. Don't ask. Really, its a long story. When all the rainbows are glued and put in place, leave them for a while. Your back must be hurting. That's why we're stopping. (You should be let in on the secret. The actual reason we're stopping is because the glue needs to dry.) I don't mean to be silly, snort its just that, snort this has to giggle be interesting ha ha! right??
Step 7
Once the glue is dry on the wood, it should look like below.
You notice how its quirky and looks super hand drawn? That is the look we were going for.!
Goodbye! I really appreciate being able to right this post! I'm glad you could read and I'm exited to see what you come up with!
~Paisley
~~~~~~~~~~~~~~~~~~~~~
Psssst! Be sure to check out my mom's other Scroll saw projects and tutorials!
And if you love rainbows like I do, I know you'll love these Rainbow Wall Planters my mom made that have a very similar vibe to my rainbows!!
~~~~~~~~~~~~~~~~~~~~
Thank you for pinning!