A lovely reader asked a very valid question recently, and we decided to answer… and bare it all. Here's her inquiry.
What do you do to stay motivated in the the middle of a project? I have begun and I am nearly at the end of redoing these book shelves and have not completed it! It drives me nuts! Any advice on getting started again? I think picking the final paint color is mentally blocking me!   ~Gina
K first of all… I think it's just human nature to get in the middle of something, and then lose your burning passion. And then you find yourself procrastinating because you're no longer excited.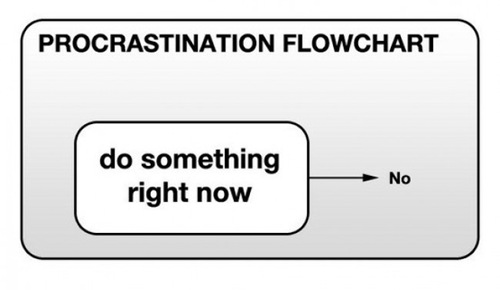 For me, it's always one of the two categories:
I get distracted and find something else I'm more passionate about (SQUIRREL!)
I'm not confident in my abilities… or there's an unexpected hang-up and the project intimidates me
Let's talk about the first reason… DISTRACTION! It happens to the best of us. We start a project with the best intentions, and the fires of our DIY passion is blazing strongly in the most creative corner of our hearts.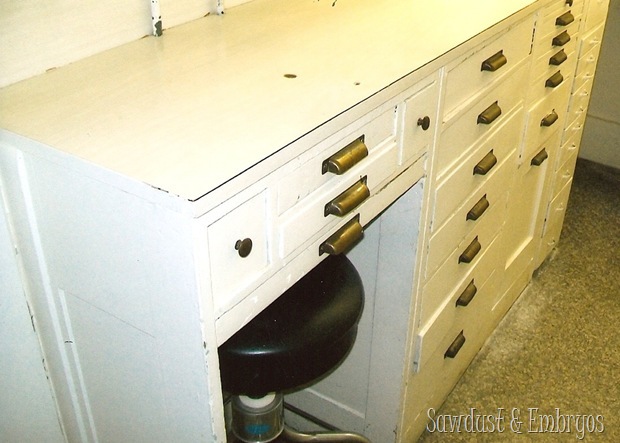 But then it starts getting old. Perhaps the project is more work than you thought it was? Perhaps there are MANY more layers of poisonous lead-based paint on that treasured apothecary cabinet, and you only ended up stripping two drawers before slapping yourself and moving on to a project that provides more instant gratification.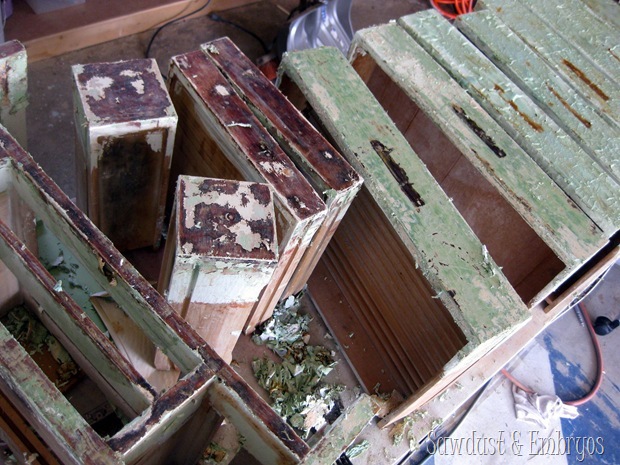 Would you believe this cabinet is still sitting in a corner of the garage, abandoned for the last 8 months? Don't get me wrong, I still love it. But I will need to be very bored to jump back into this. And YES, it's lead-based paint. So yuck.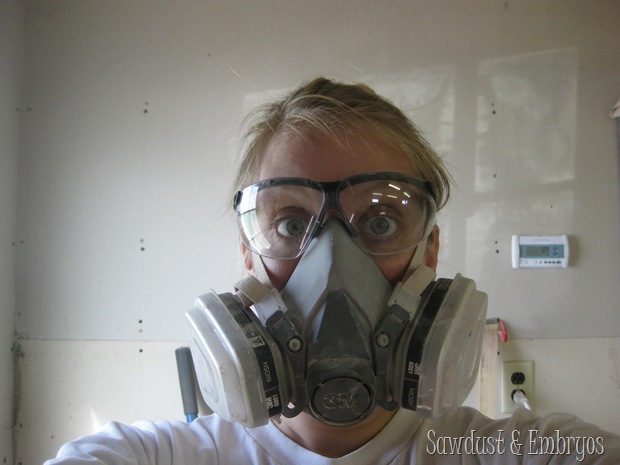 And this is just one of the many things that got half done and pushed to the wayside. Having a blog, I have the benefit of showing you all the finished products, and shoving the unfinished product into a corner, never to see the light of day… which brings me to Reason # 2: Hitting a snag or feeling intimidated
So I started making a duvet cover for our master bedroom, right? Here's our bedroom, and the inspiration photo.
Source for inspiration photo
I can't tell you how many hours I put into this… cutting, sewing, ruffling, pinning, sewing, repeat. Layer after layer. And I'm NOT a seamstress. And I had two newborn babies at the time.
And since I always have to add my own creative flair to everything, I did the ruffles at a diagonal. What can I say? I love asymmetry.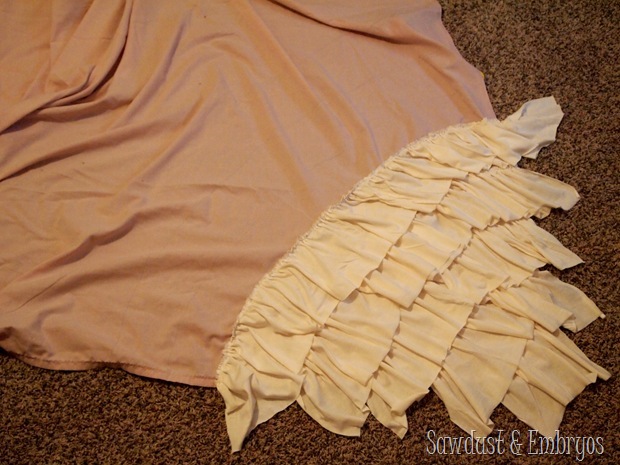 After spending literally dozens of hours on this, I realized that I shouldn't have used a bedsheet as my base to sew all the ruffles on. The ruffles were a jersey-knit fabric, and ended up being VERY heavy. Like really REALLY heavy.
(Nick is going to kill me for this next pic, but it's the only one I have that shows how far I got on the ruffles)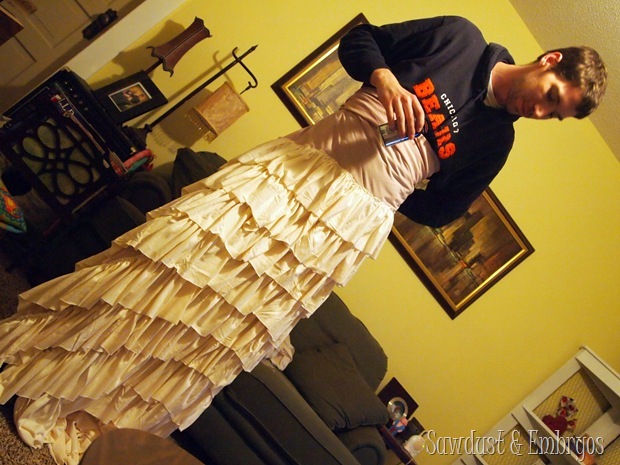 And then it started being too much fabric to jam through my sewing machine. The bedsheet was breaking down from the weight. And the ruffles laid weird because of the diagonal ruffles. It was such an epic fail that I didn't even take a picture of it on the bed… I just wadded it up in a ball and threw it in the corner of our bedroom. Where it still is to this day. Untouched for the last two years.
TRAGEDY, I know.
I might still harbor a little anger about all the hours wasted on this project. And the fact that we are still without a comforter for our bedroom.
But I moved on… to project after project after PROJECT. Some worked out, some didn't. And some I just lost my inspiration for… and that's ok too!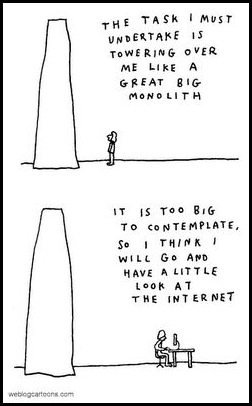 Bottom line? IT'S HUMAN NATURE to get into a middle of a project and lose your fire.. or get distracted or intimidated. Whatever the reason… it's ok. Time is too precious to waste on something that You're not excited and passionate about. Put it aside until you build up a little motivation (or your husband threatens to burn it if you don't get it out of his blasted garage).
I hope this makes you feel better about those unfinished (or failed) projects. Nobody's perfect! and NOBODY has been more unmotivated lately than me. I've done a whole-lotta NOTHIN the last couple weeks. Hibernation is my coping mechanism as the winter wears on. I think we'll all get a new burst of energy and motivation when all this white stuff starts melting off.
Can I get an amen?