I feel that it's time for a little life-update of sorts. Lots of little things going on 'round these parts, but nothing substantial enough to deserve a dedicated post.
I've had these fabric swatches (from Online Fabric Store) on the trim in the dining room for 3 WEEKS, and cannot make a decision on curtains. The hardest part for me is making the dining room feel cohesive with the living room and the gray/gold pattern above the board and batten. Will a pattern be too clashy and busy? Will a solid feel too blah? These are the things I think about.
I've been making all kinds of lofty plans to continue my kitchen overhaul. I say 'overhaul' because it's certainly not a remodel. And also, I'm doing it by myself since Nick has been spending a lot of time in the bathroom lately. (HAHA! I love how that sounds!) Here's a little rough pencil sketch of what I want my kitchen to look like. Extend cabinets to ceiling, built-in mudroom area with hooks/baskets/cubbies, yeah that's about it. But it seems like a lot for little me. (You can click on the image to make it bigger).

Speaking of Nick spending a lot of time in the bathroom/laundry room… we finally have a vanity. It is without a counter, sinks, and faucets. But nonetheless, it's in place, so let us finally rejoice together. For Nick has spent mannnny many many hours building this thing to be so strong and durable that it could fall out of an airplane at an altitude of 30,000 and remain flawless. Aren't I a lucky girl?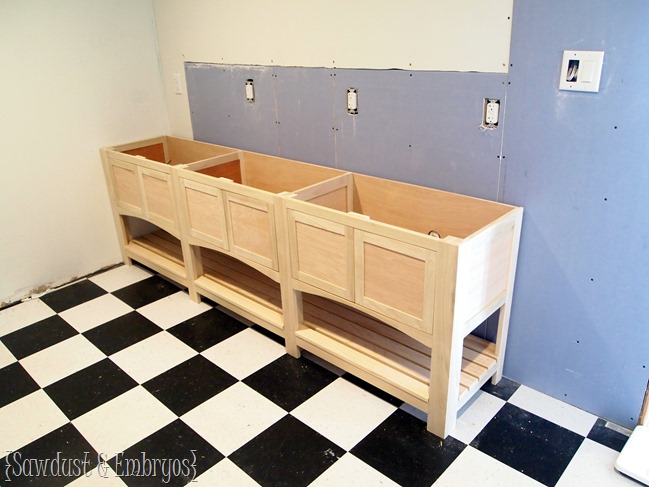 Here's a little mood board to better help you visualize the finished vanity (hopefully SOON)… would love to wash my hands in the bathroom again!
Moving right along.
Dear friends? YOU ARE THE BEST EVER. We've been having sooo  much fun receiving swatches of fabric from each of you in the mail. Nick even gets excited to see them and read your sweet notes. And the girls Oooo and Ahhhh of how 'super cute' each one is. This baby quilt is going to be so precious! I hope my non-existent quilting skills will do it justice, because it must be perfect! (if you have no idea what I'm talking about, read this post and send us a bit of fabric from your stash!)

And finally, let's discuss the children.

They are wild, independent, loving, defiant, creative little crazies… and we just can't get enough of them. They love to color and paint, dress up in many layers of brightly colored clothing, terrorize the cats, and 'help' mommy and daddy with whatever project we're knee-deep in. This is both adorable and inconvenient at times. But we love their jubilant little spirits, and much prefer this over their synchronized whining.
So this is all just a little window into what's happening on our homestead lately! We're gearing up for a cold and blustery winter, and have an endless number of indoor projects to keep us busy. Thanks for following along on all our 'adventures'!
AND HAPPY WEEEKND!