Hey! Its Meghan from Cupcakes with Sprinkles. I am always happy on the first Wednesday of the month cause I
I can't believe its already March. Spring is on its way!
I'm sure you've seen rainbow Jell-O cups around. Its very simple, but looks dramatic and awesome. I recently threw 2 of my kids a rainbow themed birthday party, these were part of the treats. There are lots of fun other rainbow party ideas on my blog so if you want more check it out here! Now, lets make some Jell-O!
So you'll need 6 different colors of Jell-O and Cool Whip…

We are going to use the speed set method to make this Jell-O. So you need to boil 3/4 cup water…



Add in the gelatin and stir until dissolved…

Pour 1/2 cup of water into a separate measuring cup. Add enough ice to bring it up to the 1 1/4 cup line. Stir in the Jell-O/boiling water and stir until it starts to thicken and then remove any ice that hasn't melted. Pour 1/3 of the Jell-O into a small bowl…



Pour the remaining Jell-O dividing evenly into separate cups and refrigerate for 30 minutes…



Mix a 1/3 of a cup of Cool Whip with the portion of the Jell-O you poured into the small bowl earlier…

Divide evenly between the cups of set Jell-O…



Repeat with the remaining Jell-O colors and your final product will be dramatic!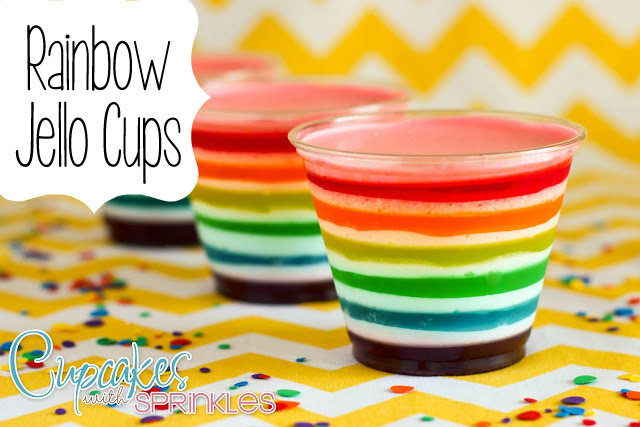 Rainbow Jell-O Cups
Recipe Source: Glorious Treats
get to be here!
Rainbow Jell-O Cups
Ingredients
6 – 3oz boxes of Jell-O in different colors
1 large container Cool Whip
Instructions
Prepare one package of Jell-O following the 'speed set' method, I started with purple. Pour ⅓ of the liquid into a small bowl. Divide the rest of the Jell-O between several cups. Refrigerate the cups for 30 minutes. Mix ⅓ cup of cool whip into the Jell-O in the small bowl. Divide between the cups of set Jell-O.Continue for each of the other 5 colors. Enjoy!