Mornin' friends! And Happy Friday to you!
I'm just stopping in to share a little life update… Are ya ready?
I'M SICK.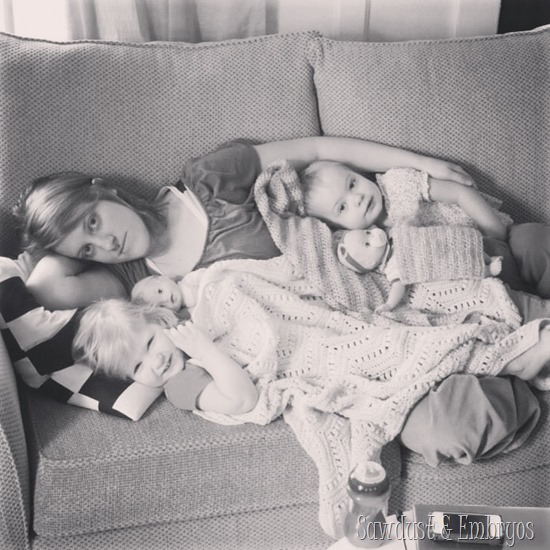 I'm not complaining by any means, but I felt that my loyal readers deserved to know why I've been MIA here on the blog.
I'm not going to go into any details, but let's just say I feel icky and nothing is getting done around the house. I actually don't mind the reminder of the tiny miraculous life growing in me.
This ultrasound pic was from 8 weeks… the baby is the little gray blob. The white 'O' is the yolk sack.
As sad as I am that we lost one of our embryos, I feel very connected to this little baby within me. Kinda like we're BFF's. Now that I'm 10 weeks along, s/he's the size of a kumquat (does anyone really know what that is?).
Hey baby.
I would take a 10-week belly pic… but there's nothing really to show yet at this point. Instead, let's do some Q and A so I can collectively answer all your questions at the same time! You guys have been so sweet with all your emails and notes on social media with well-wishes and encouragement. We have the best readers!
~~~~~~~~~~~~~~~~~~~~~~~~~~~~~~~~~~~~~~~~~~~~~~
Will you find out the gender? YES. ASAP. There's something about knowing the gender that makes me feel like I will be able to bond even more with the little bugger. We bought mostly gender neutral things for the girls ) car seat, bouncy, swing, etc), so there won't need to be any major purchases if it's a boy. Our next ultrasound isn't until 20 weeks (OCTOBER! BOOOO!) so we won't know until then. I got spoiled having lots of ultrasounds with twins… it'll be hard not being able to 'check in' on things this time around.
Will you tell us the gender? Ummmm HELLO! Do you really think we're going to stop sharing now? You guys have been through this whole journey with us, and you better believe we're going to continue being open about alllll the good stuff. The only thing we'll be keeping secret (even from my own mommy) is names.
Do you have a gender preference? I think both Nick and I would love to experience a boy…. but we 'do' girls pretty darn good, so we'd be overjoyed with another girl as well.
Any cravings? Not really yet. I will say that the only things I can really stomach are bread/crackers… so I guess you could say I'm craving that? I'm doing my best to eat healthy and get all the food-groups in me. I do find myself being thirsty a lot.
Noticing any body changes? My clothes still fit just fine, and I can't see any changes simply by looking in the mirror. But I can FEEL him/her 'down there'. I know that sounds crazy. But I've been able to feel it since before I got a positive pregnancy test. A slight pressure and heaviness. I love it.
Do the girls know about Baby Sy? Yes! We told them right away, and they love to pat my belly and say 'hi lil babyyyy!' …especially Dell. At first they thought I had baby kittens in my belly, because our kitty Blanche had babies right before their eyes (good biology lesson for 2-year-olds!), but I think they understand now. Paisley thinks Daddy has a baby in his belly too. They love to tell other people that they're going to have a 'brudder or sister'!
~~~~~~~~~~~~~~~~~~~~~~~~~~~~~~~~~~~~~~~~~~~~~~~
And since we're doing a 'family update', I thought I might as well share some cute pics of the girls too! It's hard to believe that they're 3 already… and they say THE most hilarious things. They're best friends and worst enemies at the same time. I suppose that's normal for twins?
It's fascinating to watch them learn and grow… soaking up every little bit of information they come across! I still look at them and can't believe they're mine. I'm so profoundly blessed!
Thanks for giving me a pass on life as I gestate this little baby. Here's to hoping I snap out of it in the 2nd trimester (two weeks away!). We do have a handful of projects in the works, and will be sharing next week… so don't go anywhere!