Heyyyyy sweet friends! How was your weekend? We're still soaking up the last bits of beautiful fall weather before the eternal winter hits. I have some fun pics to share from our weekend, but that's another post for another day!
Today, we have some business to attend to!
You might remember… a few weeks ago, a group of us 'buildy-blogger-types' challenged our readers to build something, nay anything, out of JUST ONE BOARD. At stake?  $1,000 in power tools of your choice (thanks RYOBI!).
It was so fun to see the submissions rolling in, and knowing you guys are out there rolling up your sleeves and making some sawdust!
Check out these entries! You guys are super talented!

Each of us picked our fave, and threw it into the proverbial  'hat'… and from those finalists, a winner was chosen at random! Congrats to Dolce and DogTags for knocking it out of the park with this sleek checker board. Would you look at that detail?!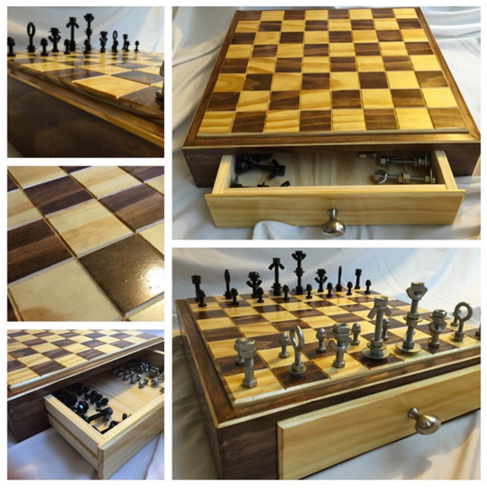 If you're wondering what my pick was (that didn't get chosen)… Sarahclrksn from Clark Mark made these amaaaazing chandeliers out of her singular board, and I cannot stop staring at them. Just incredible!
Thanks to all of you who participated. Each project is unique and awesome in it's own way, and it was so hard to choose! Also HUGE thanks to RYOBI for partnering with us for the giveaway, and to the other bloggers who hosted this challenge with me! It was so much fun!