Good morning beautiful friends!
Today I have a SUPER FUN contest to share with you. I'm not talking about a giveaway where you enter your name and email and hope for the best. We're inviting you to roll up your sleeves and get some sawdust in your hair.
Remember earlier this summer when I participated in a One Board Challenge with a handful of other Buildy Bloggers?
We each used the same sized board (1" x 8" x 8') and built WHATEVER THE HECK WE WANTED OUT OF IT. You guys were so excited about the 'one board' concept that many of you were asking how to get in on the action.
Well you'll be delighted to know… we're opening up the challenge to you! And You! And YOU! So start brainstorming!
AND, not only is this a fun challenge (wait for it)… but there's a GARAGE FULL OF TOOLS up for grabs ($1000 value) from our BFF's at RYOBI!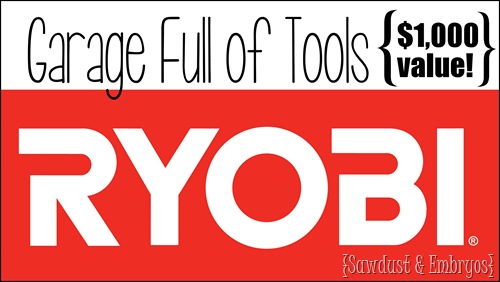 So here's the dilly yo:
Build a project using only one 1×8 8-ft board
Any species of wood is permitted
Glue, paint, fasteners… things like that are totally permitted. Even design elements like metal or leather are ok. Just make sure that you limit your lumber to one single board
HERE'S HOW TO ENTER!
Build your project according to the rules above, and share a photo on your social media (Facebook, Twitter, Instagram) with the hashtag #OneBoardChallenge.
If your social media account(s) are set to private, you can email me a photo of your project instead at sawdustandembryos@gmail.com
You can enter as many One Board Projects as you like, but they all need to be 'submitted' via social media by October 15th.
Winner will be announced on October 26th!
Giveaway open to US participants only… so sorry!
There will be ONE Grand Prize winner who will get $1,000 worth of RYOBI tools (of their choice!)
And now, for some inspiration, check out what some of my buildy friends built with their board!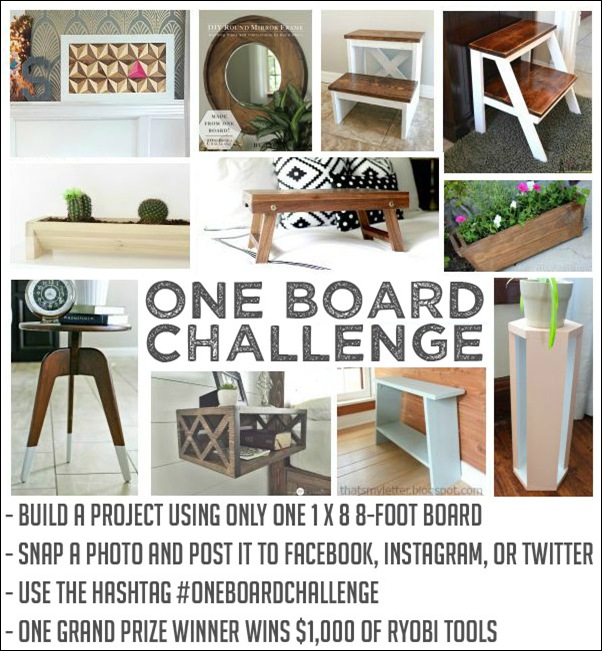 Katie, Addicted 2 DIY – Rustic Step Stool / Jaime, That's My Letter – Bench
Amy, Her Toolbelt – Kids Step Stool / Elisha, Pneumatic Addict Furniture – Modern 3-Leg End Table
Sandra, Sawdust Girl – Three Tiered Display Shelf / Brittany, Pretty Handy Girl – Cubby Storage Box
Karah, the space between – Wood Shelves / Brad, Fix This Build That – Kids Bookshelf
Jenn, Build-Basic – Round Mirror / Mindi, My Love 2 Create – Floating Nightstand
Pauline, My Altered State – Indoor Planter / Bethany, Sawdust & Embryos – Geometric Art
Kim, The Kim Six Fix – Flower Box / Sarah, The Ugly Duckling House – Modern Step Stool
Jessica, Decor Adventures – Hexagon Plant Stand / Emily, Merrypad – Floating Corner Shelf
 Now go forth and build something! We'll be checking in on the #OneBoardChallenge hashtag to see what you guys are up to!