Some of my mommy-friends have small children who climb out of their crib before they're even a year old. And other less-ambitious children don't attempt to escape until well into their toddlerhood. My small children have made it to age two, and are still going strong (we're thanking our lucky stars). But I know that dreaded day is coming, and I often think about that terrifying moment when I wake up to a tiny person 2 inches from my face saying MOMMY?!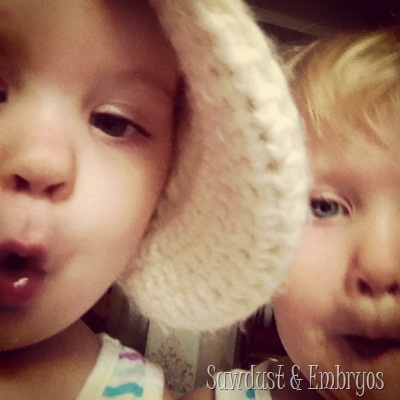 What I'm trying to say is that there has been some consideration to matters involving toddler beds and the like. Because when one figures it out… it will take the other 1.3 seconds to figure it out. And at that point, we have to deem the crib/pack-and-play unusable.
Since we want to keep the nursery intact for hopeful/potential future baby(ies), we'll be moving the sisters to what used to be the guest bedroom… but more on that later. We know we need to get things ready for that moment when toddler beds are abruptly necessary.
I wanted to build the girls' toddler beds to be unique and adorable. I know it's silly to most… since they'll only be using these beds for a couple years. BUT I WANT TO… KAY? I don't even remember how I thought of it, but I decided to make them MINI FAINTING COUCHES! Using their existing crib mattress!
I drew several sketches since I'm a visual person, and decided on this one…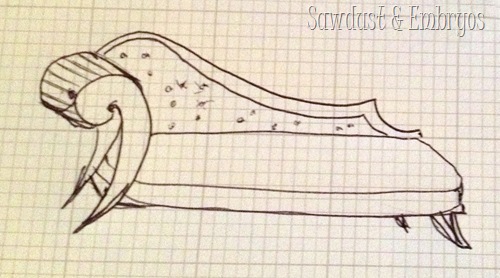 Today I'm going to show you PART 1 of the construction of these little fainting couch toddler beds! Nick is helping me build, but he's giving me creative control and letting me make almost all the decisions! I'm learning tons from him, and gaining lots of carpentry confidence in the process!
We started by building a basic frame around the dimensions of the mattress (28" x 52") using 1×4's, and slats to go across. You better believe I dragged that mattress out to the garage with me! Visual learner… remember?!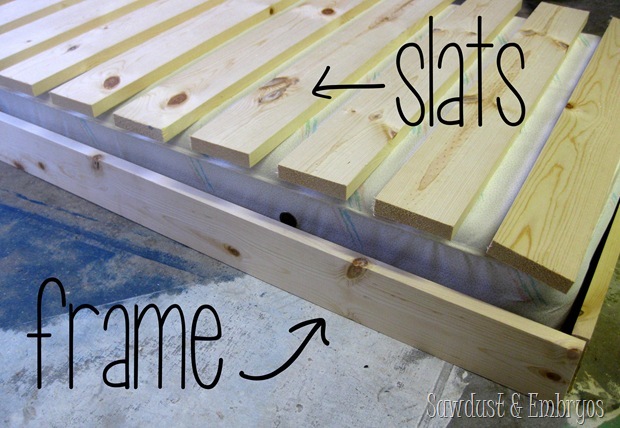 The frame ended up being 54" x 29.5" because we wanted to give the mattress a little wiggle room and and extra space for bedding and such. We cut 9 slats to 28" from 1×4's as well.
Next, using the Kreg Jig, we drilled pocket-holes for stability and so that the screws wouldn't catch on things. This thing is FUN to use!

On one end of the bed, we built out a little further (making our actual frame dimensions 58" x 29.5") to accommodate the 'arm' of the fainting couch.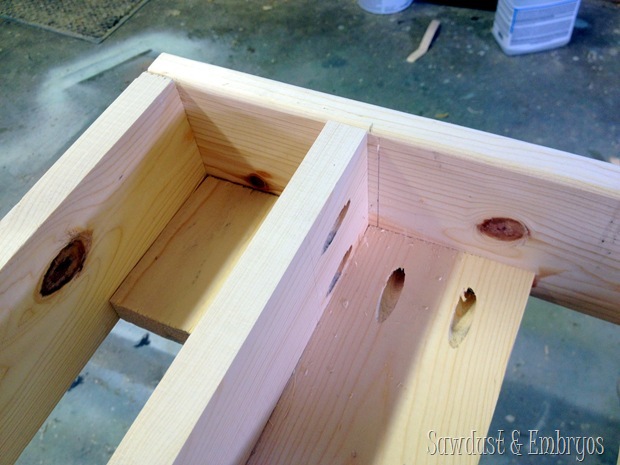 We glued/screwed 1×4's against the inner edge of this section. These will act as supports for the arms of the fainting couch.
Next, I held up a board and drew a scrolly shape with a pencil, then cut it out using the band saw.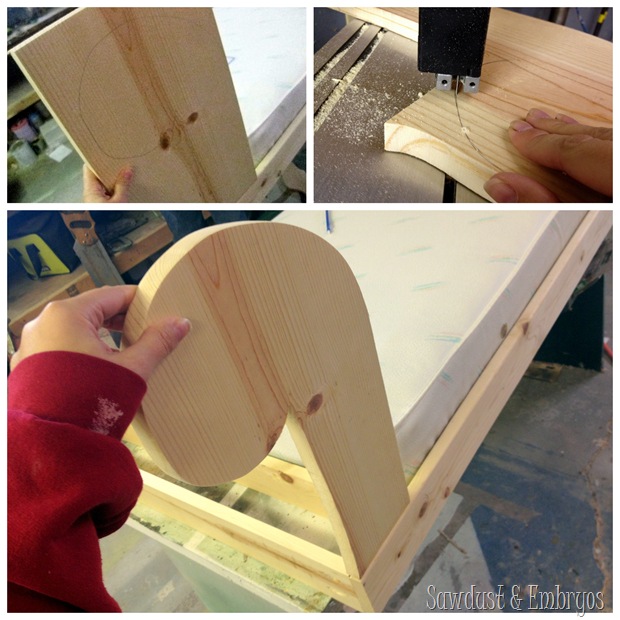 I think this gives you a smidgeon of an idea where we're going with this, so I deem this a good place to stop for today. I'll be following up with Part 2 soon! Sorry to leave you hanging! Stay tuned!
UPDATE! Come on over for Part 2 of this project HERE!