Ok so here's the thing.
Nick's been known to be a little annoyed with all the various things I ask him to help me with (understandably so). There are basic homeowner/maintenance–type things that I wouldn't even think about that totally need done in addition to all my measly requests.
That's why I love it when I find a project that I know I can pull off unassisted. This keeps me occupied while Nick is installing gutters… and prevents him from strangling losing his cool with my neediness.
So you can imagine my delight when I found this giant end table at a garage sale for TWO BUCKS!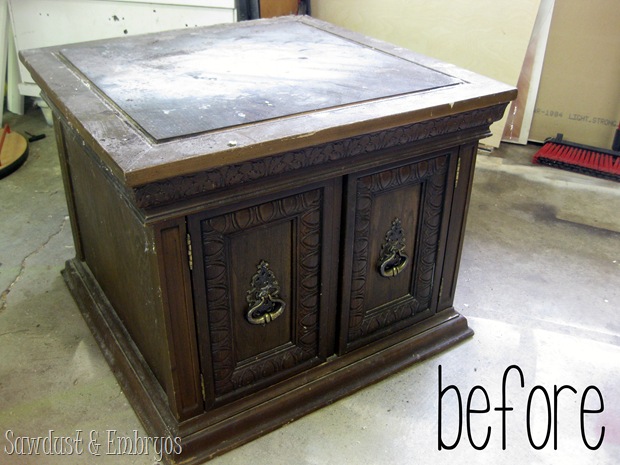 This post contains affiliate links.
I knew I could slap some paint on this baby, and maybe do some glazing and feel all fulfilled and stuff. No need for him to build anything, or reinforce anything. Score!
But let's talk about the corners on the top surface.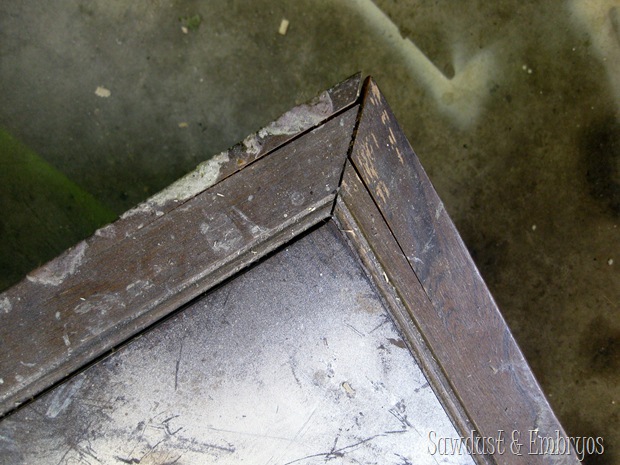 Ok yeah… there's some gaping issues. Nothing a little wood-putty can't fix, right? WRONG! Nick insisted that it needed a brand new top surface (OF COURSE HE DID!). Picture me weeping and pulling out handfuls of hair. Nevermind please don't.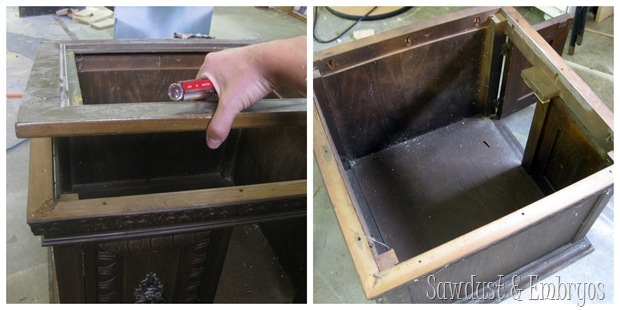 He built a frame as a border for the top, using 1/4's. After measuring and cutting each board at a 45 degree angle, he routed a little lip on the underside, and glued/clamped using a picture frame clamp.

We bounced ideas off each other on what to do with the inner part of the 'framed' surface. It seemed too predictable to just put a sheet of plywood in and call it a day. Plus that would be way too simple. WAY.
We had a leftover 1/4 board, and decided to cut it into triangles. Stay with me!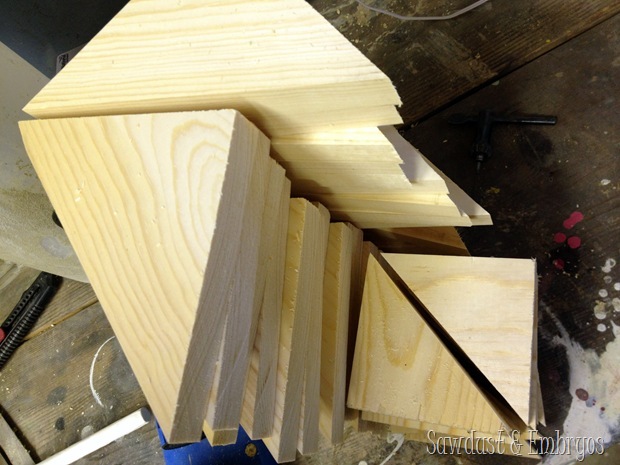 Then I routed all the edges so they would be rounded and smooth, and began laying them out in a pattern!
Then, using random paint colors from our stash, I painted groupings of triangles to create this pattern: The color choices were TRULY random. And I decided to do a row of simply stained wood too.

Using the same technique as our DIY Barnboard Tutorial, I sanded and stained each triangle. to make them appear tattered and full of character. I love how the woodgrain pops!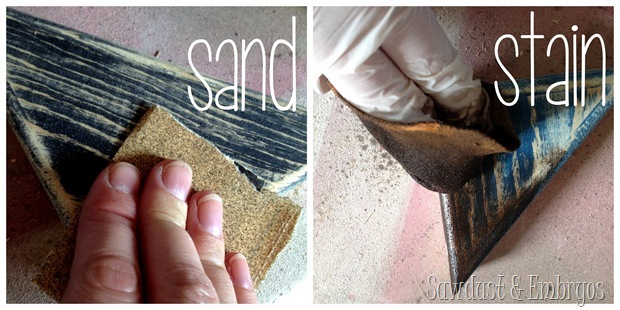 Then I just started gluing away, and piecing my puzzle together! We slapped on the frame clamp again just to make sure things were good and secure.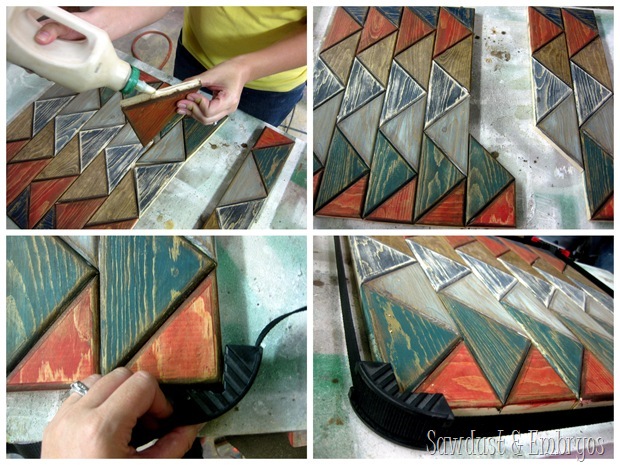 Before securing this bad boy to the 'frame', we decided to pour epoxy on top so it would have a thick/smooth glassy surface. We taped around the edges and the entire bottom (because there WILL be dripping!) and poured on the epoxy! (we use Envirotex epoxy, but you can use any brand… just be sure to follow the instructions TO THE LETTER!)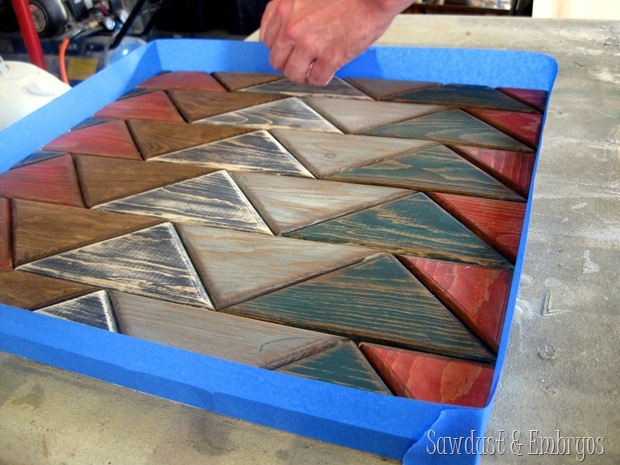 I sanded, primed, and painted the base gold (this stuff), including the newly built 'frame' for the top surface. I liked it so much I decided against glazing. Plus I wanted the top surface to truly be the star of this piece. And right now, that original hardware is a close second!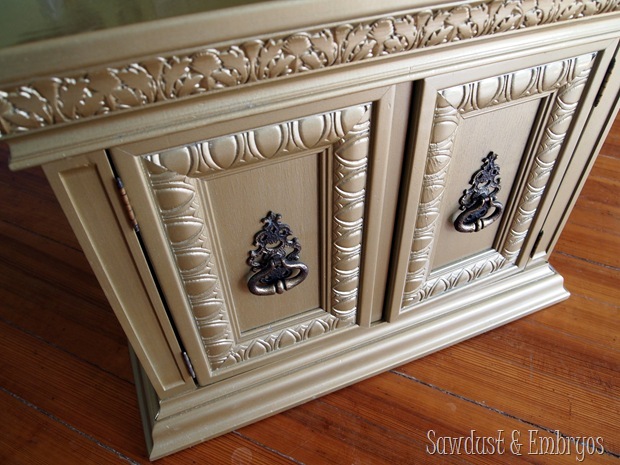 Nick secured the triangle insert to the frame with screws, and then screwed down the entire top surface to the end table from the inside… and then we stepped back to marvel.
I know there were a lot of elements that went into this piece, but I wanted to show you our process to spark your creativity. Maybe you'll have an idea that stems from this project that turns out to be even more awesome!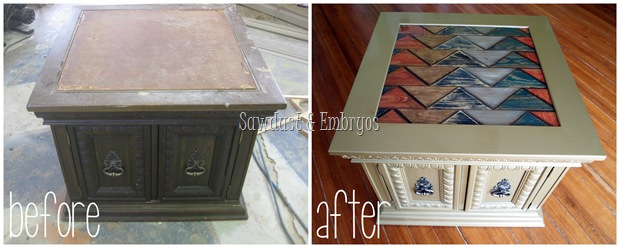 Sorry for getting a little long-winded on ya today… I just wanted to make sure I didn't leave anything out!
Now back to laundry… wah wah wah.