*FREE PATTERN and tutorial to show you how to sew a simple dress for girls! This darling wrap dress, pinafore, or blouse is SO EASY! Pinky promise.*
I may be a 'creative-type', but nobody ever accused me of being a skilled sewist. Sewer? Seamstress? yes seamstress.
Here's a screenshot of me texting Nick while trying to thread my bobbin.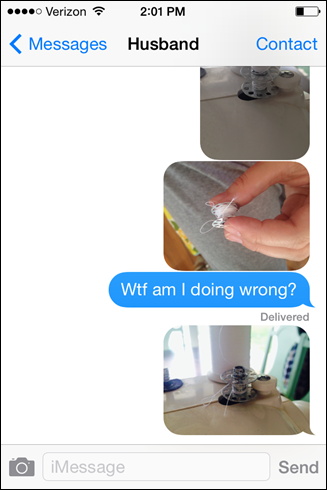 Yet somehow, miraculously, this post has been wildly popular. Ima show you how to sew a simple dress for girls with these Easy Wrap Dresses (or blouses) with a FREE pattern!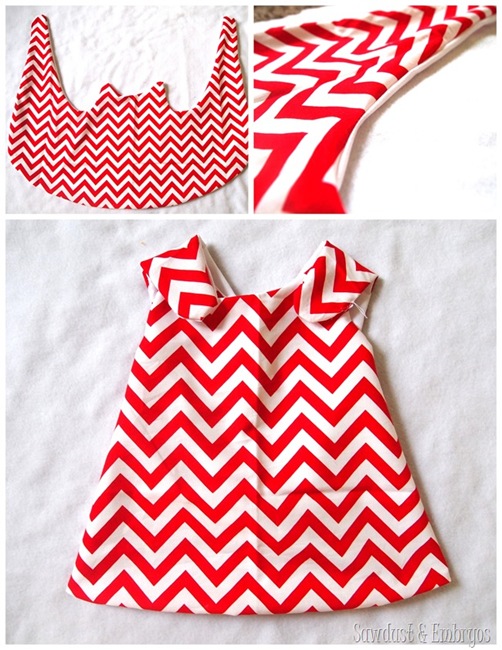 At least a couple times a week, I get an email from someone asking for the PDF pattern… which of course doesn't exist. I was just proud of myself for sewing these unsupervised, and YOU WANT A PATTERN?!
Ok that's legit, because they're super cute. And easy. And I can see how it would be difficult to just whip one out without having something to trace.
Literally? This is what I've been sending people: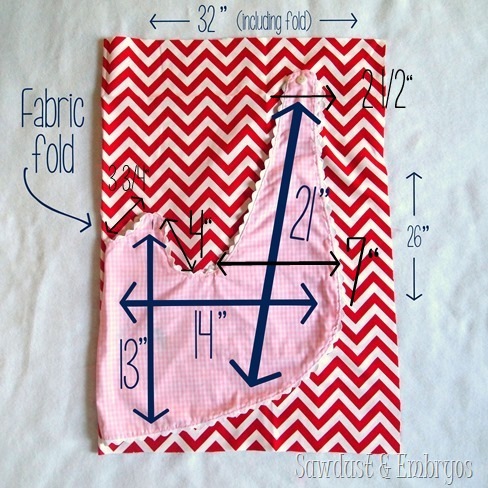 One of my AMAZING readers (Hi Rediane!) drew up the pattern all professional-like so I could share it with you all.
Note: since posting the pattern, several readers have said that you should size up. Sorry for the inconvenience!
So all you have to do is print out the pages from one of the patterns above, and tape them together in the correct order (pages are numbered), and cut out the appropriate size.
(if you're wanting a dress rather than a blouse, you can add length accordingly, or use
THIS
 less-professional pattern. 🙂
How to sew a simple dress for girls
Now that you've printed your pattern out, lay out your fabric, folded in half, inside-out.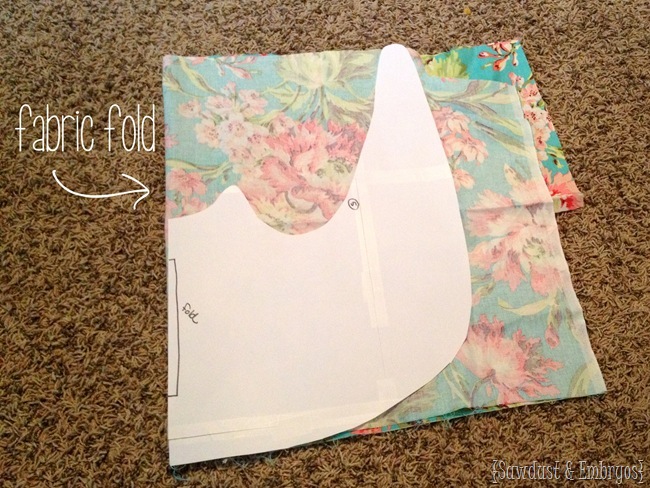 I recently made the twins dresses, but when I went to start blogging about it, I realized that I missed photographing some steps… so I whipped out another one JUST THIS MORNING. This time for baby Cypress! That's how fast and easy these are to make! I used the blouse pattern and cut about an inch inside of the size 2t option so it would be more like 9-12 months.
Using a fabric pen, I traced the pattern onto the fabric, and cut out with fabric scissors. I did this for the liner fabric too. Actually, my liner fabric is just as cute, so this one could totally be reversible! I love having that as an option!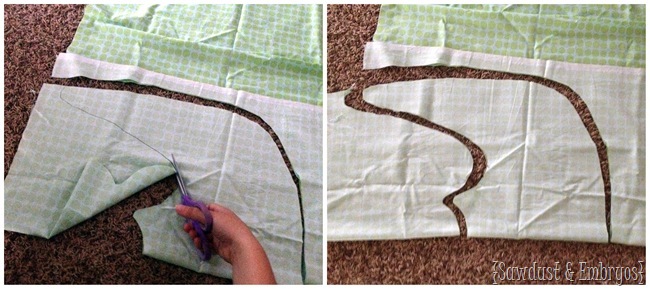 Then I laid the two separate fabric pieces facing toward each other, and pinned them together.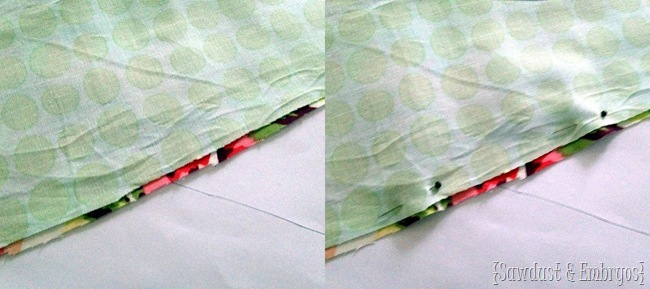 NOTE: if you want to add some eyelet lace or ric rac around the border, put it between the layers facing IN before pinning in the above step. I'm not adding it for this example, but at the end of this post, you'll see pics of this cuteness on my little models!
Here's the dress all pinned up and ready for sewing!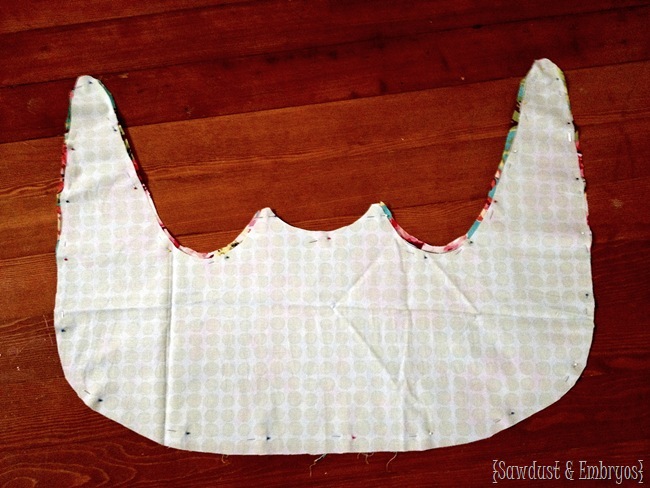 Just sew around the perimeter of the dress/blouse, using a half inch seam allowance. Be sure to leave about a 4" opening along one of the outside edges.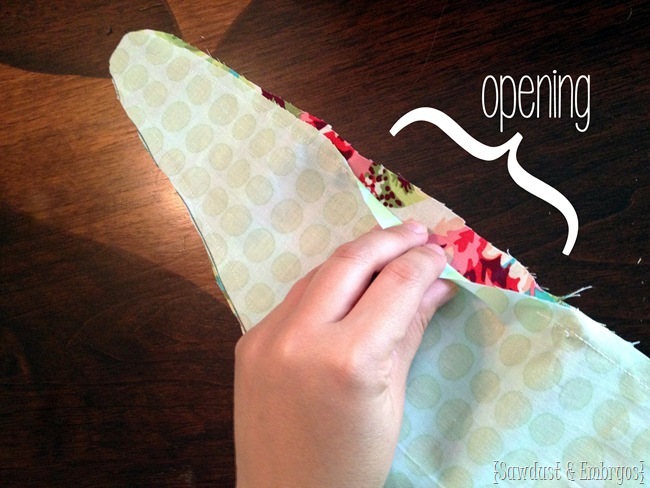 Then reach your hand in there and pull the inside of the dress right-side-out, and then stitch up the opening by hand.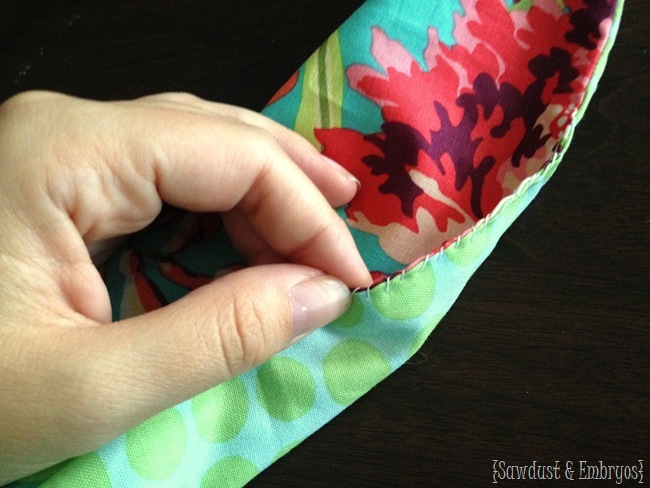 Next, I ironed the whole thing, and the girls helped me pick out two matching buttons. Nick sewed the button holes for me because I was feeling intimidated. You probably already know how, but if you need an excellent video tutorial, click here!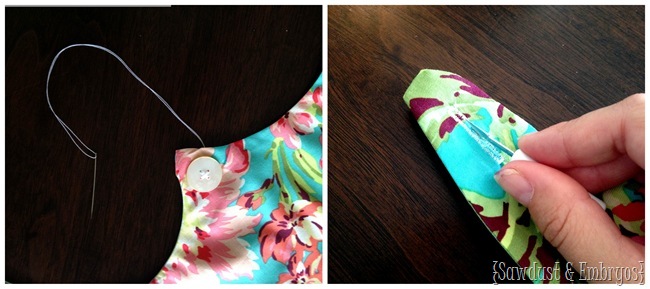 All done!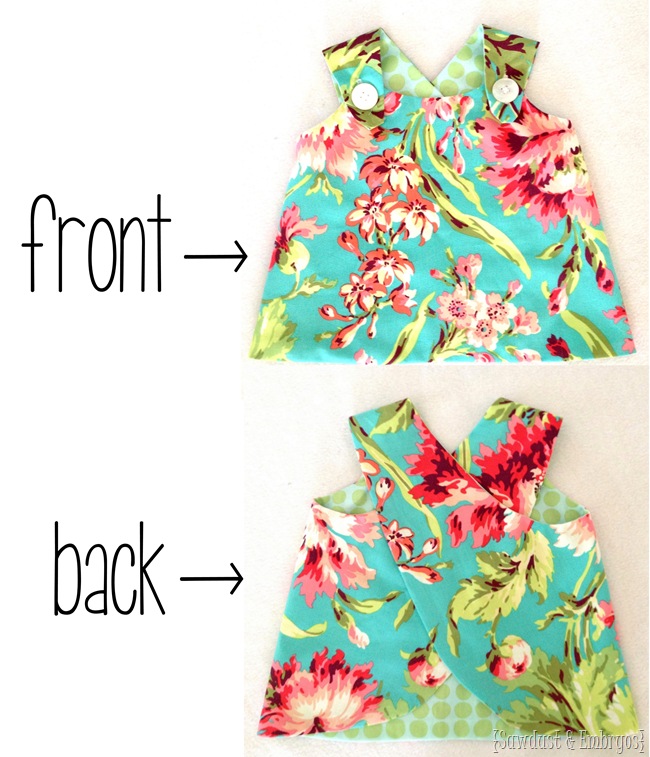 This is the flowery Amy Butler fabric I used, and this is the polkadot fabric I used. They complement each other so well!
I'm thinking about digging up a pattern online somewhere for a ruffle-y diaper cover using the coordinating liner fabric. Wouldn't that be so cute?!
And here are a few pics of the twins wearing their dresses I made a few weeks ago!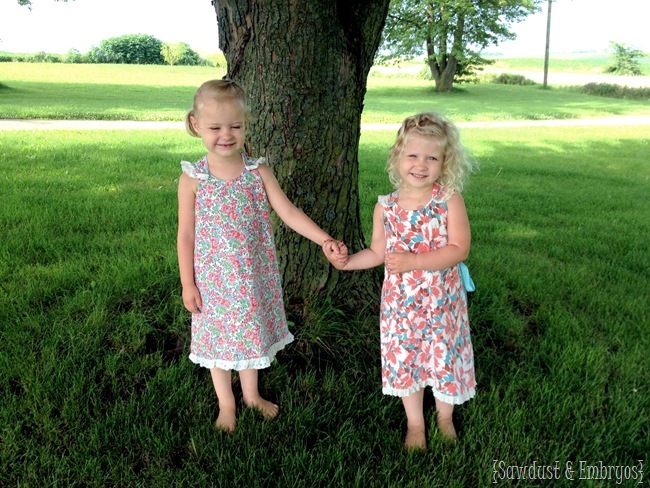 The fabric is from feed sacks I found at an antique store. I hand-sewed ribbons on the side to tie together and keep the back flap from 'opening up' when they bend over or play rough. I still usually make them wear leggings with these just to ensure modesty. Heh!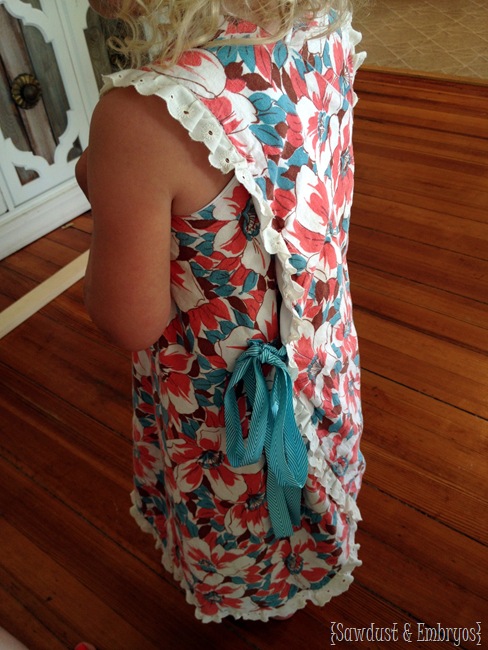 You can see that I started the lace at the peak of the 'shoulder strap', and continued it down the front/bottom of the dress and up to the other strap.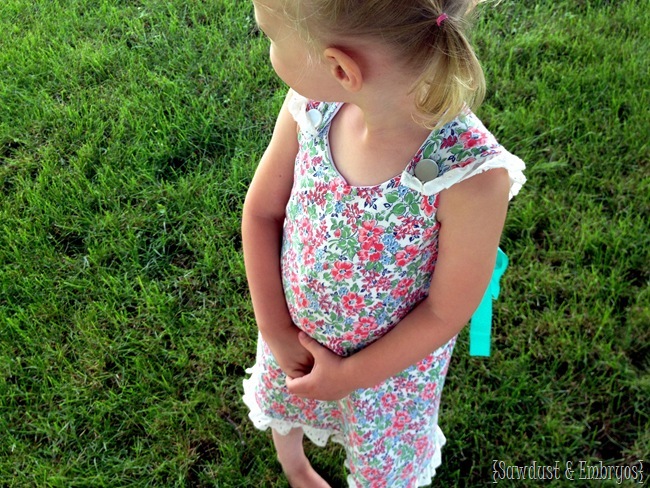 I love the simplicity of the pattern, and how light and breezy they are for these hot summer days. And I don't care if the girls play in them, because they're so easy… I can always whip up more!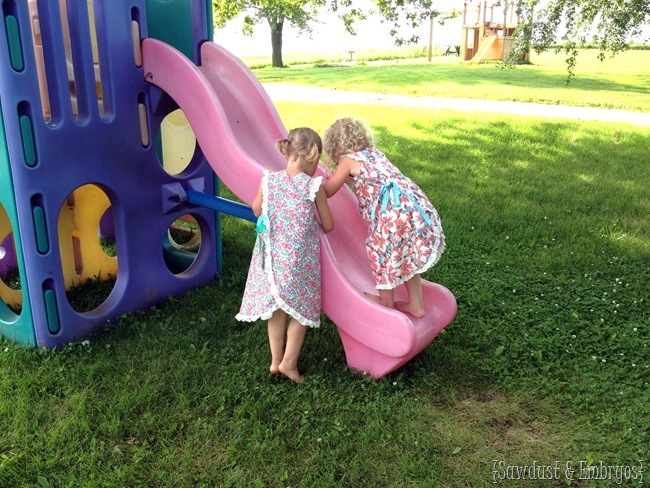 And for fun, here's a few pics of the twinzies wearing the first ones I ever made. I can't believe how much the girls have grown in just one year.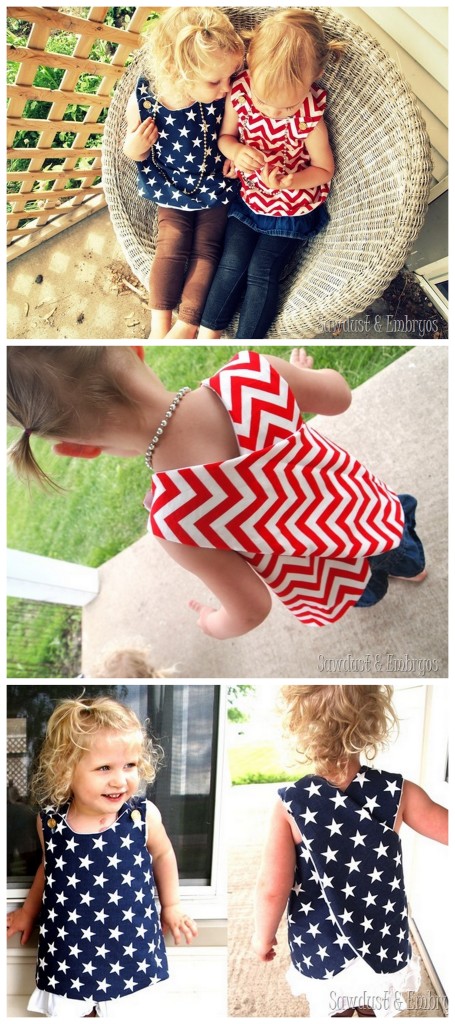 If you have a little girl in your life… I hope you give it a go! Even if your sewing skills aren't the best! Believe me- if I can teach myself how to sew a simple dress for girls, SO CAN YOU!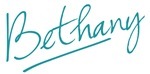 UPDATE! I recently made our newest little toddler this Fleece-Lined Hooded Poncho, and it's suuuuper simple. And convenient for getting littles in and out of 5-point harness carseats!
*this post contains affiliate links