A few weeks ago, we shared the slow but steady… ok fine, JUST SLOW… progress of the playhouse we're building from scratch for our girls.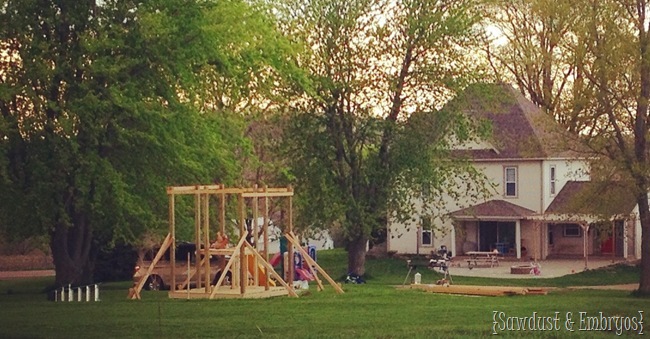 As usual (at least for us), it's turned into one of those things that's taking 3 times as long as we originally planned. How is it August already? It feels like summer's gone by like a time-lapse.
We've found time here and there to put a few hours in on this sucker. And by 'we' … I mostly mean Nick since it's his design/vision. And, somebody has to watch the minions.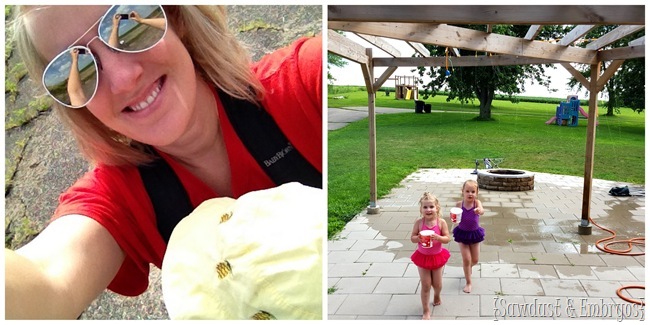 I left you last time with the progress we made on getting all the support beams in place, and both the main and second level flooring.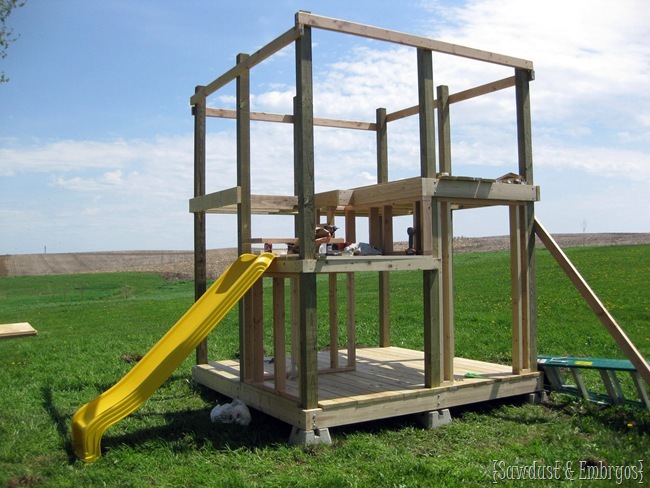 Next order of business was to get some walls in place. We cut full sheets of 1/2" plywood to size, including cutouts for windows and doors, and screwed them into place.
Remember how I was lamenting to you about how complicated Nick's designs are, and how unnecessary stairs are in a playhouse? Well I've gotta say… it's pretty nice now that it's done. And it didn't even take that much more time. I'm learning more and more that I just need to trust his vision!
The girls found lots of creative ways to have fun on this structure as-is. But one thing they kept begging for was the swings. For some reason, summertime whining is worse than whining other times of the year (can I get an amen?). So the swings became the next thing on the priority list.
Nick borrowed this manual auger-thing from our neighbor, and got digging for the support post for the swings.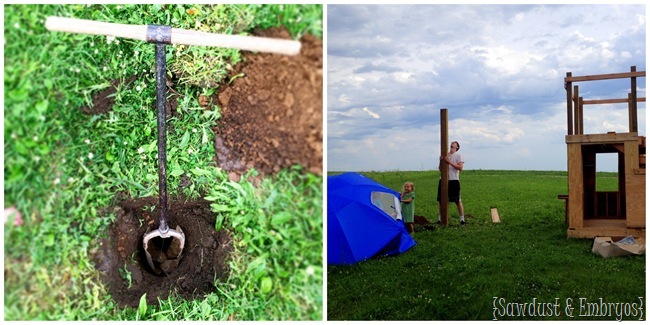 The reason to auger a super deep hole is because Nick wanted a single post for the swingset opposed to the typical A-frame. His reasoning for this is because it's one post to mow around instead of two. But I think he just likes the challenge… and clean lines.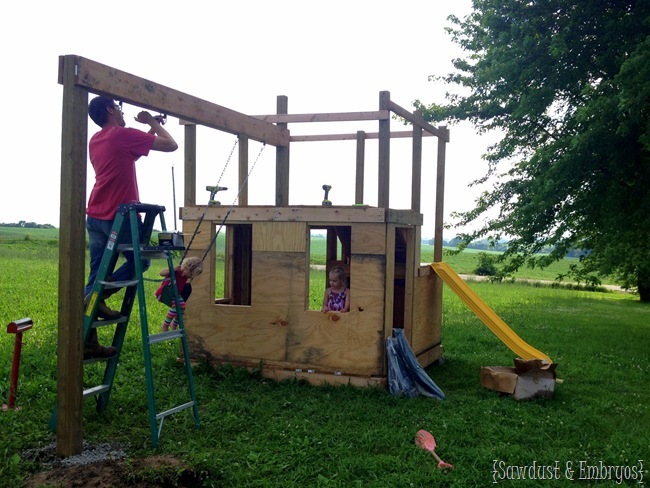 The swings we bought on sale at the end of the summer last year on sale, and the tandem glider swing (which the girls can't quite figure out how to use) is a Lowes find here. The girls are constantly wanting us to push them on their swings, but we're also trying to help them learn how to pump so they can swing on their own too. You know the phrase: give them a fish and feed them for a day; teach them to fish, and feed them for a lifetime. I think this principle applies to swinging too, right?
OH. And I found a cheap/crappy plastic play kitchen at a yard sale for $5 buckaroos. They spend so many hours using their play kitchen indoors, I figure their vacation home could use one too. Spoiled much?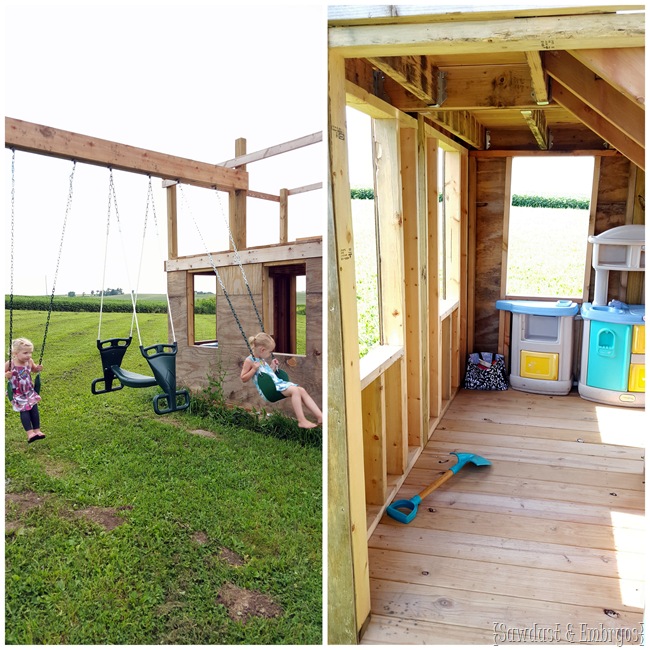 The next order of business will be getting some railings on the 'fort' above the playhouse part. We've got a start on it, and you can get an idea of what it'll look like in this pic.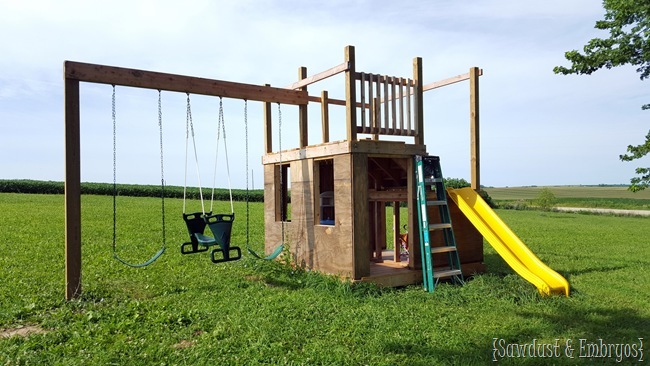 It won't be long now! Translation: I HOPE THIS GETS DONE BY THE TIME IT SNOWS.
But really? Sometimes the girls would rather dig holes and collect sticks then play on a designated 'play area' …so that contributes to our slow-and-stead philosophy. It'll get done when it gets done! High fives! Chest bumps! Group nap?
Do you guys have any projects that are taking an eternity? Or just seem completely stalled? Well know that you're not alone!
Disclosure! As mentioned in Part 1 of this build, we partnered with our friends at Lowes for this project! We weren't compensated for our time, but they did generously provide the slide, glider swing, and much of the lumber… and we're so grateful! All opinions, designs, experiences are our own.