If you follow on Instagram, you know that we did a painted subway tile backsplash recently, and we made this one to look like SLATE! It turned out amazing if I do say so myself.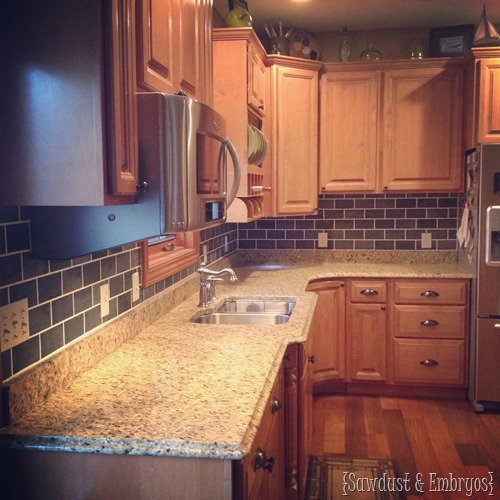 *this post contains affiliate links*
Trela is a long-time reader of our lil' blog, and choosing slate for her painted subway tile backsplash was totally her call. I got really excited, because while we're old pros at the subway pattern… it's not often that someone asks for slate. I knew it was special when we were done. And you guys agreed… because a TON of you have asked for a tutorial!
Painted Subway Tile Backsplash Tutorial
If I had known in advance, I would have taken pics of our process at Trela's house… but I didn't. So naturally I found a slab of scrap drywall in the bowels of our garage, cut it to 16" (standard backsplash height) primed, and painted it white. Just for you.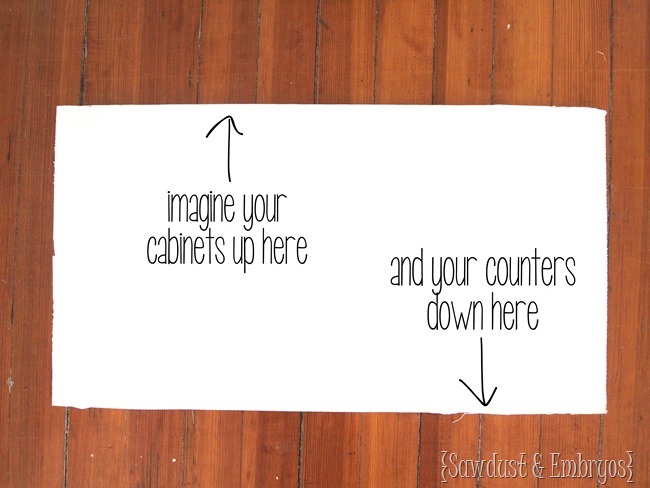 Subway tiles are 3" tall by 6" wide (we googled it!), but when you're measuring out your grid, you have to include the width of your 1/4  painters tape. So I put some tape on my ruler so I wouldn't have to think too much. Thinking always leads to mistakes. Somebody please make me a t-shirt that says that.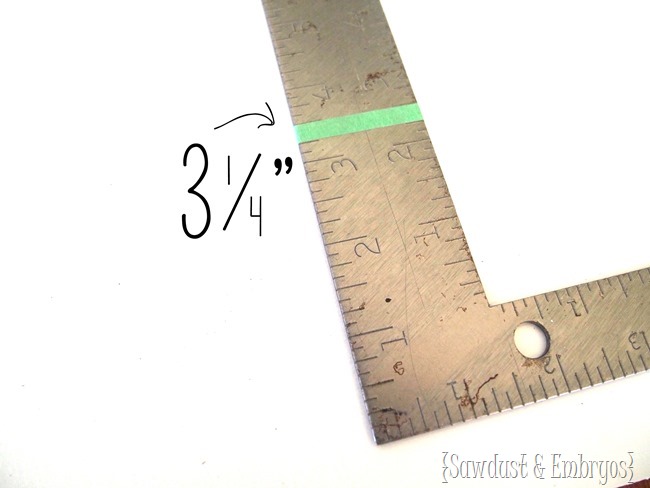 For subway tiles, we do the horizontal lines first. So I made a tiny pencil mark every 3 1/4" all the way up both sides. Then I placed my tape horizontally just above my pencil markings.
The way subway tiles are staggered like bricks makes it a little more complicated than your basic grid… but nothing to lose your marbles over. You're just going to measure out your 3 1/4" AGAIN along the top and bottom this time, then tap up vertical lines to make a perfect grid with perfect squares.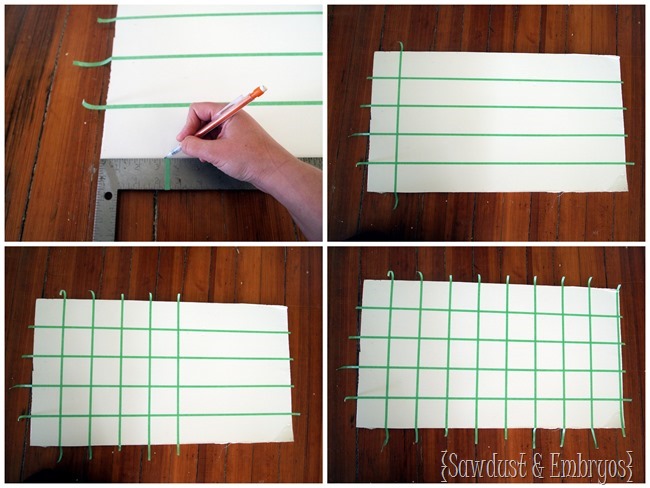 Next, use a razor blade and slice the edge of the tape on every other 'tile' in your first column. This looks tedious, but it actually goes quite fast. And you don't need to push the razor… just lightly score it and tear off the tape on that 'tile'.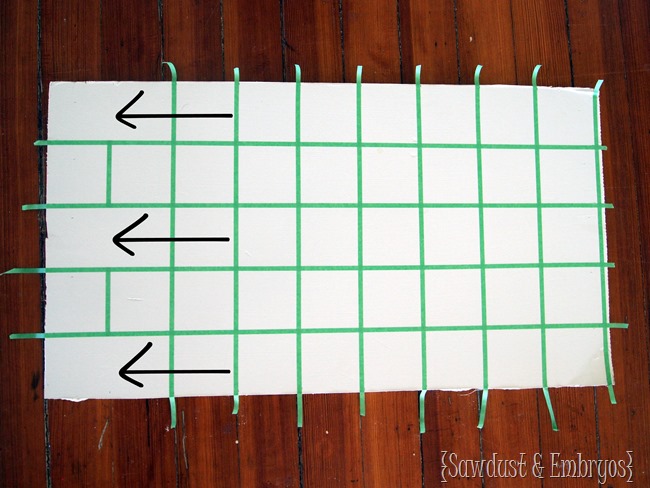 Then on the next column, do the opposite tiles and just continue down the line until it looks like this!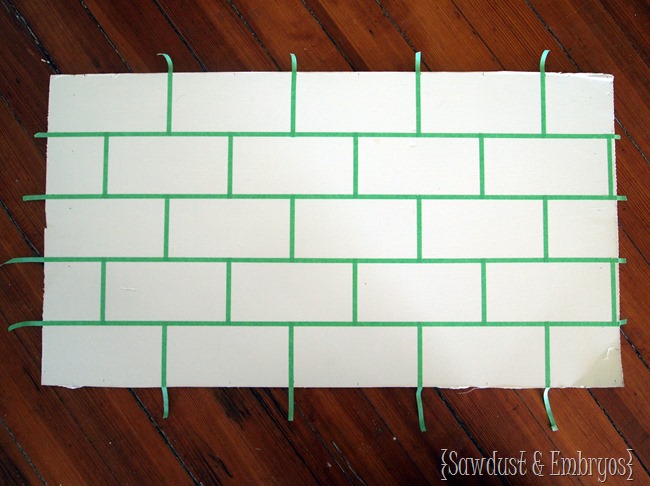 When people email and ask how we 'get it to look like natural stone'… they're never happy with my answer: just blotch it on! So, even though I hate the sound of my own monotone voice and the repetitive click of the dryer in the background, this little gem is for you. And you. And you! And you'll see for yourself. WE JUST BLOTCH IT ON!
For this painted subway tile backsplash (in order to get the 'slate look') I used Apple Barrel acrylic craft paint in black (flat) and pewter gray.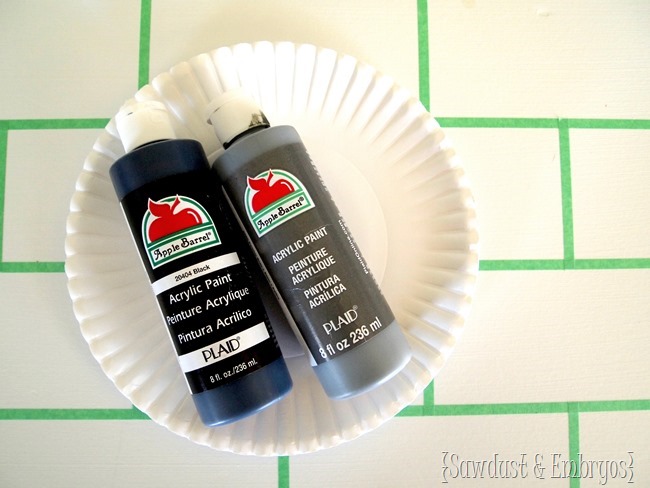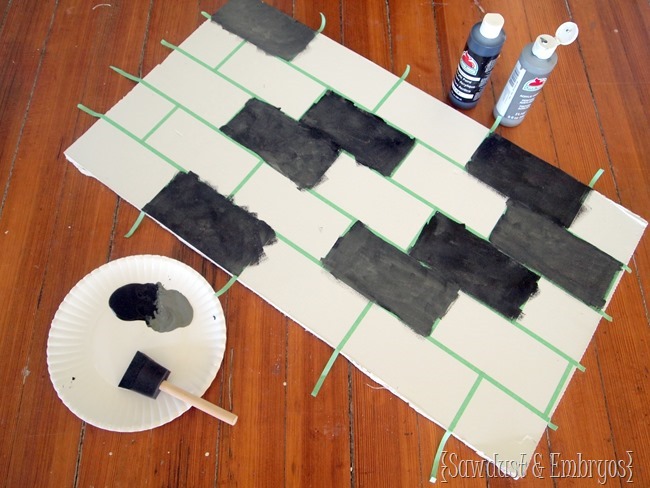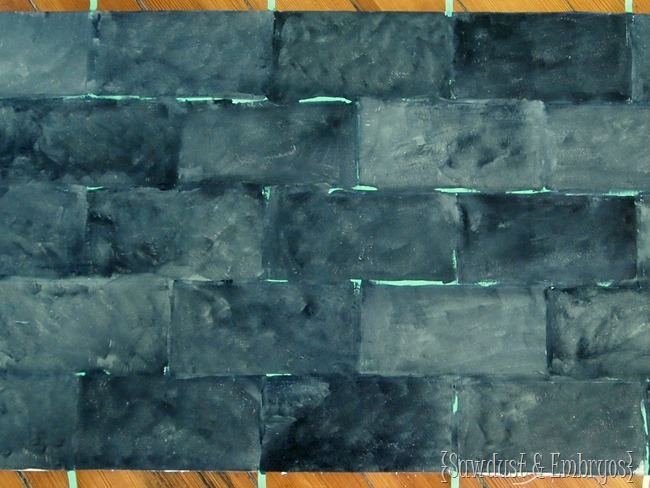 Acrylic paint dries pretty fast, so we just start taking tape up almost immediately. If you let it dry too long, it's less likely to have a crisp line.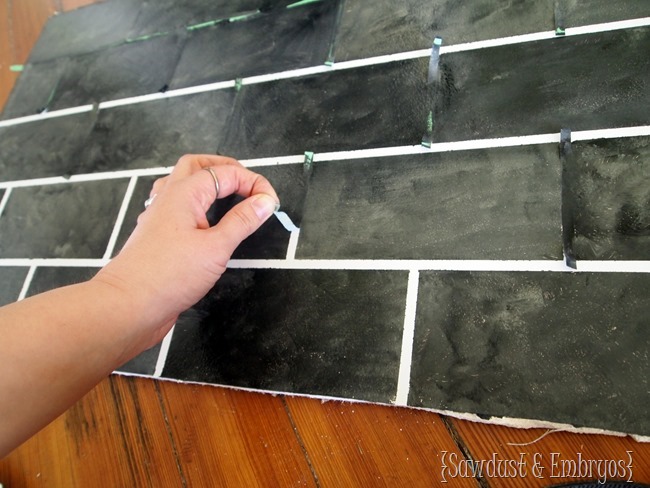 Every once in awhile, you're going to have a situation where the tape pulls off a bit of paint from the 'grout line'… or there might be some crazy seepage that needs touching up. In these cases, just go back and touch it up after the tape has been removed! Your sponge brush has a flat edge, so it's easy to keep things straight even without tape.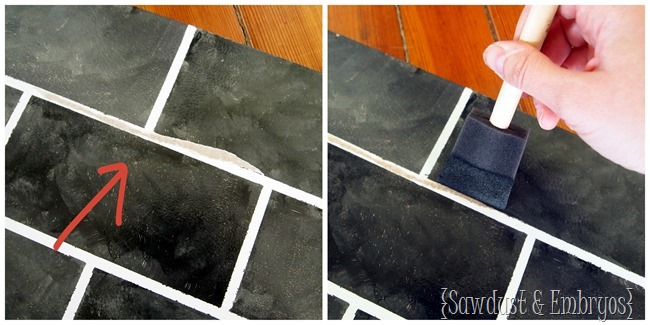 We recommend rolling on a clear water-based sealer (this is our go-to stuff) on your painted subway tile backsplash a few days later just for added protection. You wouldn't believe how durable these painted backsplashes ARE! And they're easier to clean that tile!
Pretty fabulous eh?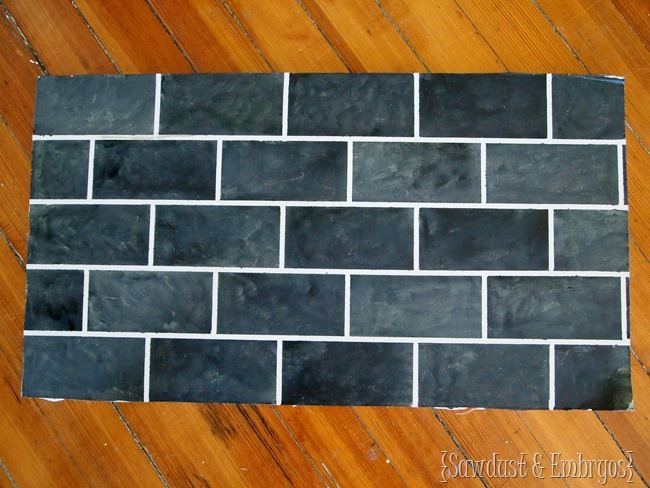 Trela's backsplash just kills me… it looks so fabulous! Of course it doesn't hurt that she had an amazing kitchen to begin with.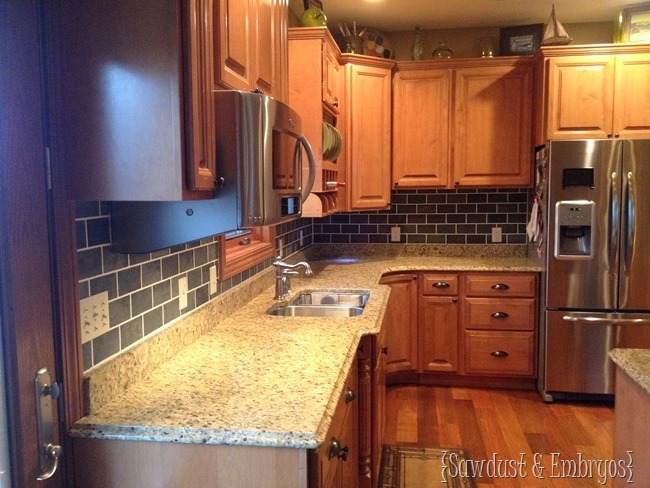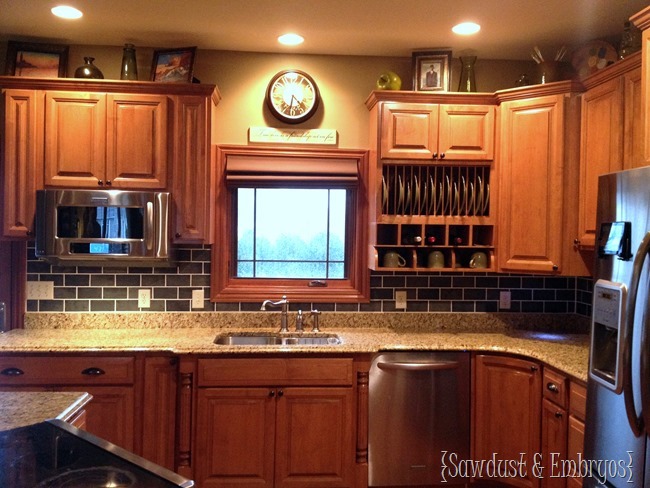 Here's a pic of her kitchen BEFORE… just so you can see how much a backsplash truly changes the look of a kitchen!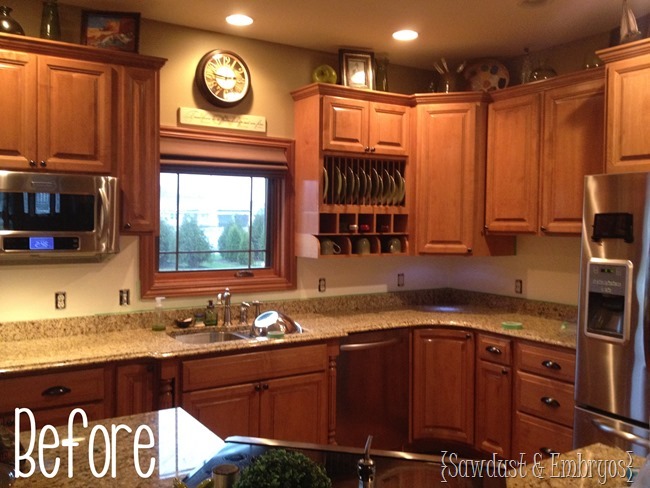 I love it so much, I'm thinking it might be time for me to update my painted backsplash. I just propped up my piece of drywall to see how it looks… Thoughts? We might be due for a new wall color first…!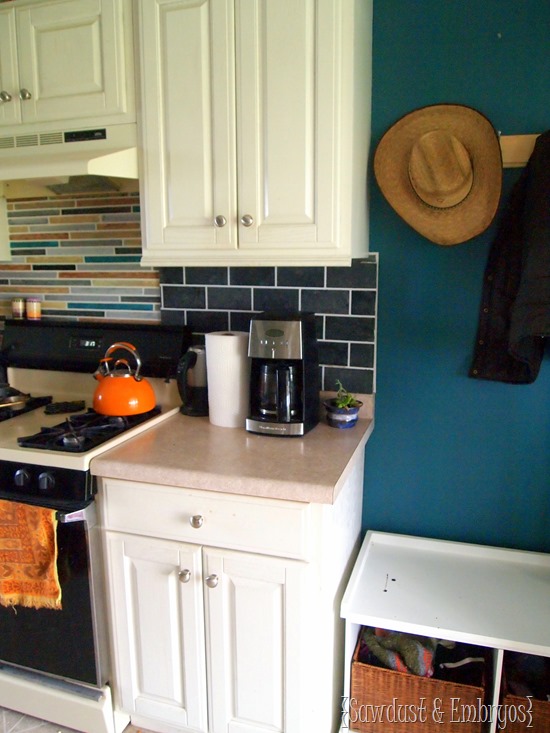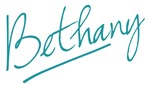 For the tutorial on the current backsplash in our kitchen, click the image below!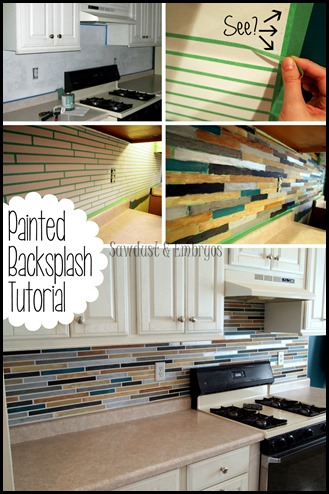 *this post contains affiliate links