On Tuesday, we celebrated Nick's 33rd Birthday. What an old man! He really robbed the cradle with me… until I turn 33 myself in July. But let's not dwell on that fact. Weren't we such babes back in the day?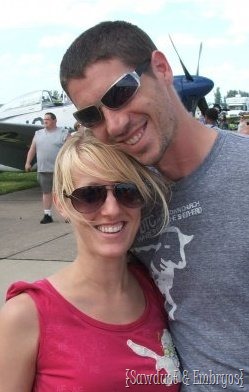 The girls are a little confused about Birthdays. Every single day they ask if it's their Birthday. So I wasn't sure how it was going to go with us celebrating Daddy.
I made a special point to really include them and let them help make decisions about how to make their Daddy feel special.
And that's where the 'Rainbow Sparkle' cake came in.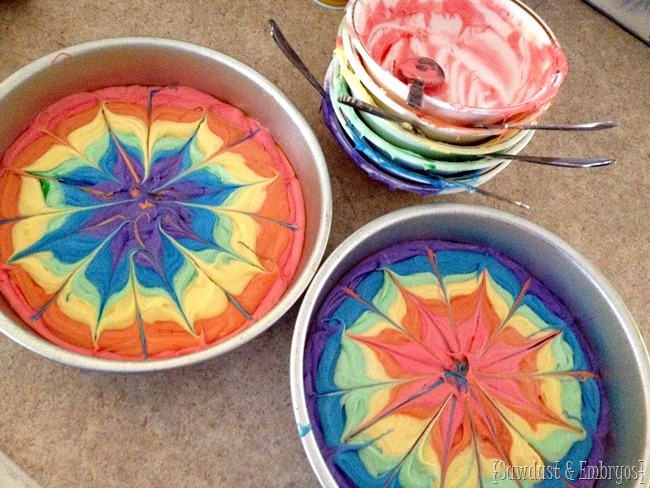 I've made a rainbow cake before, but I used some weird recipe that called for Sprite. The colors were more vibrant that time (namely the red), but the cake was SO GROSS. I decided taste matters too. So I just used a cake mix and food coloring this time.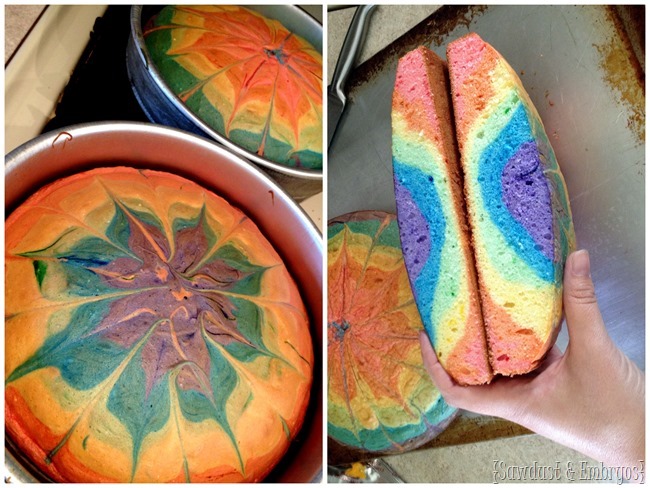 With some supervision, the girls made this cake pretty much by themselves. I should have taken a picture of them stirring all the different colored bowls of batter. SO cute.
Since posting this on Instagram and Facebook, a ton of you have requested a tutorial. I didn't really take pics of the process, so I'll have to make another one sometime soon and show you how (DARN!). It's really very easy. Anyone have suggestions on making the red REDDER?
While the cake was in the oven, the girls wanted to make their Daddy 'heart Birthday cards'. I cut some cardstock in the shape of a heart, and let them paint away.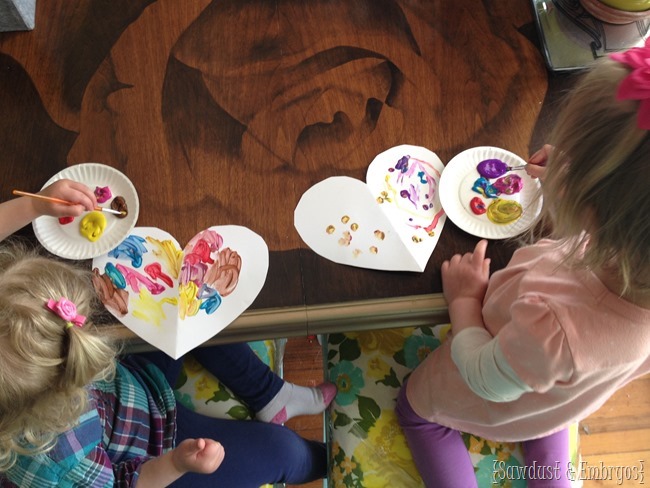 It's very cute to listen to them chat while they're creating together.
*GASP* Della your painting is looking so beeeautiful!
Thank you Paisley! And I like the colors you picked. You're a very good artist!
HILARIOUS! It's obvious they really listen to the words I use. I need to be more intentional about complementing them more. And making sure they know I delight in them. It's so easy to just get caught up in the everyday… and the baby sister.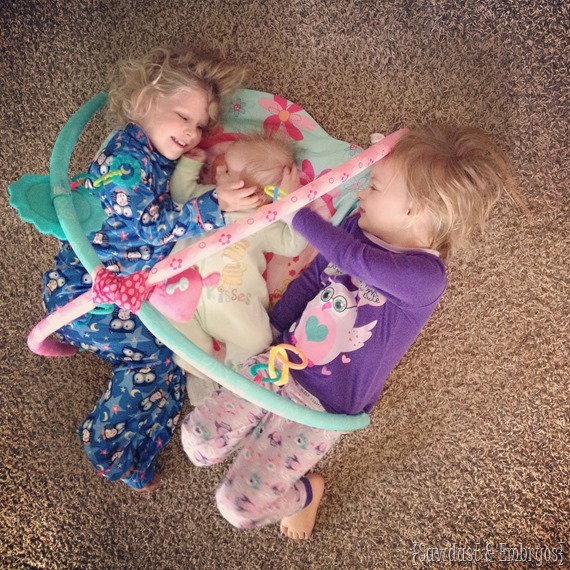 Anywho.. we chopped up those two round cakes to make an airplane shape. Nick's current hobby is RC airplanes… so we thought this would be fun! I found the idea here.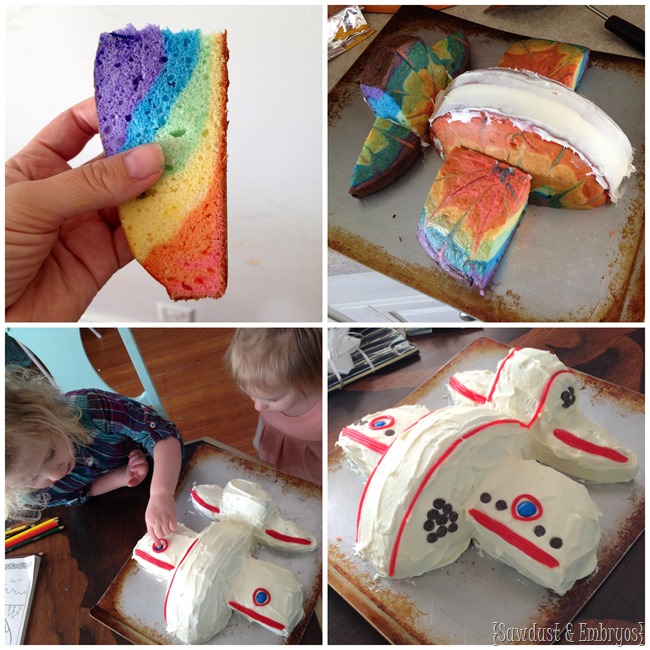 I used to be a cake decorator at a bakery, and it took everything in me not to make this cake PERFECT. But it's not about me. And I think the girls did a pretty smash-up job.
Don't mind the toothpick candles. SOMEBODY forgot to buy candles. But we're pretty innovative around here.
The girls each picked out a balloon for Daddy from the Dollar Tree, and we tied the string around each of their gifts to him (they wrapped their heart cards). Everything was set up, and the girls patiently waited by the window for daddy to come home from work.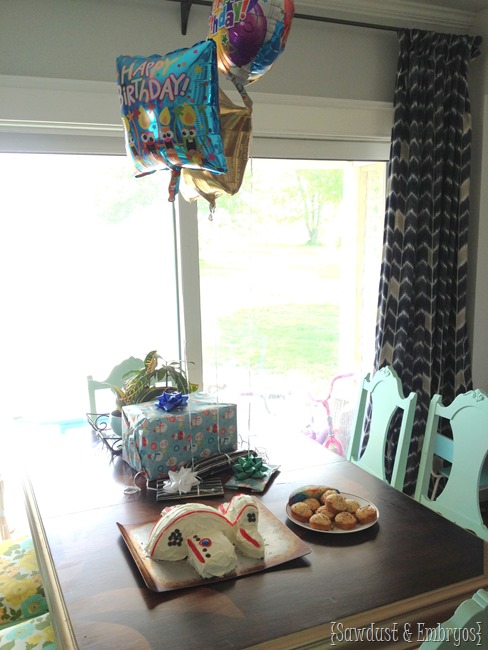 When Daddy pulled in the driveway, the girls screamed the highest-pitch screams I've ever heard come out of their mouths. They made him close his eyes as he walked in the door, and brought him over to his special table.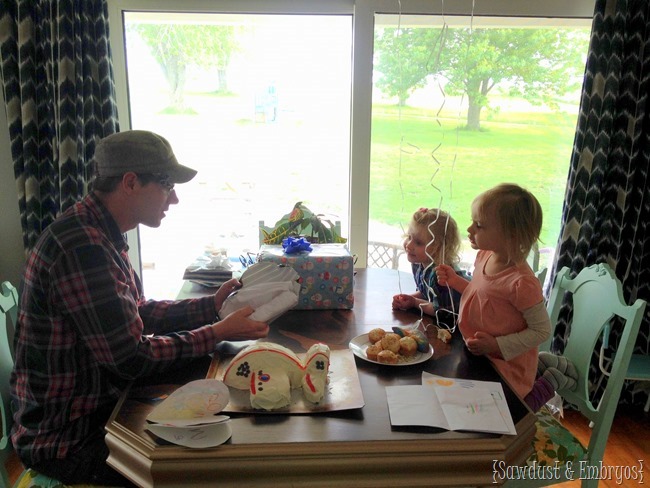 It's so fun watching the girls get excited about making someone else feel special. I'm proud of them, because I know that's a hard concept for them at age 3. I'm so glad I allowed myself to let them really take ownership of Daddy's birthday and really dive in with their ideas and creativity. I know he wouldn't have wanted it any other way!