It's been a long time since I've sat down and just started writing here on my blog. For some reason, I've gotten in the habit of needing an actual THING to write about. Silly!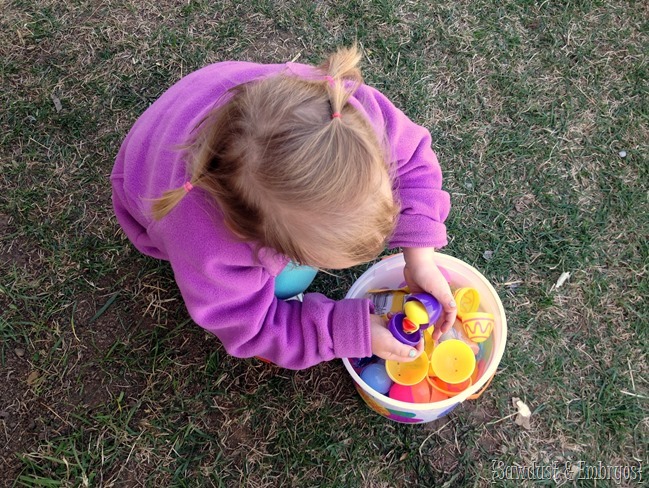 We went to my in-laws for the weekend. The girls got to go Easter Egg hunting with their cousins. It's so cute to see how excited they get about little things like a plastic ring or jelly beans. Little girl gasps are the cutest sound. I wish I could make it my ringtone.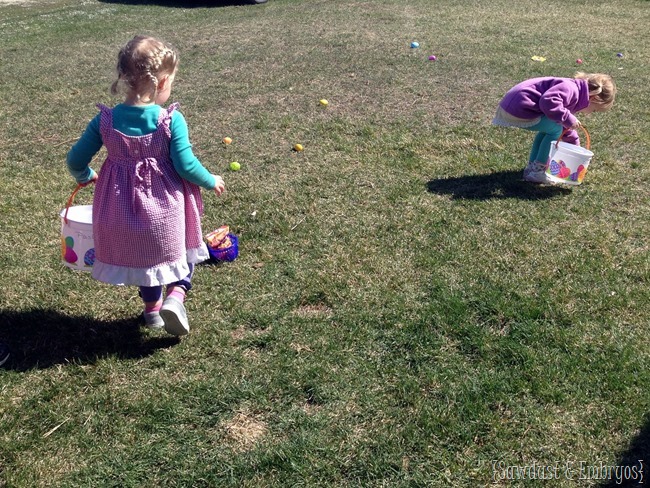 We went to church with Nick's parents on Sunday. The girls were on their worst behavior, and I felt like THAT MOM that I would normally feel sorry for. Struggling to keep the kids from fighting, while trying to burp a fussy baby… then hearing 'mommy I have to go potty'. Pure chaos.
I did however find a few moments to appreciate this gorgeous stained glass window. I just love the colors and shapes… everything.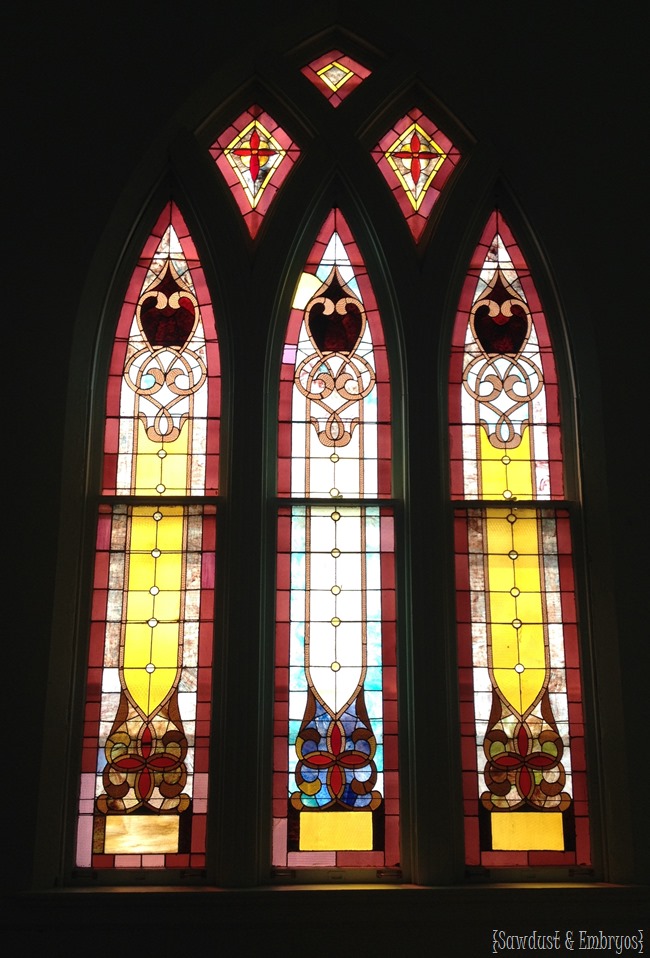 Since it was a holiday weekend, Nick extra time off and we got to spend some time in our woodshop. But instead of building THINGS, we're rearranging and making our workspace awesome. Rather than having one bench on the north wall, we're each having our own 'his and hers' workbench on either side. It's going to be amazing. Stay tuned.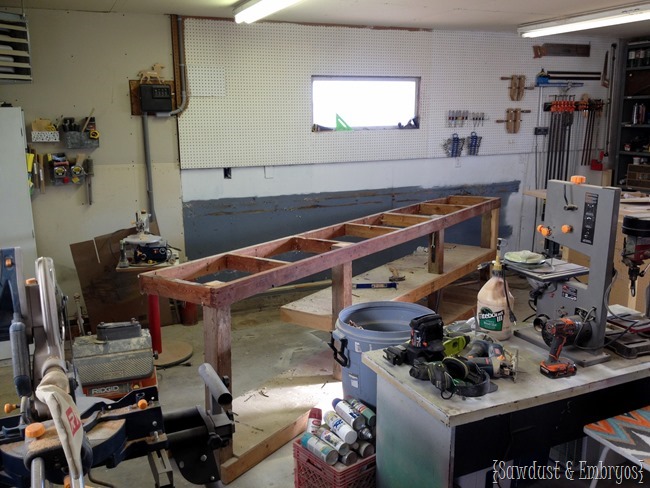 The girls have been having a ball outside now that the weather is getting nicer. It's still jacket weather, but we throw them out every chance we can get.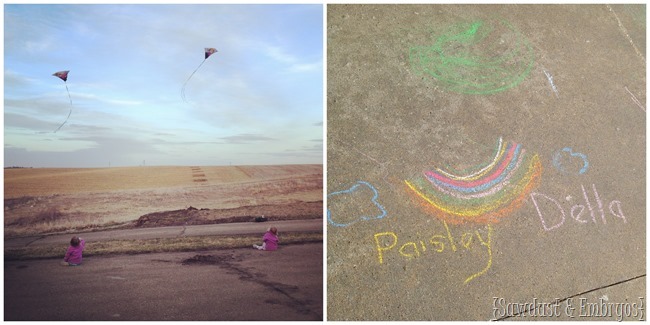 They've been so cooped up all winter, and they have sassy attitudes to show for it. Some of my mommy-friends have told me that 3.5 is a hard age, and they often snap out of it when they turn 4. We're holding our breath until July.
Of course they're very sweet with their baby sister though, and for that I'm grateful. They can be so aggressive with each other… and when I was pregnant, I was worried and didn't know what to expect. It's like they can just sense her helplessness (and cuteness).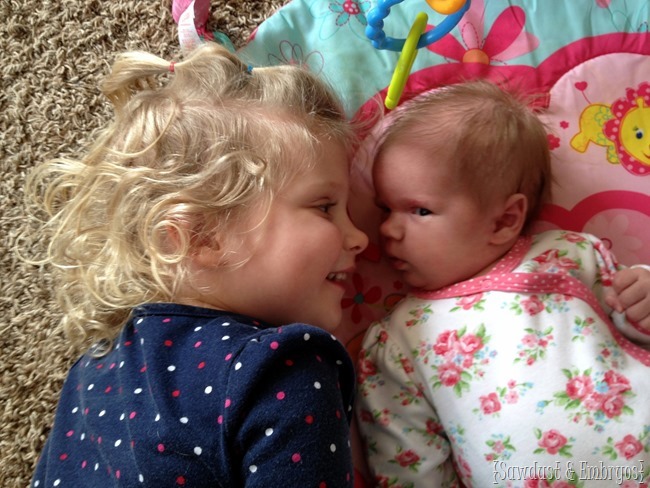 Speaking of baby Cypress, a lot of you have been asking about her baby quilt! YES, we have it hung on the wall above the crib! I was wanting to wait to show you until I had finished the 'giant'mobile' that I'm trying to make, but there have been some hangups… and at the moment I've lost inspiration. I might need to start over… ahhh! So here's a super low-quality cell phone pic of the quilt all hung. I love it so much!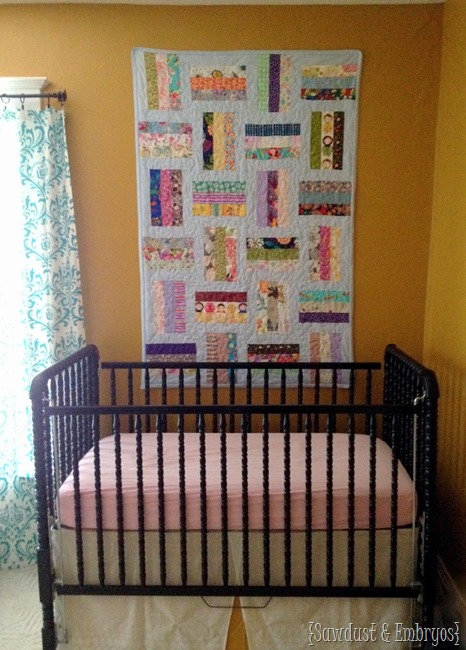 In unrelated news, many of you know that we started a close-knit infertility forum in the form of a Facebook group called Baby Fever. It's been amazing to join along these women to encourage each other and watch relationships form. This is a private group, which means you have to request to join, and all posts and comments won't show up on their friends' newsfeeds.
Each time I get a new request from someone, my heart sinks a little… because I know the pain and heartache they're likely feeling. But I also know they're in good hands with all my friends at Baby Fever. But recently, several women who have been fortunate enough to become pregnant, have asked for a group where they can remain friends and lament about not only infertility, but life AFTER infertility. And so, Fertility Friends (also a private group) has been born (no pun!).
And let me tell you something… when I get a notification from someone requesting to join Fertility Friends, my heart gets a little surge of happiness for that person, knowing that they get to experience all they joys of parenthood. If you are struggling with infertility (or have been one of the lucky ones to become a mommy against all odds), know that you're not alone and there are others that want to encourage you… and need your encouragement as well!