We just got back from our weekend trip to Muscatine, IA! It was such a blast, and I can't wait to share all the details with you!
Y'ALL… I took 244 pictures over the course of two days, so I will do my best to share the highlights!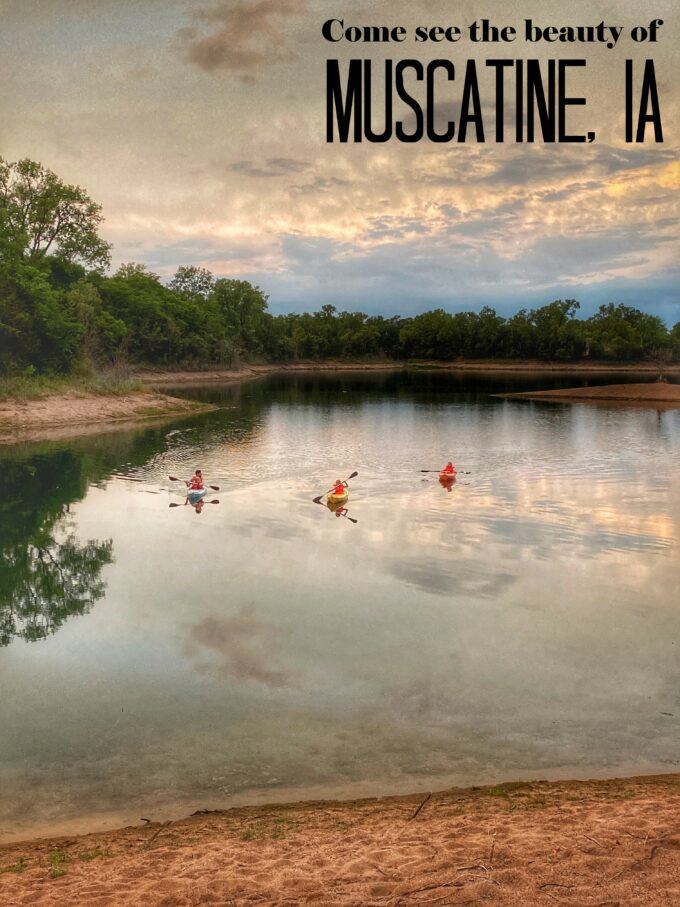 *We are honored to partner with Travel Iowa for this post. Thank you for supporting the fabulous brands that make Reality Daydream possible!
It was about a two hour drive from our home town of Marshalltown, IA… and our trip started with excitement right off the bat! We brought our monarch caterpillar/butterfly enclosure because we had several chrysalises that we knew would hatch over the weekend. And one of them hatched during our drive!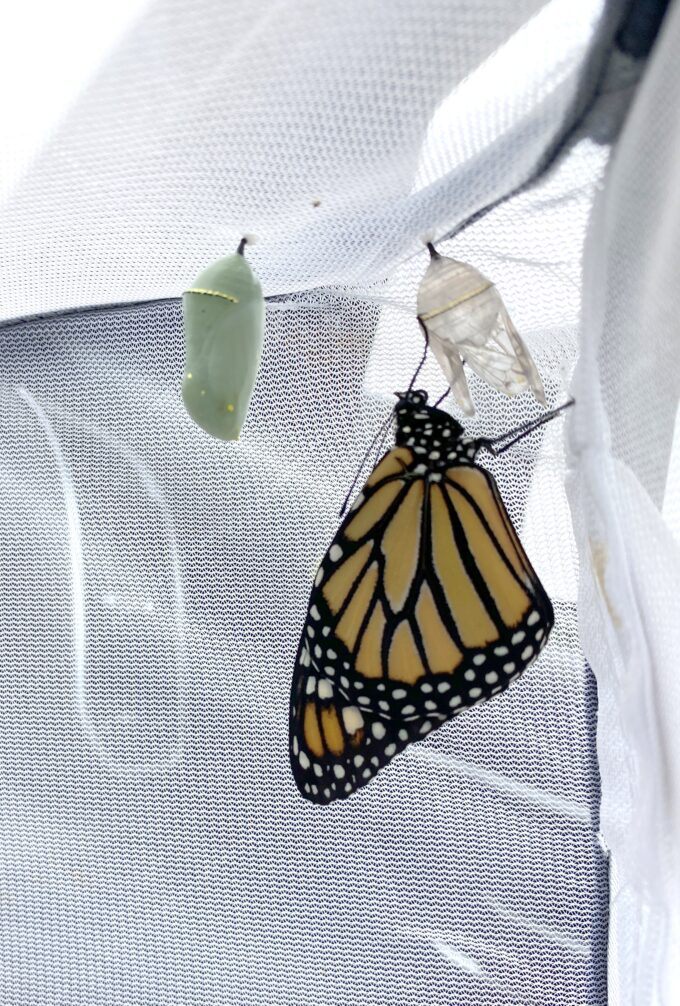 The girls named him Underwater Sunset (??) and we released him onto some wildflowers on the side of the road! We continued the rest of the way, and our first stop was Muscatine Family Restaurant. It had a charming 'hometown diner' feel, and the food did not disappoint!!
We also visited the Muscatine County Environmental Learning Center in Discovery Park where there was so much to learn about nature and our gorgeous state of Iowa! The girls had so much fun looking at the aquariums and natural history exhibits. There was also plenty of time to frolic in their butterfly garden and check their milkweeds for monarch caterpillars.
We snagged a stranger to capture a family photo of us, and I'm so glad we did!
One of my favorite things to do is explore historic downtown areas, and enjoy the beautiful old architecture. And Muscatine's downtown is absolutely gorgeous! And what you can't see from these pics below is the gorgeous view of the Mississippi river! Absolutely breathtaking.
Lunch at Boonie's was a fun atmosphere, and lots of delicious and unique menu items. I wanted to try allllll the gourmet hamburger options!
At last it was time to head to our cabin on the lake! We were so pumped to be able to stay at one of the four new cabinets at Deep Lakes Park. Deep Lakes is a former sand and gravel quarry that features 120 acres of clear water lakes. It's an absolute dream.
The girls were EXTATIC about the lake situation. There was lots of wading and shell-collecting right off the bat.
While we have lots of experience canoeing as a family, this was our first time kayaking. The twins (almost 10) were hesitant, because they would need to be alone in their own kayaks, but they caught on quickly and were pros in no time!!
I'm still recovering from surgery and trying to take it easy, so I stayed back with Cypress. It was so relaxing sitting on our cabin's balcony overlooking the lake and watching them kayak. The weather was perfection. We couldn't have asked for a better weekend!
We tore the girls away from kayaking to go eat dinner. We went to Salvatore's which is a delightful and authentic Italian restaurant. The girls got personal pan pizzas, and Nick and I ordered a margherita pizza (house favorite!), and Mimma's Seafood pizza… which is alfredo sauce, shrimp, crab meat, and mozzerella cheese. They were both insanely delicious.
On the way home, we spied this overlook that looks out over the Mississippi river, and the girls were in awe! At one point, Cypress asked it this was the ocean. I think we need to get out more?
On the drive back to the cabin, the girls begged to go kayaking again before bed. This is vacation! Why not! Nick even took Cypress on his lap this time. And with the sun setting? WHAT ELSE CAN YOU ASK FOR IN LIFE?
We even let the girls stay up late to work on a puzzle together. This is the first time we've done a puzzle as a family, and it was such a fun way to spend time together with NO SCREENS. The next morning, I woke up to Nick working on the puzzle all by himself. LOL!!
The next morning, we had breakfast at Maxwell's on the River which was such a gorgeous and luxurious restaurant right on the Mississippi river! The views were breathtaking, and the food even better!
We were a bit worried about rain spoiling our plans for the day, but it ended up being quite nice, and we got to walk around the historic downtown area and check out some of the darling shops.
We visited the National Pearl Button Museum, where we learned that in 1905, Muscatine produced over 1/3rd of the world's buttons (1.5 billion per year!), and became the pearl button capitol of the world. This button business supported Muscatine through the great depression and provided widespread economic growth. They harvested mussel shells from the Mississippi River, and cut the buttons straight from the shell. It was so fascinating!!
There were even some beautiful works of art made from buttons!
After the Button Museum, we headed back to the car to check on the butterflies… we had brought their enclosure with us, because we could tell that a couple of the chrysalises were close to hatching. Sure enough, two more babies! We released them on a bush downtown.
We headed to lunch at Skinny's Barbeque, which ended up being my absolute favorite of all the restaurants we went to that weekend. I'm a real sucker for barbeque though. 😉 I got the Brisket Grilled Cheese and it was SO DELICIOUS.
Our next stop was the Muscatine Art Center, which is housed in this beautiful old, historic house. I have so many amazing pics of the inside of this house! But I'll just pick my faves to share below.
We had grand plans of finding a sitter and going to Missipi Brew for dinner, and heading over to Contrary Brewing Co, but alas we were unsuccessful in finding childcare. We were bummed, but it was also nice to go back to the cabin and relax after such a busy day. Nick and the girls wend out for one last kayak outing!
By the time the sun set, the kids were tired and cranky, and we put them to bed early so we could crack open a beer and finish the puzzle. We saved the last 3 pieces for the girls to put into place in the morning. And now I want strawberry shortcake. And kittens. 😉
I know this was a lonnnnng post, but I wanted to document every little thing about our weekend getaway to Muscatine, IA! At one point, I said to the girls " Hasn't this been such a fun mini-vacation?!". And one of them replied, "This isn't a mini vacation, this is a WHOLE vacation!". They loved it so much, and we had such a fun time as a family. Who knew there were so many hidden gems (and gorgeous lakes) in Iowa?!
We were all sad to head home, but were so grateful for such a wonderful travel experience right here in our home state! We love supporting small business, but it's even better when they're local! Huge thanks to Travel Iowa for sending us on this fun trip. It has been such a pleasure to share some of the beautiful landscape of our home state of Iowa!
~Bethany
Thank you for pinning!
~~~~~~~~~~~~~~~~~~~~~~~~