Well hello there! Are you having a great day? Are you living in ALL CAPS?
Good!
Me too!
So…. you know how everyone has a junk drawer? Well we have a junk ROOM.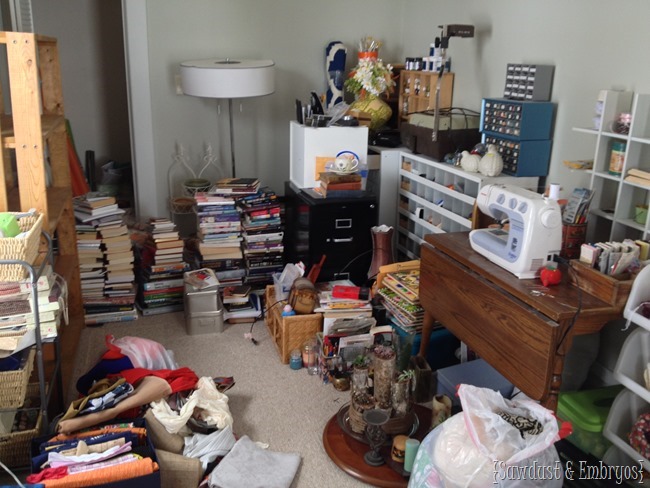 It's the catch-all room where I have not only my sewing machine and craft supplies, but also guitars, books, stuff we're not using, and stuff we don't know where to put. And this room is RIGHT off the living room, so obviously we keep the door closed pretty much all the time. We recently got one little corner organized with this mid-century hutch, but that's about it.
The funny thing is that we call it 'the studio' to sound fancy. And because it's supposed to be my creative space. How lucky am I to have a husband that gives me an entire room for crafting/sewing/hoarding?
In that pic above, you may be able to spot some cubbies. Nick brought this unit home from work where it wasn't needed anymore. He knew it would make my little organizing heart sing.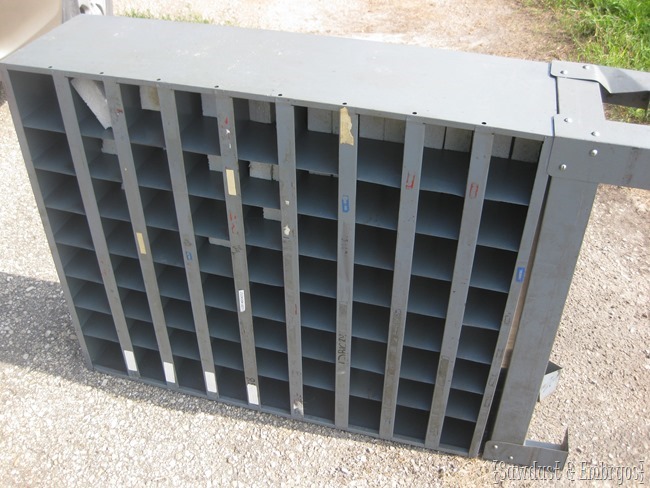 Not long after that, I found this apothecary-like metal cabinet at a garage sale for $20 bones.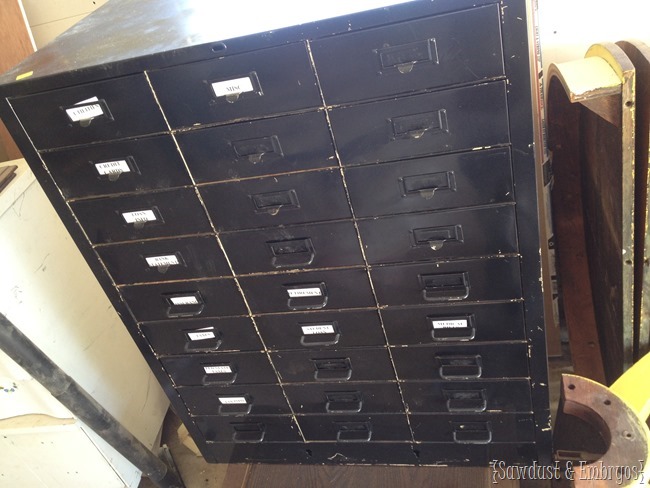 I realized that IF these two pieces were the same height, I could totally put a countertop on them for a workspace in 'the studio'. The metal cubbies were several inches taller than the drawer cabinet, and Nick didn't quibble about the opportunity to make some sparks with his grinder.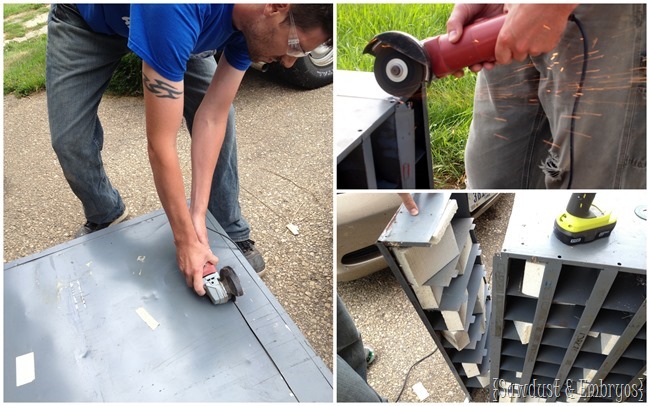 After some serious clean-up, they both got primed and painted white.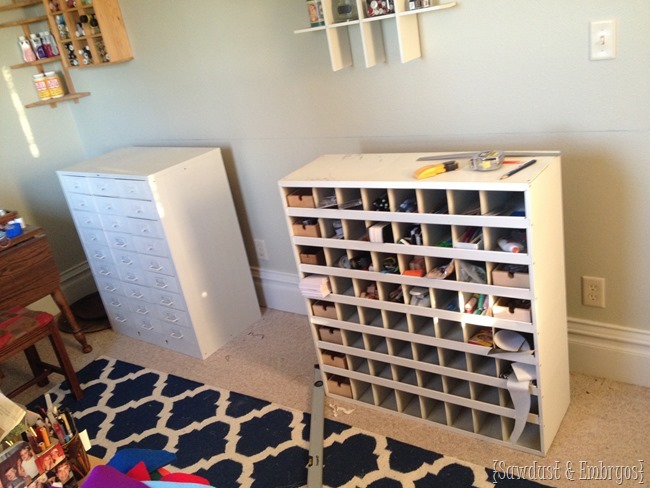 As you can see, I wasted no time organizing some things in that cubby. SO CONVENIENT for markers, chalk, glue, little crafting items, ETC! Also, don't be fooled by the above pic… ALL THAT CRAP is piled on the other side of the room where you conveniently can't see. One thing at a time people!
So now I need a countertop, right? We could have done a butcherblock counter like we did in our upstairs bathroom, but we decided to keep things simple and just use poplar planks glued to size. (see this post to learn how we acquire our lumber for super cheap).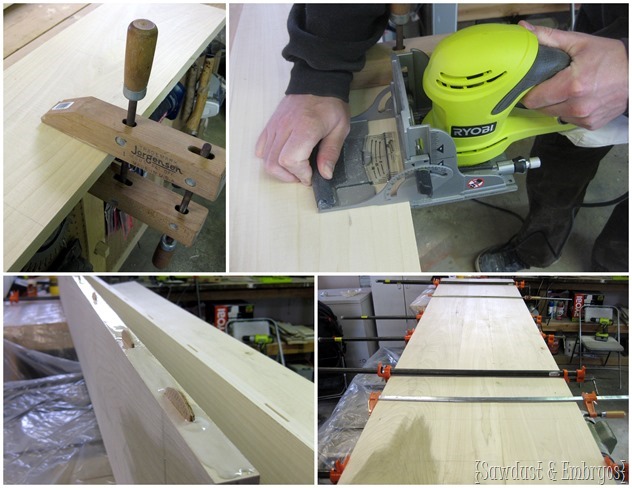 He totally needs to do a post on his website to show detailed instructions, and how to use his bad-a Biscuit Joiner. That thing is FUN to use.
Once everything was assembled and the glue was dry, we unclamped it and sanded… starting with a belt sander with 80 grit, then moving to a random orbital sander at 120 grit, then 220 grit. Smooth as a baby's booty!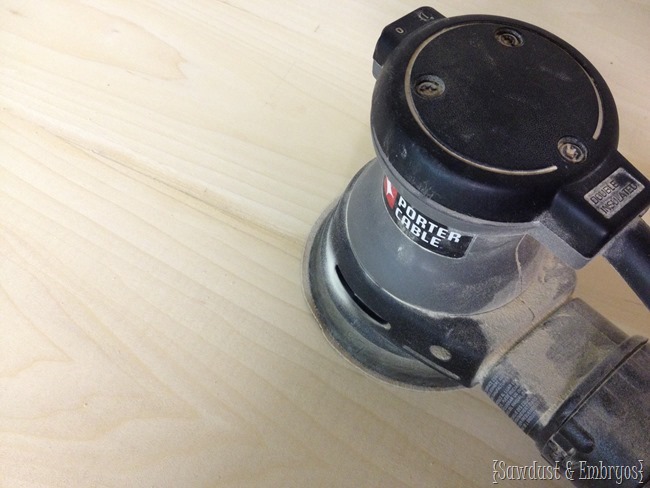 The last thing we needed to do was put up a bracing 'rail' along the wall so the counter would have a support in addition to sitting on the cubbies. We simply ripped down 1" planks to 2" width, then leveled and marked where it would go with a chalk-line.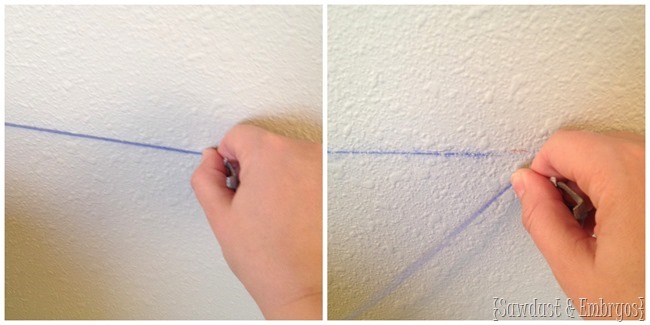 We marked the studs, and screwed the board in.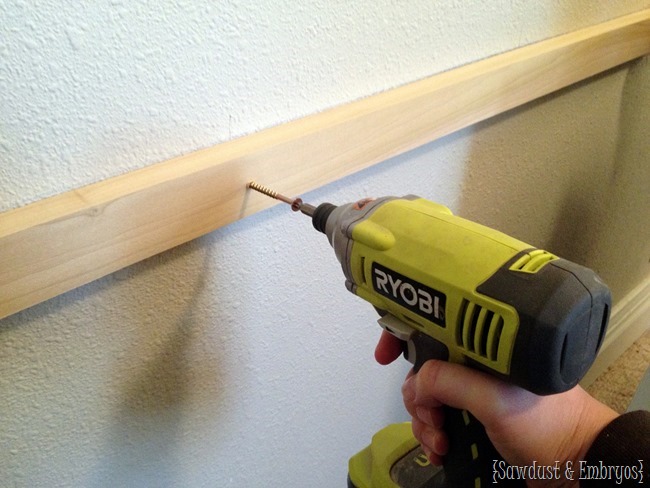 Next, the 11' counter got hauled in and put in place!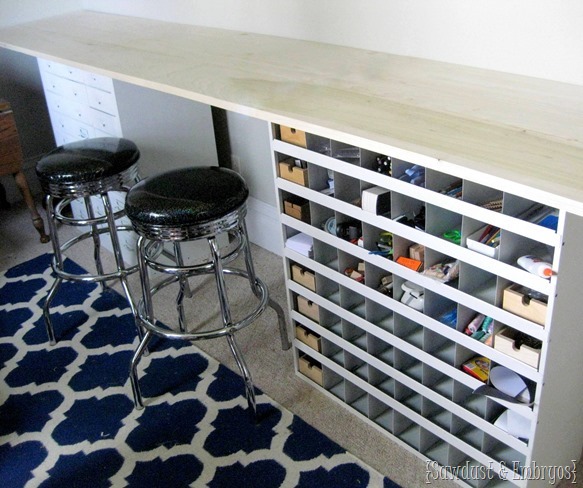 The space at the very end will have a lower counter coming out for my sewing machine. And the space in the middle will be perfect for a couple stools. Do I dare let the twins craft at my counter? I HAVEN'T DECIDED.
The counter still needs to be stained and sealed… I'm debating using one of Rust-Oleum's new stain colors. So fun right? Do you have an opinion?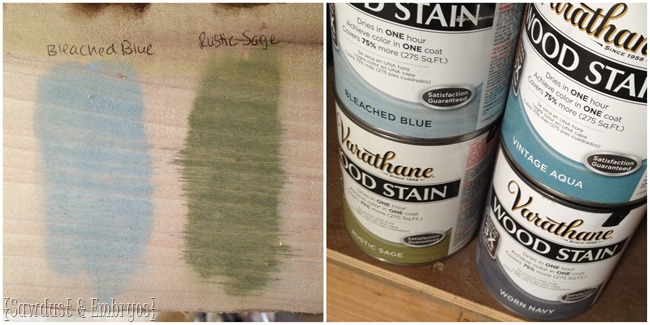 Next step is to put up some shelving and maybe pegboard? And a regular height table at the end for sewing. It will be so nice to get everything off the floor and organized! Wouldn't it be so functional to be able to USE the craft room studio? Such a foreign thought!
Do you have a catch-all junk room? Better yet, do you have a room dedicated to crafting or being creative? Did you know that SOME weird people actually use their 'extra' room as a guest room? So crazy!