One of the first things we did when we moved into our house was PAINT THE KITCHEN.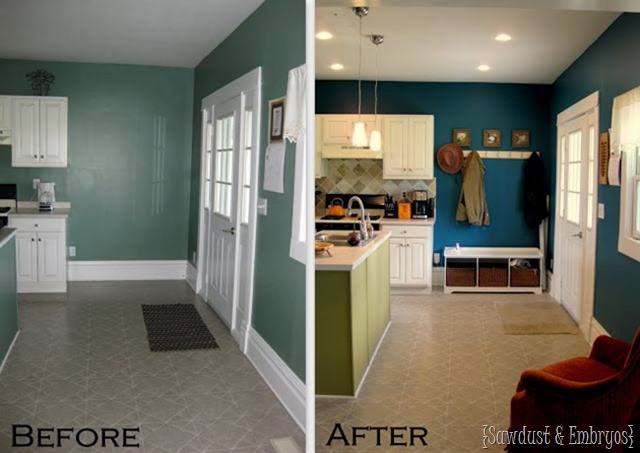 I got all brave and went with this dark teal color to contrast my white cabinets and chunky white trim, and I absolutely loved it. And apparently you did too, because that post about me painting the kitchen has been pinned over 700,000 times on Pinterest. In my pajamas.
The big draw to this room was that one wall I did the glossy swirls on. This was back when Pinterest was first a 'thing'… (remember when you needed an invite to join?!), and people thought the glossy pattern over flat paint was a ground-breaking / genius idea. Picture me bowing and waving.
And while I loved the color ('Deep Emerald' by Pittsburgh Paints), I started noticing myself turning the lights on in the middle of the day. Like bright sunny days. And that's just silly.
So, I've known for awhile now that the dark teal has to go. But tackling this paint job would be no small feat. A few weeks ago, I decided to paint over our painted backsplash to paint a new one… and that's when I decided MAYBE NOW'S THE TIME.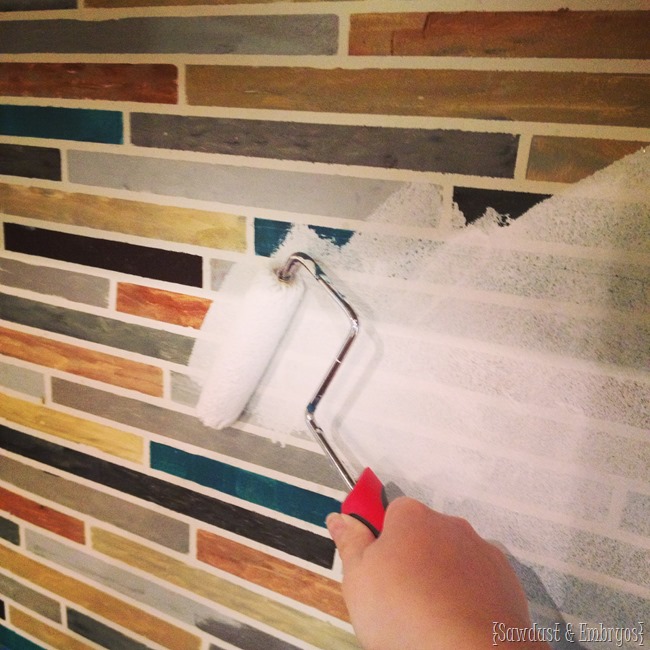 So I liquored the husband up, and we got busy,
We've had a couple readers email us recently telling us that they had a really hard time painting over THEIR glossy swirls, because the paint wasn't sticking to that shiny paint. This was so good to know, because I wouldn't have even thought of that.
So we started by taking the orbital sander to that wall to rough up that glossy paint and give it some 'tooth' for the paint to grab onto.
Because we needed to paint over such a dark shade, we did a coat of oil-based primer (Kilz) to cover as much as possible. That stuff is SO FUMEY, so we did it after all the kids were in bed for the night, and opened all the doors and windows on the first floor. Even with those precautions, I started feeling loopy and like I might be getting cancer if I lived in the state of California (how many of you get that reference?!). So I still wore a mask. Nick? #notsomuch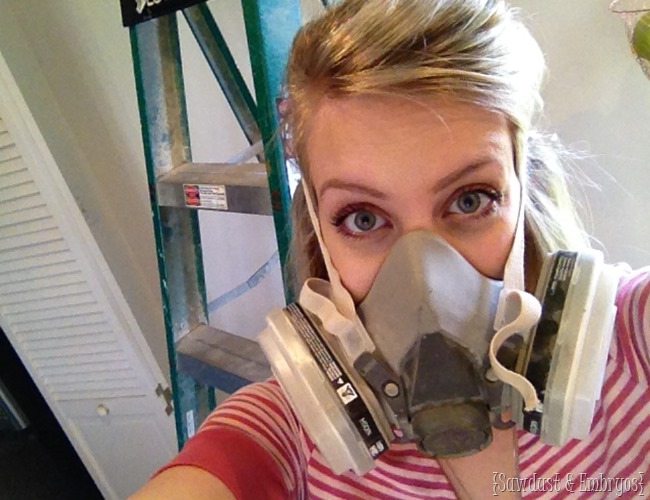 Let's just say that we had to do two coats of primer, and 3 coats of white paint to cover all that teal. Nick has been spewing profanities in his sleep ever since.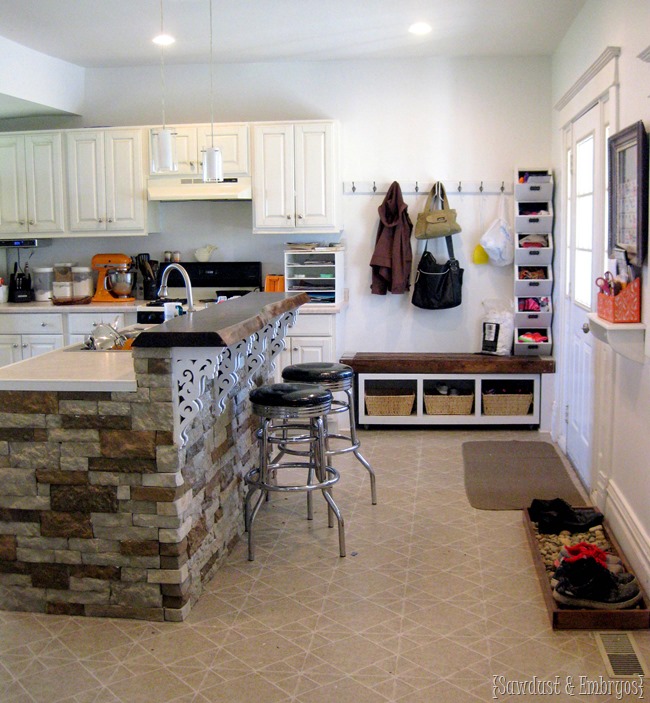 Such a beautiful blank slate!! And looks like it belongs in a psych ward!
The Kitchen has been an ongoing project… and I've mentioned it before, but we're going to extend the cabinets up to the ceiling, and all the way to the wall over the 'mudroom area'. And I've got devious plans to paint the cabinets. ONE THING AT A TIME THOUGH… right? Wrong! We have about a meeellion projects in the works at this very moment!
But! for now I'm out the door to take two toddlers to the dentist. #sendhelp