This year we've been taking a special interest in caring for our curb appeal and it's been so fun to see what a drastic difference it makes in the way we perceive our home! We find ourselves taking more pride in our lawn, garden, and in today's case… SIDEWALKS!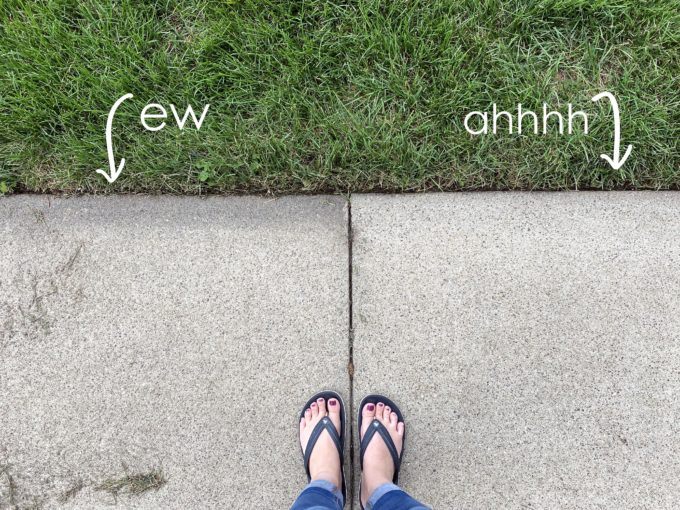 *This post is sponsored by our friends at STIHL. Thank you for supporting the fabulous brands that make Reality Daydream possible!*
This seems like a good opportunity to introduce you to this guy. My new BFF. (that first pic is our very first selfie together)
We were pleasantly surprised by the power this little beast serves. We got the STIHL RB200, which is perfect for heavy cleaning on your deck, house, equipment or… you guessed it, sidewalks!
Look how nasty the sidewalks in front of our house are! Let's do this!
It's always shocking just how dirty things really are. Things become real clear once you start power washing. This attachment is called the "Water Broom". We used a combo of this and the 15 degree nozzle (included) on our sidewalks. Especially along the edges where the dirt tends to collect.
On the sidewalk that goes across the front of our house, we decided to just do one half and let it dry so we could really see the difference it made! Of course that crisp edge of grass from using our Sidewalk Edger doesn't hurt either!
Not only is the RB 200 FUN to use, we also love that it has an easy-start pump system… making it easy to start up. And the no-kink flex hose (that's 25′!) allows you to clean large areas without having to move the machine.
It also has lots of different optional cleaning accessories, like a rotary surface cleaner, water broom (pictured above), hose extension, gutter cleaner, and more!
WHO KNEW that crisp and clean sidewalks would bring us so much joy!
We're so happy with how much of a difference this tool makes for our curb appeal, AND how satisfying it is to use!
Please tag us in YOUR power washing projects! I could watch it allllll day. We're @RealityDaydream on both Instagram and Facebook!
~Bethany