After I wrote yesterday's post, I just hung my head in shame. How did my life become so out of control that I felt the need to spew my negativity all over the interwebs? Maybe I'm a little toooooo transparent. It was a selfish move… but you guys were so sweet and encouraging. THANK YOU.
Since I have a quiet moment (and because writing is therapeutic for me), I'm going to show you a little update we recently did in our dining room. Remember this lovely antique dining set that my Granny passed down to me?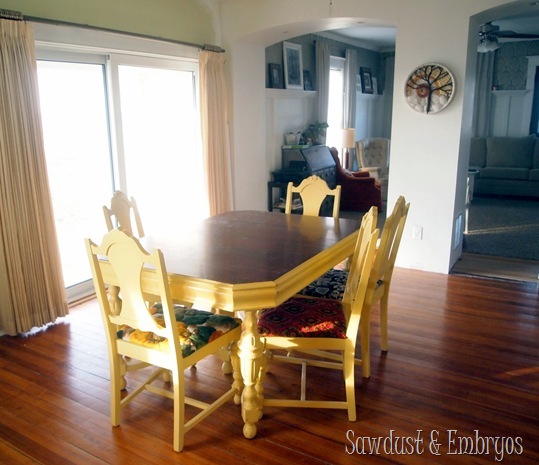 I know what you're thinking… how could you be down in the dumps when you have a shockingly bright yellow dining table in the middle of your house? And with such cheerful and eclectic vintage fabrics?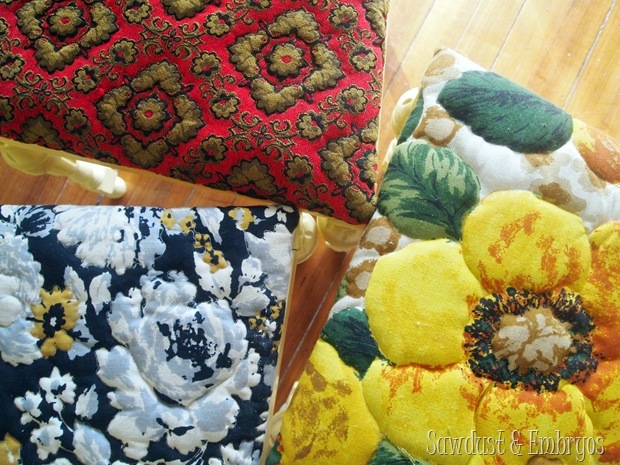 Well let's just say the dining table… nay, the WHOLE DINING ROOM has been on my radar lately. And for our family, the most pressing matter is how uncomfortable these chairs are to sit in. I mean, my trunks been out junkin' lately, and it STILL feels like I'm sitting directly on a slab of wood. I wanted to reupholster them with the same poppy fabric we had last time, and add that clear plastic vinyl to protect from the toddler food-fights.
The issue of replacing the foam was intimidating me a little. There are so many different densities of foam that I never know what appropriate for my specific project. And foam is expensive enough that I knew I wanted to get it right. And even though I already have the fabric that I'm going to use, I realized Online Fabric Store sells more than just fabric… they have a whole selection of foam. WHA???? I know! And they were awesome enough to discuss our needs and send us just the right amount of High Density Upholstery Foam we needed for our 6 dining room chairs!
We removed all the seat cushions and took out all the tiny rusty nails holding the fabric on.

What happened next cracked me up so hard. That, my friends, is the amount of foam our rears have been sitting on daily.
Then, upon further inspection, we realized that this layer of foam was two very thin pieces of batting that had a very thin layer of dead grass from the early 1900's.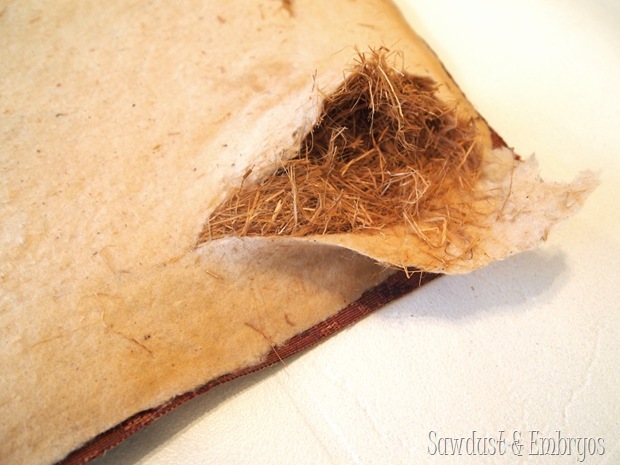 Can you imagine the shock of luxury that will strike our behinds when we sit on actual foam again? #firstworldproblems
We laid out our roll of foam, set the wooden seats on the foam, and traced so we would know where to cut. (we use an electric meat-carving knife… and it cuts like butta!)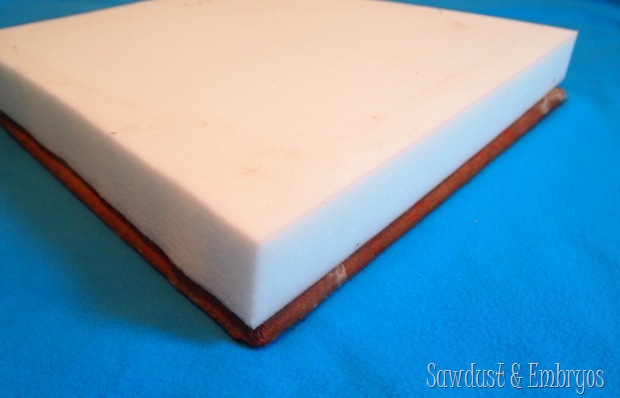 Then, with our upholstery staple gun, we just started stapling the edge of the foam down to be flush with the edge of the board. It give the perfect rounded edge of foam. We don't know if this is the 'proper' way to do this… but we've tried several different methods in our day, and this one works best for us!

Those slight little ripples in the foam will be completely smooth when we're done… in case you're in a panic.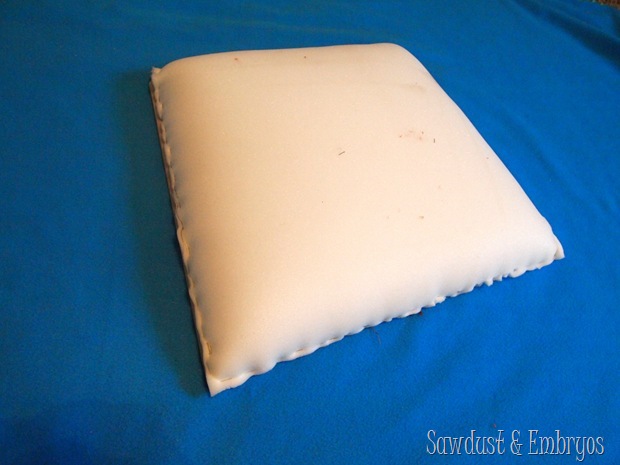 Because the fabric that we have for the chairs is a very lightweight linen, we decided to upholster first with a basic muslin to add strength. (the clear vinyl that we'll finish off with will be the ultimate protection)… we staple the front, then put a center staple on the opposite side and go out from there. Then we staple down the other two sides. Our staples are typically about a half inch apart.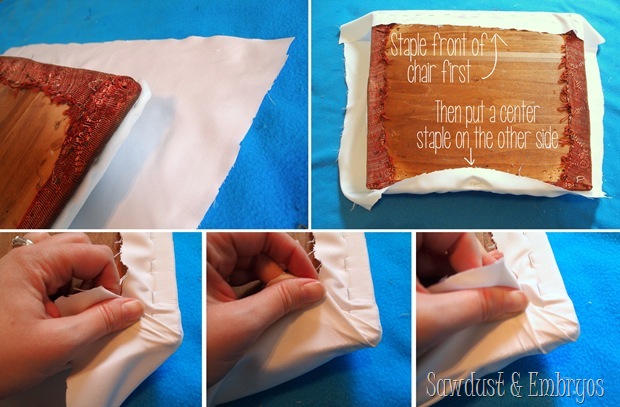 Then we repeated using our beloved orange poppy fabric… BINGO!

I know I know, it's not for everyone. But I know one thing for sure… it's for ME!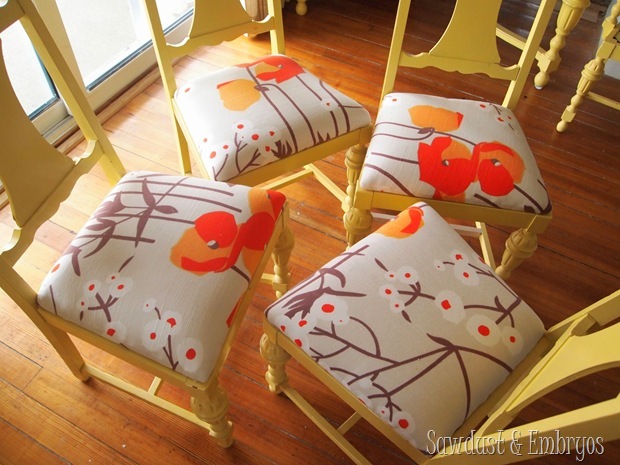 Are you able to squint your eyes hard enough to ignore the yellowness of the chairs next to the vibrant orange Poppies? Please say yes. Because this explosion-of-yellow-sunshine's days are numbered. I have some ideas swimming around in my head, but I'm not ready to pull the trigger quite yet. I'm limiting myself to 17 projects at a time. That's alllllmost not a joke.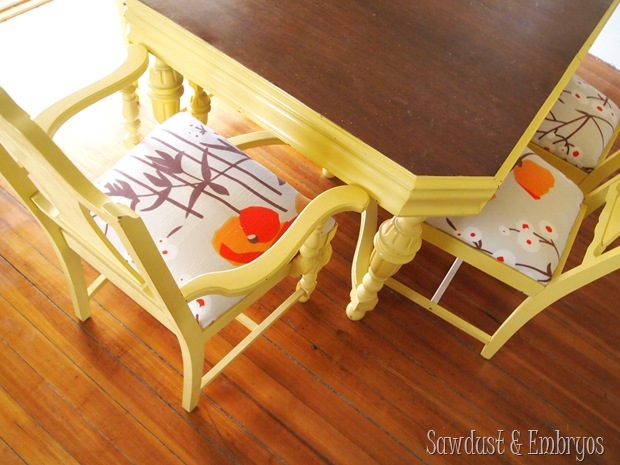 In these pics, I haven't added the clear plastic to the chairs yet. They're really hard to photograph with the shiny reflective vinyl, so those'll be going on asap.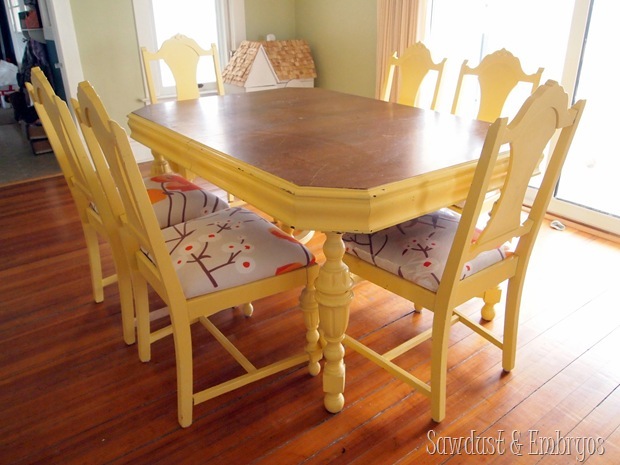 There you have it! A small update that will have a huge impact on our bum-bums. I'm pretty excited for lunch today… which is our big sit-down meal since Nick works 2nd shift. And it doesn't hurt that lunch has already been in the crockpot for hours, so my work here is done!
Signing out now, to go snuggle with my little sickie.
*this post contains affiliate links