Remember how we tore out our stand-up shower with plans to make our giant downstairs bathroom into a dreamy laundry room?
This project has been frustrating for me, because there's not a lot I can do to help… and it seems like nothing is getting done. But the truth is that A LOT is getting done. It's just not the pretty stuff. Check out all this wiring and plumbing. WOOF. My husband's bag-o-skillz never fail to surprise me.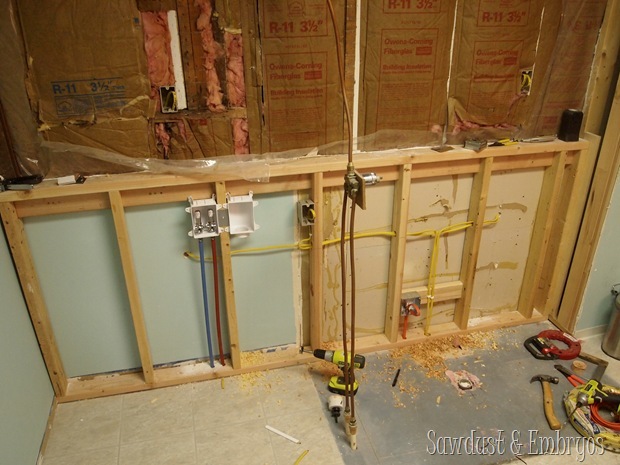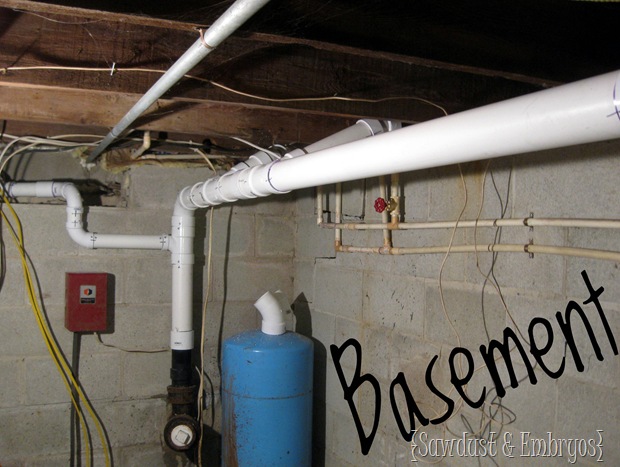 It turns out that a LOT goes into moving a washer and dryer. Color me naïve.
Run Drain,
Re-route Main Plumbing Line
Re-Route Water Supply
Run GFCI Power
Run Power for Washer and install GFCI Breaker
Run 30 AMP 240VAC For Dryer
Re Wire Dryer
Run Vent for Dryer Exhaust
Insulate
Sheetrock
Mud
Paint
Install Flood Stop
Test
This is not a tutorial on moving a washer and dryer, because that would take about 300 individual posts. We're just going to break down the basics so you can see what we've accomplished so far.
Once all that plumbing and electrical was done (which took weeks), it was time to insulate and drywall… which includes cutting perfect openings to match up with the outlets and water source. The girls love to supervise, naturally.
Then, using a 4 1/4" Hole Saw (which is basically a giant drill bit), Nick and the girls drilled a giant hole through the side of our house for the dryer vent.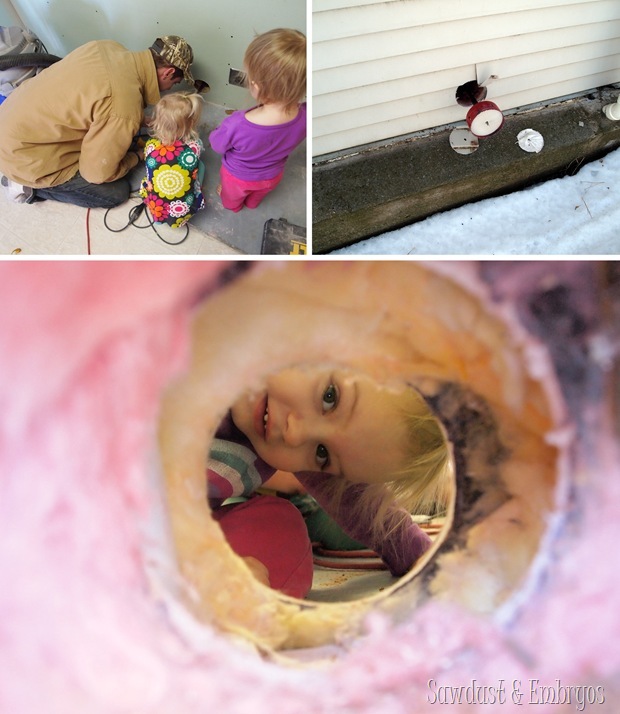 Now that it's drywalled, here's an image with a little explanation about all that's going on behind this wall.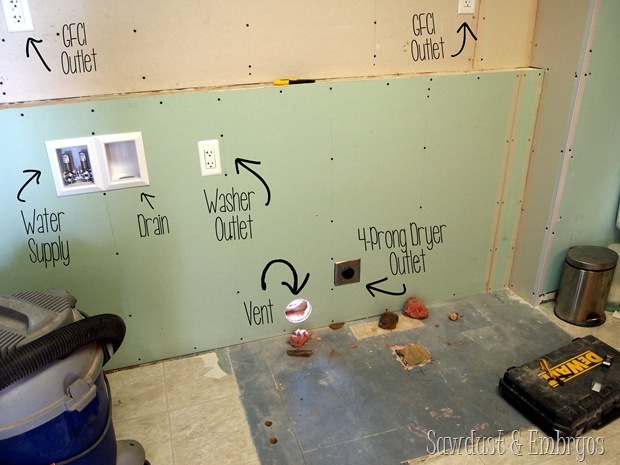 It was at this point that I was JUST SURE that we could finally move in the washer and dryer. But no… this boy of mine is sooooo thorough that he mudded all those screw holes despite the fact that there will be cabinets, appliances, and a backsplash covering the entire expanse of this wall.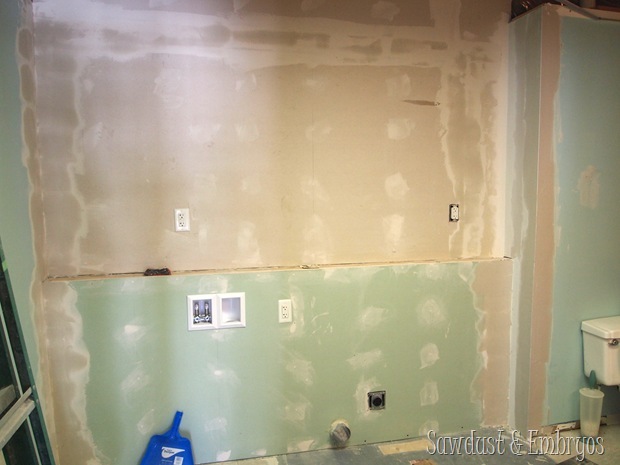 And then he had to paint it.

I'll admit, it looks pretty crisp and clean and fabulous. Like a blank canvas. I'll also admit that I might be the most impatient person on the face.
And finally that glorious moment that I've been so 'eagerly' anticipating… LALALALA!
Yowza those things are big! Also, can we collectively ignore the flooring for now? Obviously it's going to get an upgrade at some point.
We installed a product called Floodstop that is designed to turn off the water at it's source in the event of any leakage. Basically it protects your house from flooding… because a washer holds a LOT of water. They were awesome enough to send us their product to try out! You can watch this short video that explains how it works. Such amazing technology! This is especially important to us because directly below our washer (in the basement) is our electrical panel.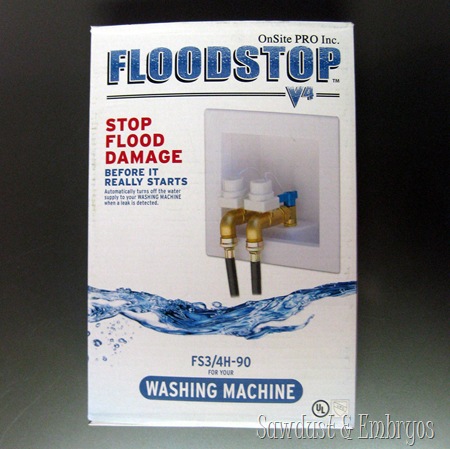 Obviously we have a LOT to do in this room. Here's our breakdown:
Tear out shower

Reroute water/electrical for washer/dryer relocation

Insulate/drywall/paint

Move washer and dryer!

Update flooring
Fix ceiling and install recessed lighting
Build custom cabinetry and countertops
Replace toilet that gets clogged by even the smallest of turds
Figure out wall color and backsplash options
And I'm pretty darn excited about all the new space in my pantry! I still can't believe our laundry has been mingling with our food supply for all these years. It's taking a lot of restraint for me not to finish the pantry shelving all the way down… but we have enough other projects we're in the middle of. (see list above)
Remember? MOST IMPATIENT PERSON ON THE FACE.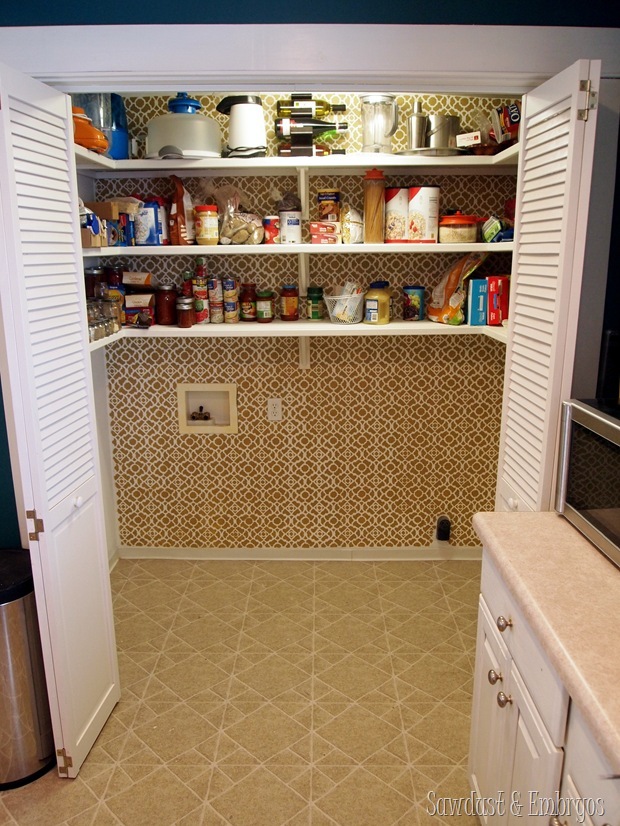 So that's where we're at with our 'Operation Laundry Room'. This is going to be an ongoing room transformation that will likely take many months, so don't be holding your breath or anything. Not only is it a labor intensive project, our funds are very limited so sometimes we just have to take a step back while we save for the next step. But I'll be sure to update you from time to time. It's all so exciting!