I mentioned in passing on our Facebook page that I hadn't been shopping for 6 weeks. Well the truth is, we were out of town quite a bit this summer (thus not eating as much food at home)… so it was a little misleading. We typically hit the grocery store every 4 weeks or so.
But after inquiries from lots of curious readers and friends, I thought I would share some details anyway!
When we moved to our farmhouse in the sticks 7 years ago, it was a bit of shock in many ways. I've never lived in the country (though I did grow up in a small town), and there were soooo many new experiences! In fact, that's when I started this blog to document all of it!
Anyway… Nick and I went from living in a duplex RIGHT NEXT to a grocery store, to living 20 miles from civilization.
When we were newlyweds living in our duplex, I was still learning to be domestic and wifish, and hadn't quite figured out the whole meal-planning concept. We would both come home from work, look at each other, and say 'what should we have for dinner?!' …then we would proceed to walk 10 feet to the grocery store to buy whatever items we needed to make that dish.
#facepalm
So you can see how being a bonafide country-wifey would be a little bit of a transition. No more last minute dinner decisions, no more impulsive trips to the store, no more craving anything that isn't already in our pantry. NO MORE PIZZA DELIVERY. (tearful emoji)
I know living 20 miles from the nearest grocery store doesn't necessarily require scaling back to once-a-month grocery trips … but between the distance and our monthly budget strategy, it just evolved into what it is!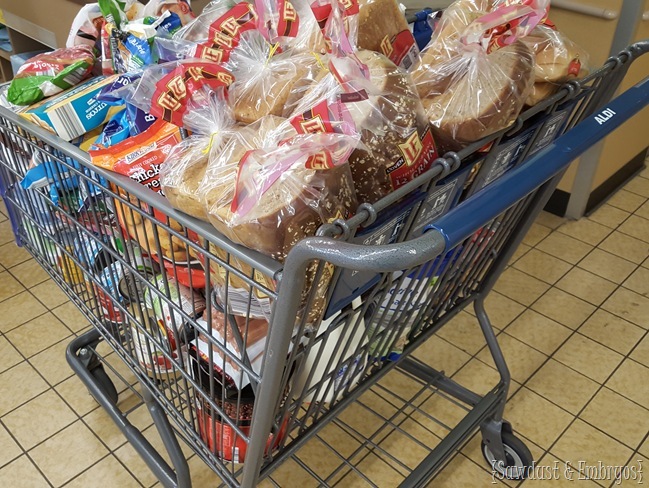 First and foremost, I shop at Aldi. If you're not familiar, it's a grocery store that does things a little differently. Their items are quality… but much cheaper than other grocery stores. There are several ways that they're able to keep their costs low and provide their shoppers in amazing value. Instead of going into detail, I'm just going to link you to my friend Ally's (Ally's Sweet and Savory Eats) post where she goes into great detail about Aldi and what makes it special HERE.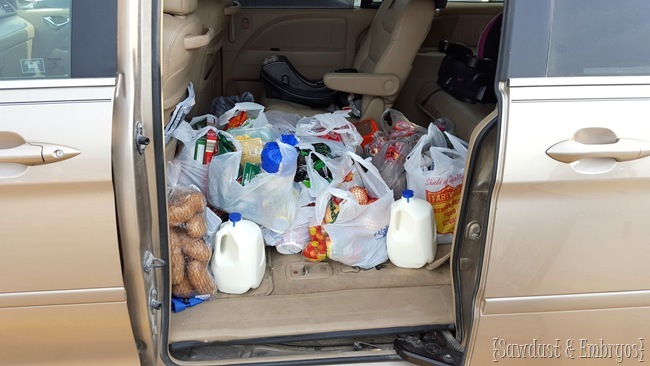 This is most certainly not an advertisement for Aldi BTW. They have no clue who I am! I just love shopping there and love how much moolah we save by doing so. There are Aldi stores in most states, and in many other countries as well! (Store locator here)
SO! Let's get down and dirty with the details.
We pretty much have a rotation of meals that we stick with, so this means I buy basically the same items every time I shop. I do my best to try 1 new recipe each month, so I make sure to add any items that aren't part of our typical staple items.
Without giving you a full list of exactly what I buy (because that really wouldn't be helpful since everyone has different staples), I'm going to highlight some specific food groups to share how we handle those…
(NOTE: we are a family of 5, one of which primarily eats pureed fruits/veggies and baby formula… and we spend approx $300 / month)
1) PRODUCE… Firstly, I would normally have a garden to take advantage of this time of year, but this year it just didn't happen, no apologies. That said, I buy both fresh and frozen versions. When our fresh produce runs out, we break out the frozen stuff! Bags of frozen peas, broccoli, corn, carrots, etc… their frozen at the height of their freshness, so they're surprisingly yummy!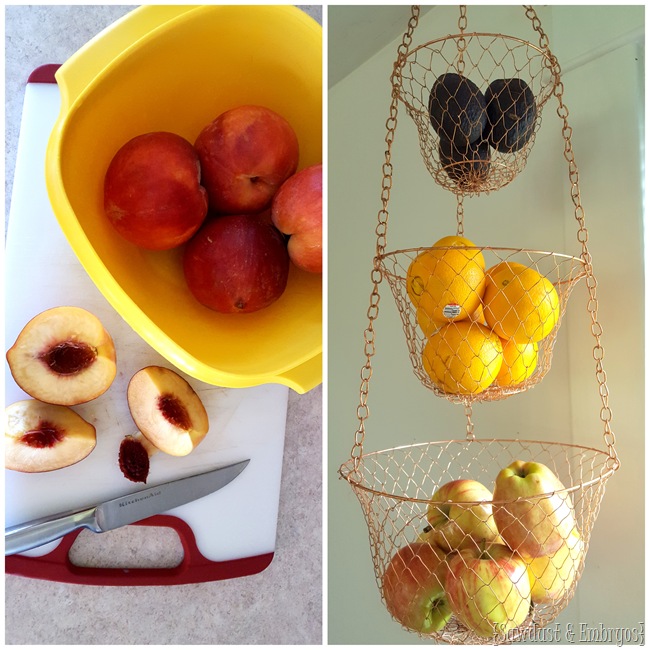 Frozen fruit is a little less appetizing, because it has a definitely squishy quality after being thawed. This just means we add it to oatmeal, muffins, etc instead of eating it like finger food the way we do with fresh fruits.
I often dice up things like onions, bell peppers, celery, rhubarb, etc and freeze them in ziplock baggies. This not only makes our produce last longer, but it makes throwing together meals so much easier because that chopping prep is already done!
As an example, here's a list of the produce I bought this last trip to the store:
FRESH:
Bag of oranges
Bag of apples
4 avocados
6 peaches
Bundle of bananas
2 cucumbers
3 bags of baby carrots (the extra cost for baby carrots vs full-size carrots is worth it to us for the convenience)
5 med tomatoes
Bag of onions
Bag of potatoes
FROZEN:
4 bags frozen blueberries
4 bags frozen strawberries
4 bags frozen peaches
6 bags frozen peas
4 bags frozen broccoli
4 bags frozen corn
8 bags frozen mixed veggies
2) BREAD: we eat sandwiches a lot for lunches, so we go through what seems like a lot of bread. I buy 7 loaves each month. When I get home from the store, one goes in the fridge, and the other 6 go in the deep freeze. When we're getting down to the end of a loaf, I grab a frozen loaf and set it on the counter. It's usually thawed in a half a day. You can also pop it in the microwave on defrost for 2-3 minutes. Surprisingly, thawed bread is still super soft and fresh-tasting. I think if you left it in the freezer longer than a month, it might start to get some freezer burn and seem a little more dry after being thawed.
3) MILK: we're going through a phase where we don't go through as much milk lately since the twins are passed milk in sippy cups, and Cypress is still on formula. 2-3 gallons typically lasts the whole month for us. And did you know you can freeze milk? I buy half gallons to freeze, drink a 1/2 cup so it's not completely full (to account for expansion), put the cap on tight, and throw it in the freezer! Thawing milk takes a little more planning since it takes about 2 days to thaw. But once you start to pay attention and learn you family's milk-consumption habits (LOL), you'll get a feel for estimating when to take milk out of the freezer in order for it to be thawed in time before you run out. You can always run some hot water over your frozen gallon to thaw it faster if you're in a pinch.
4) MEAT: We mostly stick with ground beef and chicken… and 10 lbs of each usually covers us for the whole month. I buy two 5lb bags of frozen boneless chicken breasts, and two 5lb chubs of ground beef that I cut into half pound chunks and throw in the freezer
5) EGGS: We eat a lot of eggs because they're cheap, yummy, and fairly nutritious (unless you have high cholesterol, which we don't. Yet). We go through about 6 dozen eggs in a month, and they stay good in the fridge for the full 4 weeks. For more info on keeping eggs and how to know if they're still good this is a great reference.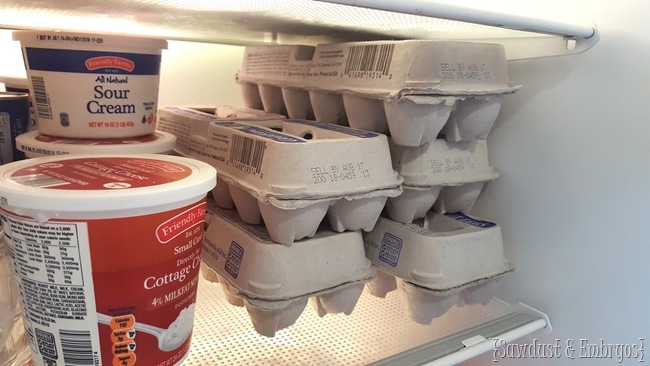 Now lastly, I want to talk about meal planning. I'm a free-spirit, non-planning type of person, so the idea of planning which meals I want to make/eat on which days (even for just a week at a time), makes me feel itchy and twitchy. NO THANKS.
Who am I to tell myself that 4 days from now I'm going to feel like making Chicken Parmesan for my family? 4 days from now might be a really hard day, or I might have a headache, or I MIGHT JUST NOT FEEL LIKE PREPARING A FANCY MEAL that day. I like having the freedom to make that decision on a daily basis.
And this is my strategy: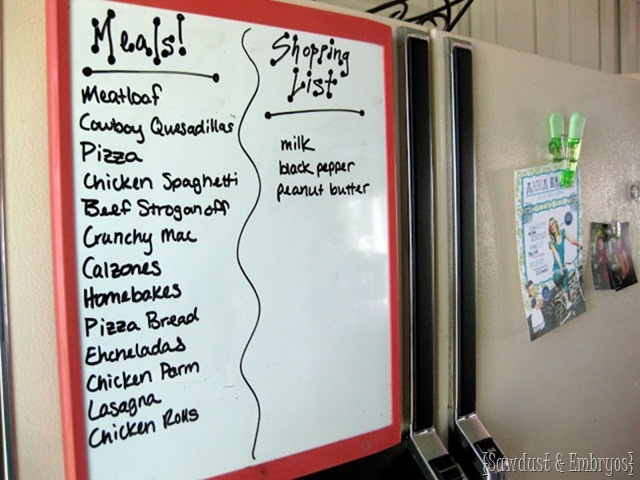 As I'm putting groceries away after my monthly visit to the store, I write down meals that we have the ingredients to on a white board. Then, as we make the meals, we simply wipe it off the board with our finger! This give us the opportunity to leave a certain meal on there if we still have the ingredients to make it again. For example, we typically have spaghetti and pizza about once a week.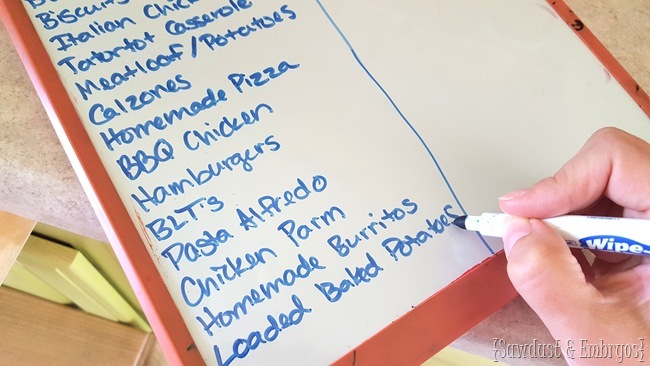 As you can see, half of the white board is for meals that we can choose from, and the other half is for things that we're running out of. We've been using this system for 6 years, and it is SO HANDY.
If I'm not sure what to make for dinner on a certain night, I consult my list! Or, when Nick gets home from work, and I say 'what do ya want for supper?' and he says 'what are my options?' …I just have him consult THE LIST.
And if I have a certain produce item I need to use up, or some leftover meat from a previous meal I need to incorporate, I can choose a meal from the list accordingly!
And when we get down to the nubbins toward the end of the month, I'm forced to get creative with meals. It's kinda fun to challenge myself to make something yummy with only a few ingredients. And another good thing about eating ourselves down to just about nothing is that it's easy to clean the fridge when there barely anything in it!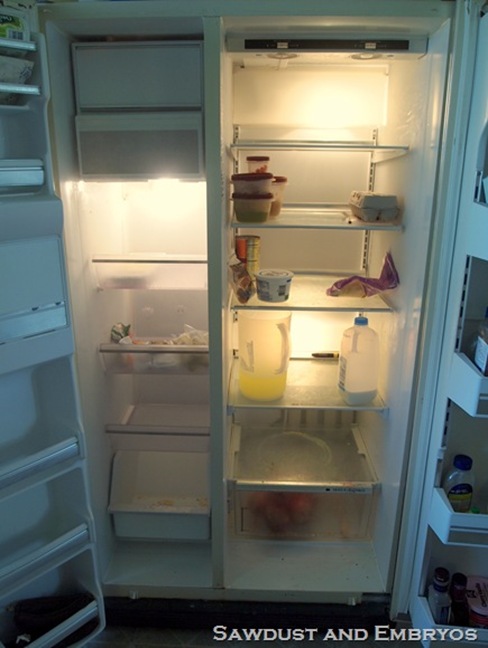 I know different strategies work better for different people. And some of you have the good fortune of being planners. Ironically, I'm organized, but NOT a planner. I call myself an organized free-spirit. HAHA! So this is just me showing you what works for us.
All of this is not to make you think we don't occasionally have a month where we need to stop at the store for an extra gallon of milk or loaf of bread if we run out early. We're not super strict and ridiculous about the whole thing. We just go with the flow.
I know there will be lots of questions, so feel free to leave those in the comments and I'll be happy to answer them! I'm sure we all have different meals in our rotation, and opinions and organic/non-organic, GMOs, gluten intolerances or other food allergies in our families, so let's not get to opinionated or defensive! Let's start a light-hearted dialogue about what works and doesn't work for us, and share different ideas for grocery shopping and meal planning! 🙂
Thanks for pinning!