Dudes. Aren't décor trends the weirdest thing? Whatever you think is hideous right now will be all the rage in a few years. Don't remove that fruit-swag wallpaper border in your bathroom just yet!  I'm telling you… both of my grandmas' homes could be all over Pinterest. Bright airy rooms, white walls, tons of green plants… and MID-CENTURY EVERYTHING!
All this to say…
I decided to make a mid-century clock. And I wanted it to look legit old-school. Like straight out of your Grandma's guest-room. I don't actually want this clock for myself… it was more of just a challenge. And I think I nailed it!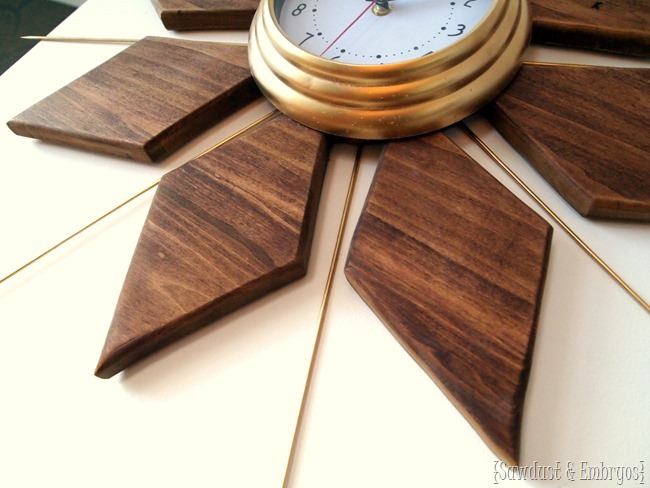 I cut a 12x poplar board into two 24" boards, and glued them together to be 24"x24".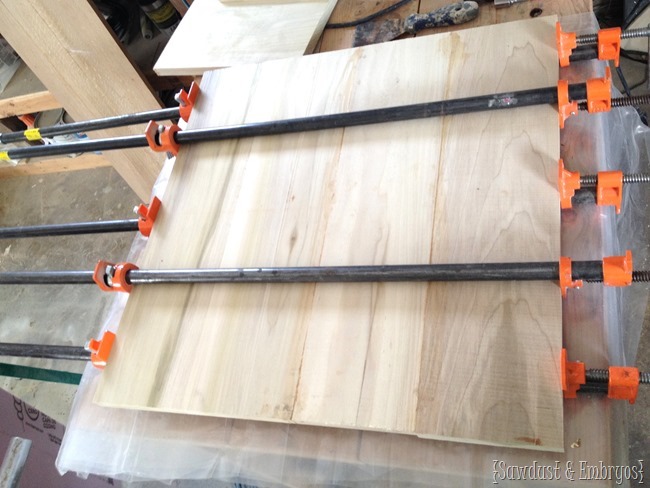 Meanwhile, during one of the many Sunday strolls through Lowe's, I saw this little cheap wall clock. I can't find the exact link, but this one is pretty close (I mean THREE DOLLARS?!). You just need a small and simple clock. You could even check out your local thrift store!
You're going to remove the little screws in the back to take the clock apart, and then paint just the outer ring gold (this is my FAVE gold spray paint).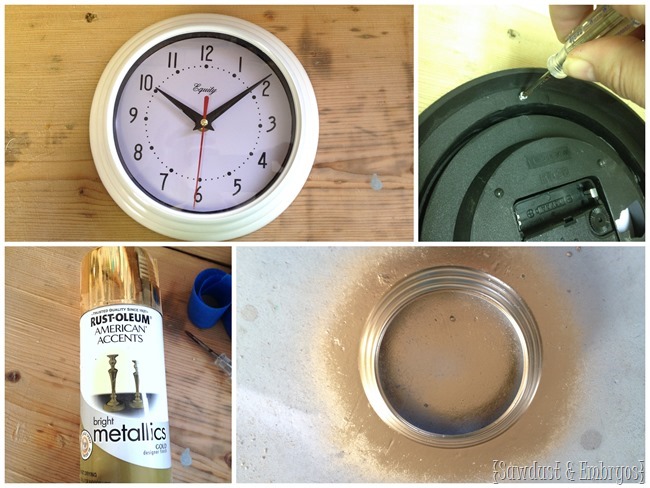 Now that the glue is dry on my 24"x24" board, I hand-planed the rough seam and sanded until smooth. Then I measured to find the center, and traced a post-it note. This will be cut out so that the battery on the back of the clock is accessible. Then I traced the perimeter of the clock (making sure it's centered!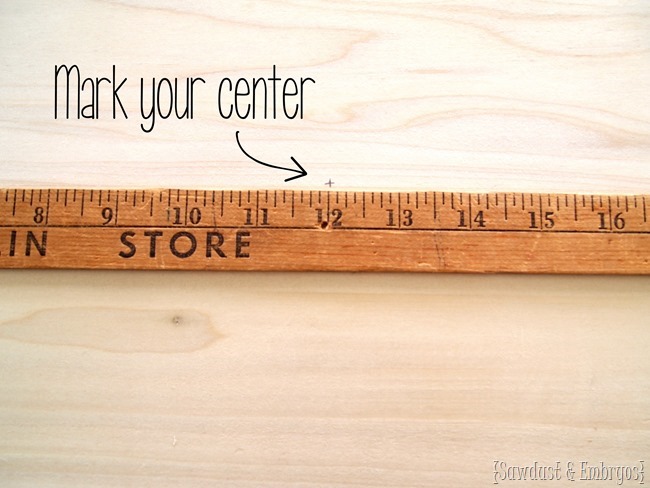 Using a yard stick, I divided the board into 8 equal sections with a pencil.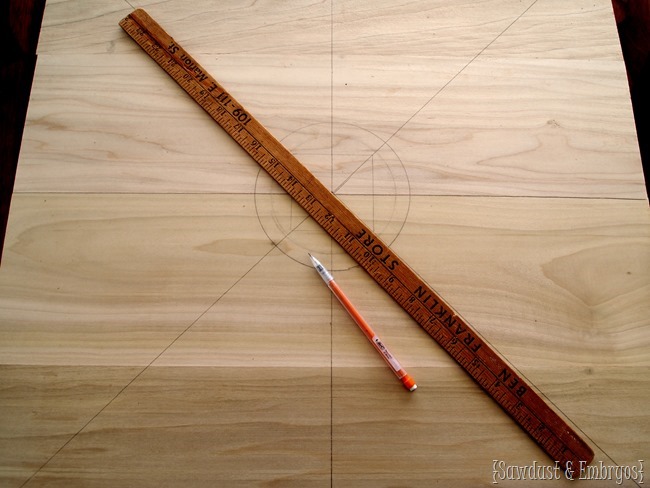 Next, I folded a piece of printer paper into fourths, drew a straight line diagonally, and cut it out to create a diamond. You might need to play around with this to get the right angle for the diamond you want.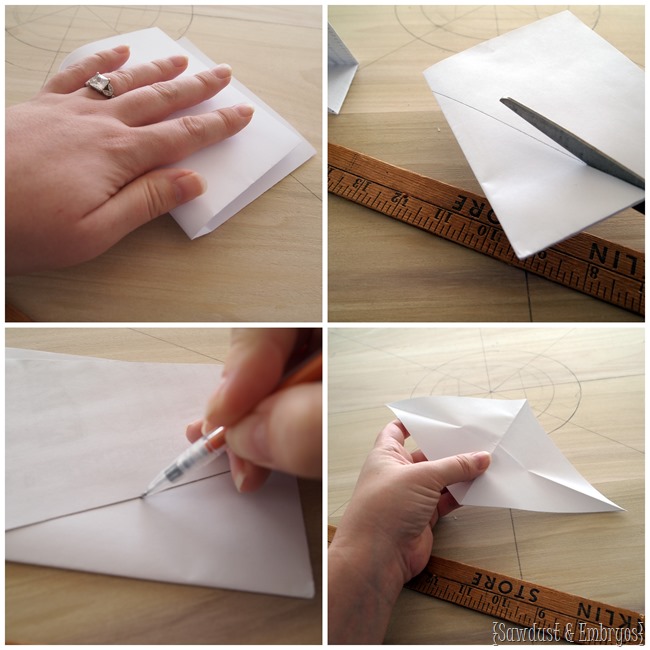 I laid out my diamond template so that the one peak reached the edge of the wood, and the other peak overlapped the clock circle by at least an inch. I traced the circle onto the inner peak of the diamond to make sure it would line up perfectly each time, then traced the diamond.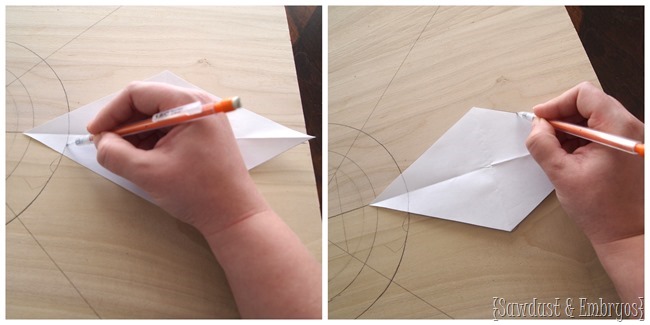 After tracing all 8 diamonds, this is what I had! It looks complicated… but it's not. Trust me.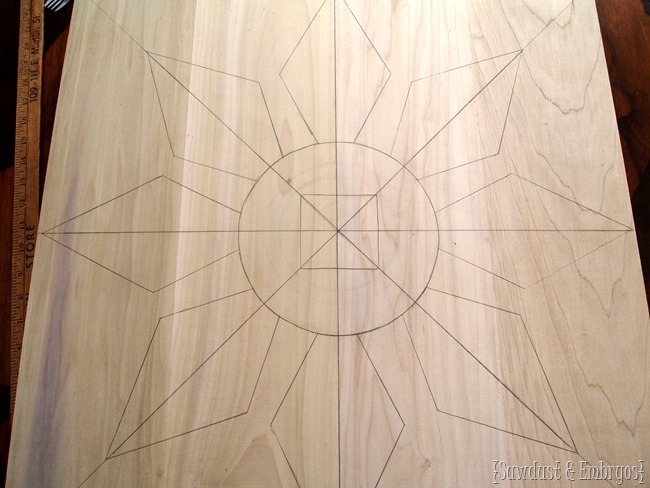 Now it's time to cut it out! I just went at it with my jigsaw and followed the lines. I tried to be as precise as possible with the diamonds… but the circle doesn't matter much since it's going to be hidden by the clock. I ended up cutting past the circle a bit so that it wouldn't show around the edges of the clock.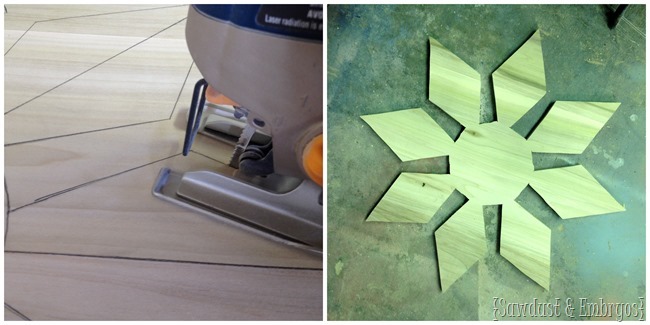 I routed all the edges (and both sides) using a 1/4" round over bit. I think this part is key to giving this piece a true mid-century vibe. Smooth as a baby's butt!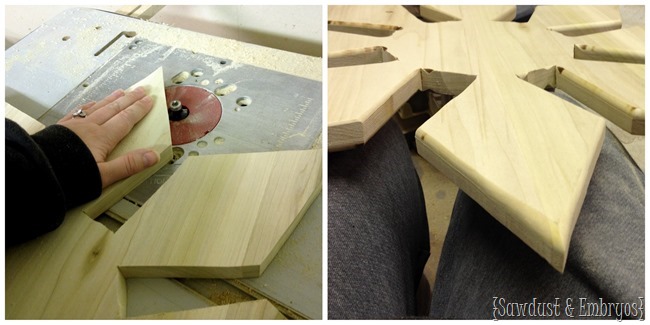 Then I sanded the hell out of it, starting with 100 grit and working my way to 220. I drilled a hole in the center of my post-it-note-opening, and jigsawed (totally a word) it out.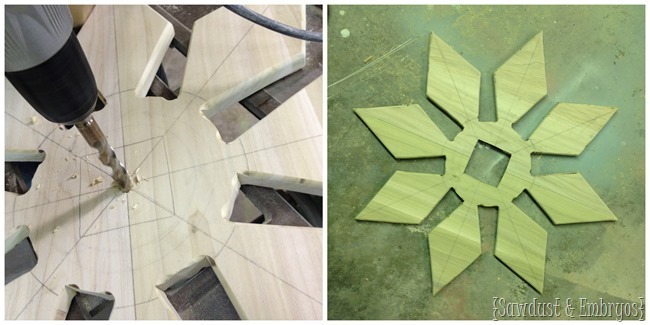 Finally it's time to stain! I used RustOleum Dark Walnut, but just did a light coat because I didn't want a rich chocolatey brown. More like a pecan. Then I routed grooves in the back like so using the 1/4" dado bit.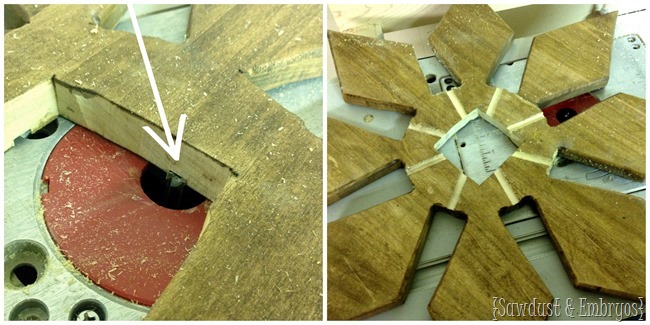 I also spray painted bunch of wooden bamboo skewers the same gold as the clock frame (RustOleum Bright Metallic Gold). I only need 8, but I wanted lots of extra so I could pick and choose the straightest ones.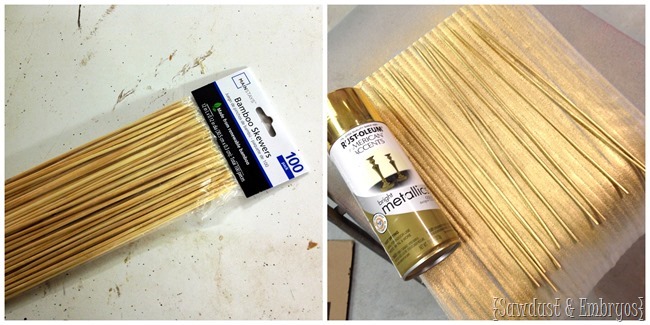 So next, I glued on my skewers into the grooves with Loctite… which is basically super glue. I routed the grooves to be significantly wider than the actual skewers so I would have so wiggle room to make sure each skewer ended up being perfectly centered between it's corresponding wooden triangles. (Fun fact! In the middle pic below, my finger is actually super glued to the board. After about 5 minutes of panic, I chiseled my finger off the wood with a fingernail. That stuff dries FAST!).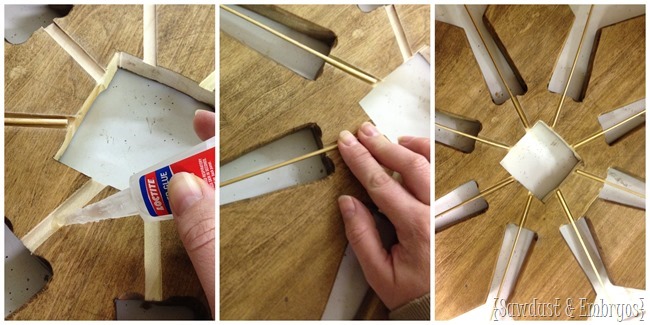 The final step was to glue the actual clock onto the wooden starburst. I used an epoxy-based glue, but you can use whatever.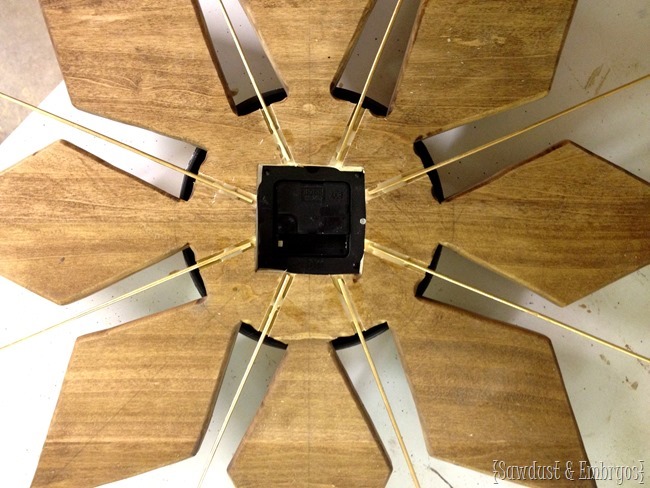 Pop in a AA battery, and you've got yourself a sweet authentic-looking Mid-Century Modern clock! Bam!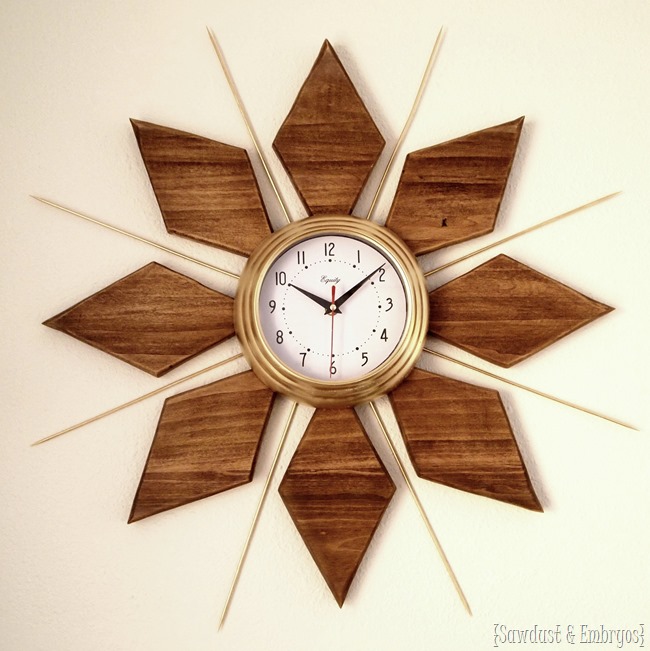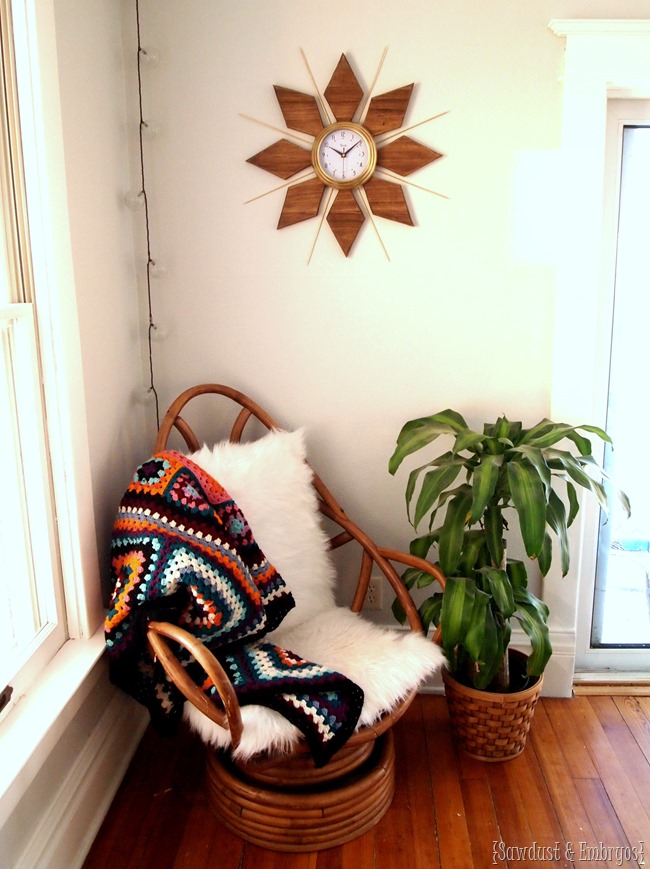 I'm not going to keep it in this location, because I still love my Plywood Quote Artwork here, but it was the perfect spot to stage my new Mid-Century Clock for now! Honestly, I'm not sure where I'm going to display it… or if I'll even keep it!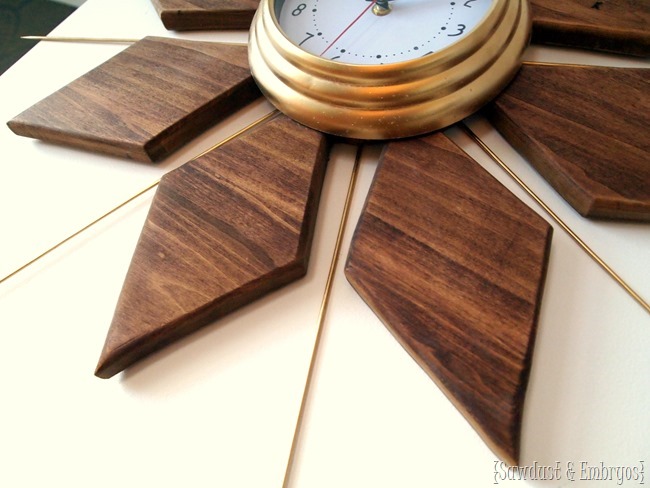 This is one of those fabulous projects that turned out exactly how I envisioned it! AND without any snafus! Win! And the best part of all is that this clock was SUPER cheap to make. Here's the cost breakdown:
Do you like all these retro mid-century 60's furniture and décor pieces come back in a fierce way? Or do they just look dated and junky to you? Everyone has different tastes!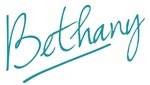 Be sure to check out the other 'Starburst-Type' clocks and mirrors I've made in the past. They add so much character to a room!
Disclosure! we're SUPER HONORED to have been chosen as a "Lowes Creator", and were provided with a Lowes gift card to help with the cost of supplies… but as always, all ideas, thoughts, opinions AND grammatical errors are 100% our own. Because that's how we roll yo.
*this post contains affiliate links