I'm not really one to think too much about holidays and seasonal décor. You won't find me bedazzling any Easter eggs or making a 4th of July American Flag out of pallet wood. But one holiday that I do like to put some thought into is Mother's (and Father's) Day. It just seems like such a special time to honor our parents and the sacrifices they've made for us.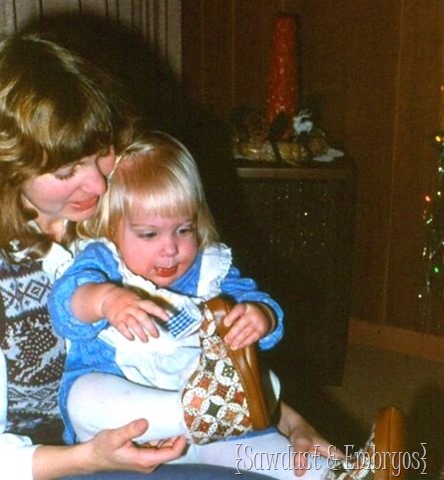 Since Mother's Day isn't always on the same day each year, it's easy to forget about it until the last minute… so this is your warning! Mother's Day is May 14th!
Last night, I looked at my to-do list and didn't feel like doing any of it! Then I found myself making a list of qualities (right below my to-do list) that I loved about my Mom, and making it spell out 'MOTHER'. At the time, I wasn't planning on photographing it, so don't mind my chicken-scratches.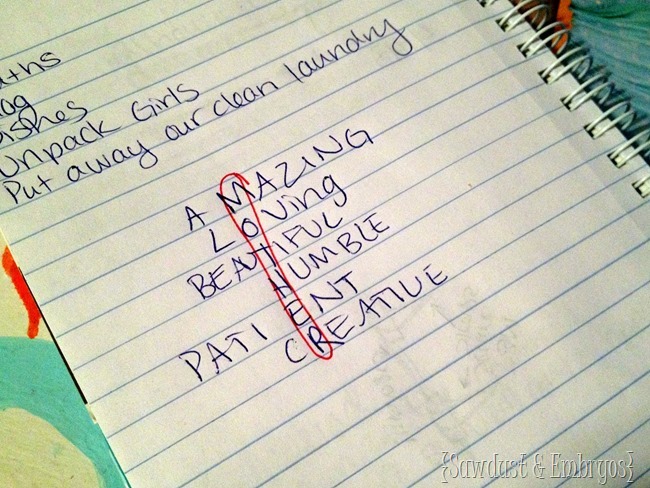 Then I had this idea… why not type it up in gorgeous font?! I did this using Picasa Photo Editing Software.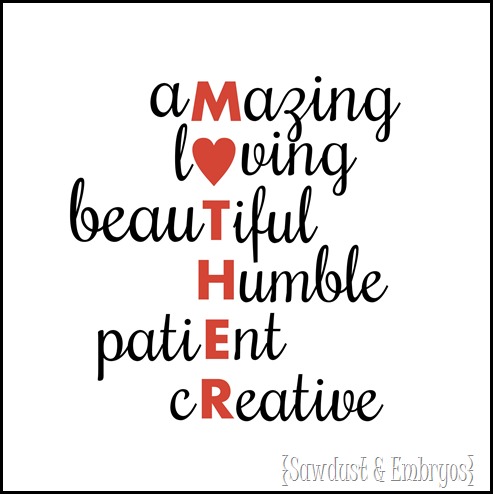 But then of course you know I couldn't stop there. I cut a board to 8.5" x 11" and routed the edges. Do you know where I'm going with this?!

Next, I printed my little artwork onto a transparency, and projected it onto the wood using my overhead projector. For now, I just traced the letters that spell out MOTHER.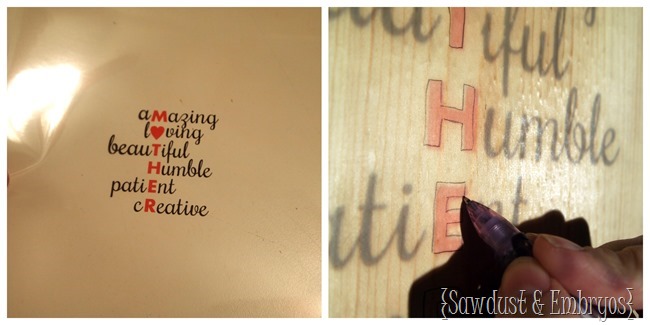 The girls were sleeping, and the house was quiet… so I headed out to the garage! I drilled a hole in each of the 'MOTHER' letters. Then I fed my scroll saw blade through each hole and cut out the letters one at a time. This took me about a half hour. This is the one I use and it's A.M.A.Z.I.N.G. But if you're looking for a more mid-range (read: less expensive) then this one is also great quality and handles well! Whatever you do, don't buy a scroll saw in the $100-$200 range. You'll regret it for sure.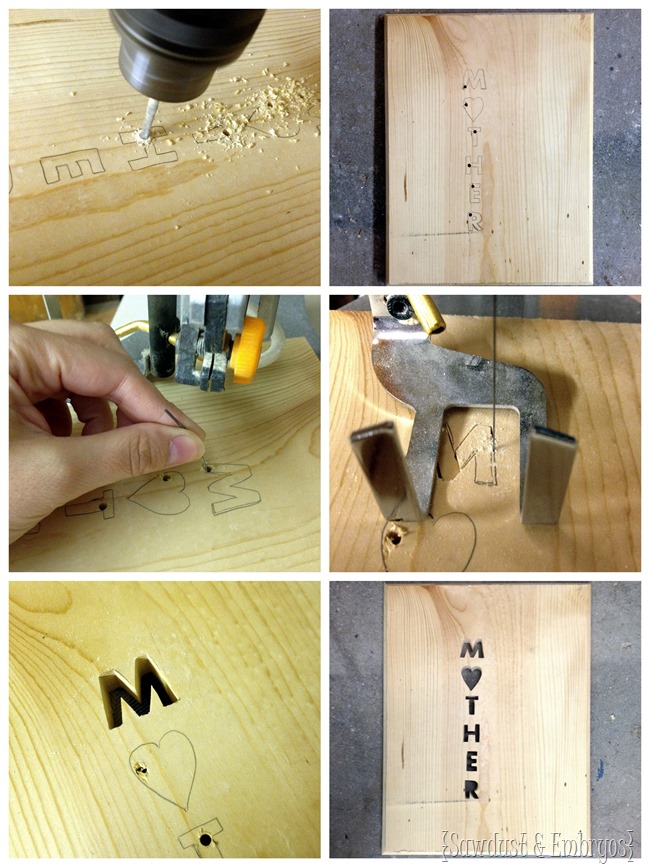 I sprayed on a light coat of Flat White spray paint/primer and let it dry for a good hour.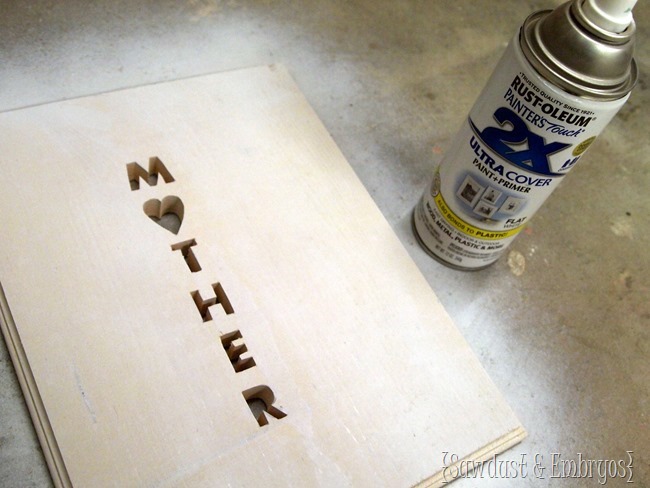 Then I sanded it with 80 grit sandpaper until the woodgrain started showing, and stained with RustOleum Kona.
After wiping off the stain and letting it off-gas a little, I projected the same transparency onto my board again, and traced the rest of the letters. Then painted them white with a teeny tiny brush. (You could also use vinyl for this… my friend Dana cuts custom vinyl decals).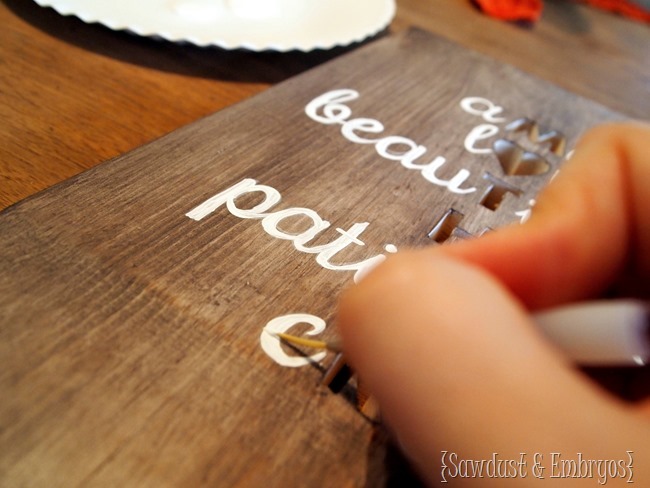 I cut a piece of red felt to size and stapled it on the back so you could see the red peeking through where the MOTHER letters are cut out.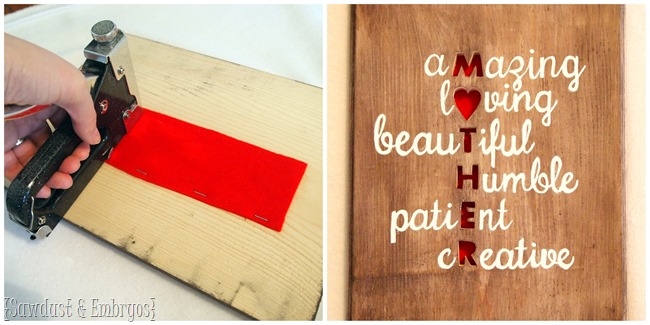 Nick drilled two pilot holes 3/4" from the edges using a 1/16" bit, and twisted in a couple eye hooks.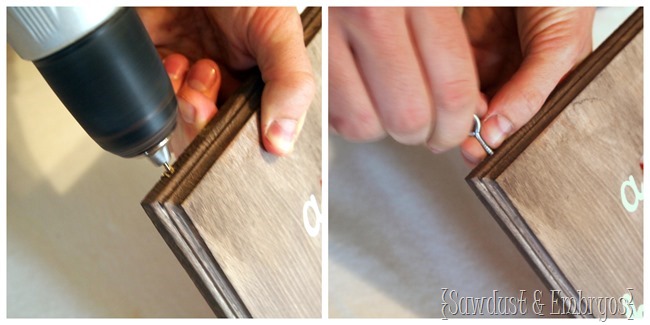 I strung a ribbon through, tied knots, and hung it on the wall! I just love how personal and meaningful it is. Completely custom to describe my Mommy and honor her this Mother's Day. I love it when inspiration strikes and I have good reason to completely ignore my to-do list.
We won't be offering this on our Etsy shop, because we just simply don't have time at this point. Our plate is full!
What qualities do you love about your mother? How do you plan to honor her this Mother's Day?
To see more scroll saw projects and for more gift inspiration, click on each image below for the full tutorial!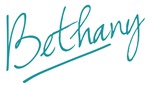 *this post contains affiliate links