With all the renovation efforts we have going on INSIDE our house, the exterior often gets the short end of the stick.
Each spring, I make a valiant effort to clean out the garden, and keep it free of weeds at the very least, but it often gets away from me As summer wears on. And even if I did keep up with it, it's just BLAH. It just hasn't been a priority, you know?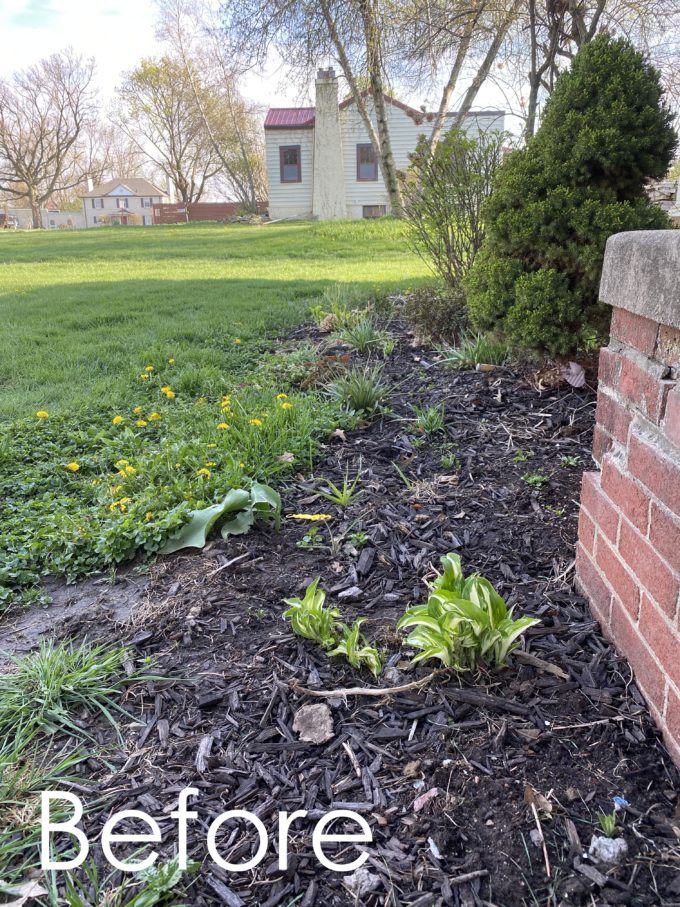 *This post is sponsored by our friends at STIHL. Thank you for supporting the fabulous brands that make Reality Daydream possible! This post may contain affiliate links.*
Nick and I have brainstormed different ways that we could make the garden more beautiful and low-maintenance. And the one thing we both agreed would make the most difference was to do some serious edging around the garden.
Did you know it's called 'Bed Redefining'? This defines the garden from the lawn with a crisp line, and looks gorgeous without having to spend the money and time to put in stones or bricks to line the garden.
Using our garden hose, we laid out the curves we wanted the edging to take. For the post part, we followed the natural curves of our garden (we're not straight-line people), but we deviated a bit here and there to make it look the way we wanted. There's no right or wrong way!!
We spray painted along the side of the hose in preparation for edging!!
Nick was more than excited to use this new STIHL FB 131 Bed Redefiner! This bad boy is easy to get up and running quickly, and is built in the USA!
Nick is living his best life when he's using his STIHL tools, and so I let this be his thing. 🙂 I'm fine with just being the photographer on some projects.
A few things we love most about the STIHL Garden Bed Redefiner is that it has a large 710 cc fuel tank that allows long run times, it has a "line of sight" indicator that helps with precision, with an adjustable depth wheel that makes your 'redefining efforts' look consistent and crisp!
Can you see how much the grass had crept into our garden? It helps so much to have a clear line between lawn and garden, even though it was a lottttt of work to pull all the grass and weeds. This pic below is BEFORE edging, and AFTER! (no mulch yet)
Look at this difference!
We were surprised how good it felt to get this done, and what a HUGE difference it made in our garden!! Before any weeds would have a chance to grow back, we made sure to put mulch down right away.
We just used rakes to spread it all around between the plants and shrubs. I was glad this was a cool day, because we were working HARD. We even got the kids in on it. 🙂
Check out that SAD hosta (above) …LOL! We ended up pulling that out and replacing it with an annual. The shutters will be a more difficult fix.
But OUR GARDEN LOOKS AWESOME!
What is one thing that you have found to make a HUGE impact in your garden (or curb appeal in general)?? Bonus points if it can be done in a day!
~Bethany (and Nick! He did all the real work)