You might remember… oh about 6 months ago, we asked your opinion on our Facebook page about which curtains and gave you these options.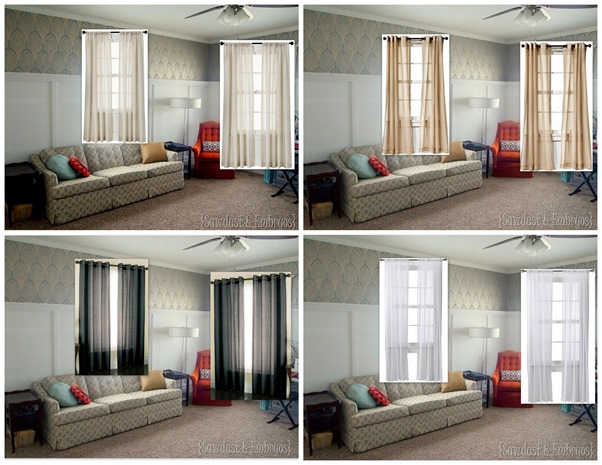 There were 151 of you that weighed in, and while I loved reading each of your suggestions and reasons behind them, there was no obvious front-runner. And curtains weren't really in the budget just then anyway, so I just tried to put it out of my mind for the time being.
But I was really in denial, because in my heart of hearts I ached for curtains. This room is SCREAMING for curtains!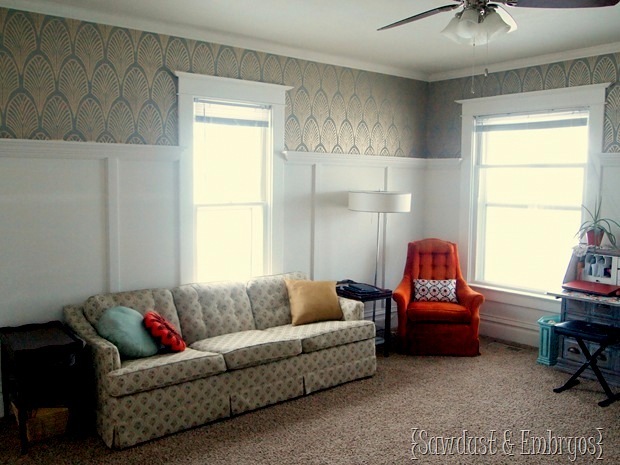 We're trying to keep the room more casual than formal, so we thought charcoal would loosen things up a bit… but we hated them. So much that we forgot to take pictures before returning them. I think with the dark stained front door, it was just too much contrast in the room. We just wanted something that complemented the stencil without drawing too much attention to itself. So we decided to try these pale 'greige' curtains by Allen & Roth.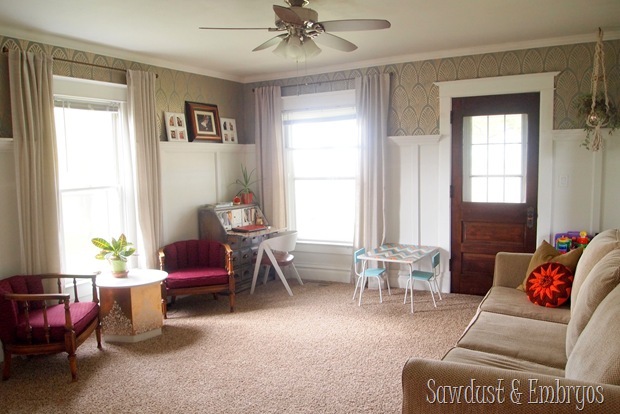 They're neutral and wispy and fabulous. And the 95" length was perfect… didn't even need to hem!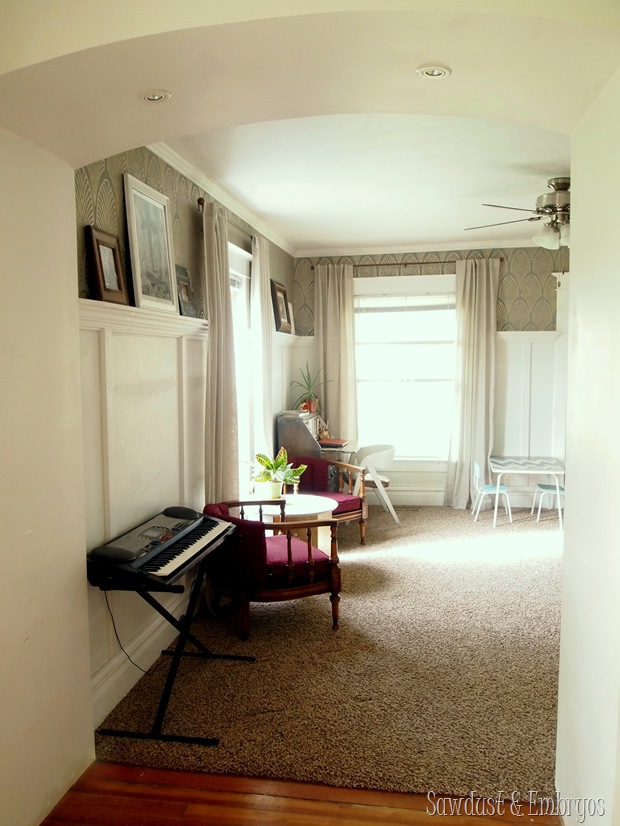 (don't mind the girls' keyboard in the pic above. It's TEMPORARY! Anything to entertain the tots!)
We've still got things to do in this room, but you know we like to jump around between rooms… so who knows when this room will actually get checked off. Here's what we have left.
replace the mini blinds with some wooden plantation blinds or maybe some roll-up grasscloth blinds
reupholster the two burgundy chairs (need to find the perfect fabric first!)
figure out arrangement of pictures on the crown shelf
strip/stain door to studio (stripping tutorial here)
add some fun throw pillows on our new-to-us couch!
That list may grow… or shrink. Don't hold us to anything! It's fun seeing things slowly transform and feel more like 'home'. Thanks for taking interest in our various little transformations! If you're not familiar, here's our home tour, and here's a link to how we found our home
Woohoo!