I have to admit that I dread hanging gallery walls because it involves measuring, leveling, and pounding. But mostly, I'm worried about getting nails in the wrong spot and having to move them, leaving unnecessary holes in my wall.
BUT!!!!
I have discovered THE MOST AMAZING hack for hanging a gallery wall. First, let me show you the before pic.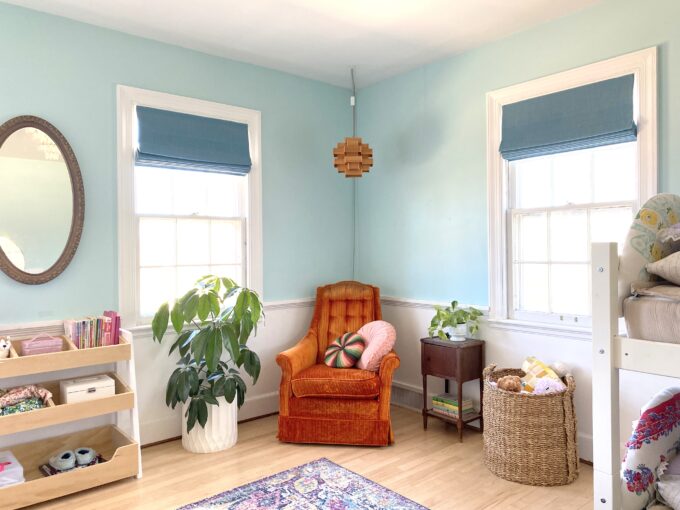 *This post is sponsored by National Hardware. Thank you for supporting the fabulous brands that make Reality Daydream possible! This post contains affiliate links.*
This is our daughters' room; and while it's not altogether tragic, it definitely lacks something in that corner. I've been procrastinating putting pictures and art in this corner for so long. IT'S TIME!!
But first, because I'm ME, I need to throw some colorful paint up there. 😉
That's better! Now let me tell you about this amaaaazing tool that I've discovered.
Guys, I know this is dramatic (and an overused phrase) but I seriously feel like this has changed my life.
It will probably a lot easier to understand how this works if you just watch the video we made, but I'll also try do demonstrate by sharing pics below.
The simplest use of this level art tool is to take off the end and slide one of the green things off, to start with.
Now, we can use this single tool by putting one nail down into the hole (nail head first). It will fall all the way in where you can't see it, and won't fall out even when you flip it back over.
Now, it's like a loaded gun and is ready to put that nail right into the wall! All you have to do is put it flat against the wall, and PUSH.
The nail pops right into the wall with little effort, and the nail will be at the perfect angle!
Guys. That's it. IS YOUR MIND BLOWN?
Just put your picture on the wall already!
Now, let me show you the coolest part about this level art tool. When you put the Level Art Tool back together so it's fully assembled, you can use both of the green parts to line up on a larger piece of art that has two hangers on it.
Once you've put nails into both green tools, line up those notches on the green tools.
Now you have the exact dimension between the two hooks, and you can just take it up to the wall, make sure the level bubble is in the center, and PUSH them both at the same time!!
Eek!!! I hung all 3 of these in 2 minutes. Not exaggerating.
Honestly, I want one of these Level Art Tools for every level of my house! I can see myself using it pretty regularly. 😉
Look at this whole corner now!
I mean, look at it compared to the before! #whatadifference
A little paint and a quick gallery wall made a HUGE difference in this corner. And I keep find myself looking for reasons to peek my head into their bedroom to look at it!
Do you have some picture frames or art that's just waiting to be hung? What are you waiting for?!
~Bethany
~~~~~~~~~~~~~~~~~~~~
Thank you for pinning!