I have a confession… I can't handle clutter. It makes me crazy. Like I literally feel like I'm losing it. I'm constantly tidying up as I go about my day. I don't leave a room without grabbing something that's out of place to take it to it's rightful home. I didn't realize how out-of-control it was until I started slowing down in my 3rd trimester.
I just can't keep up.
We've all seen this little diagram, haven't we?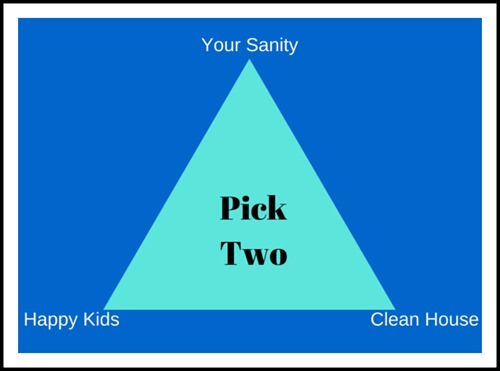 I know I should be able to let it go and just enjoy my family and my pregnancy, and this beautiful chapter of our lives. But I CAN'T. When the house is a disaster, I feel depressed and cranky. And then I start having low self-esteem and beating myself up about my mothering and wife-ing skills… which naturally flows into feeling very down about my appearance… blah blah blah. Can we say hormonal?
So just know that it took a lot for me to share this belly pic! And my self-esteem problem isn't even pregnancy related. I'm just going through one of those 'hate my hair' and 'hate my skin' and hate my ass' kind of phases. K I'm done now.
Look at this cute pic of baby girl stretching and making my belly look all misshapen.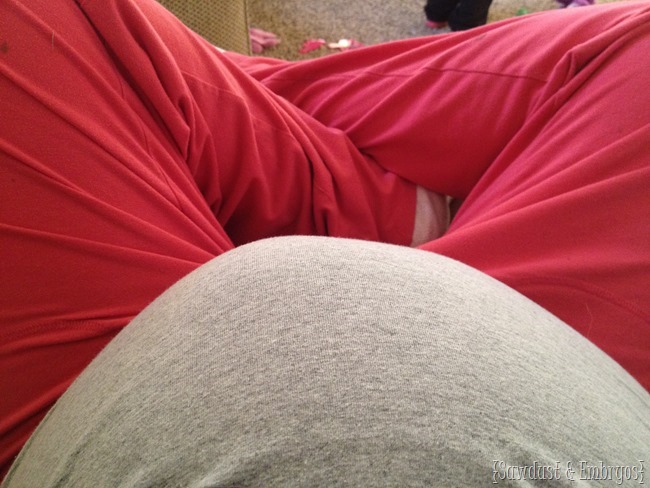 She moves constantly, and makes all the discomforts so worth it. The Dr says she should have started slowing down in her movements by now since quarters are getting tight… but I assured her that she's swimming laps in there. It's like a two bedroom apartment after carrying twins last time. Just 5 more weeks!
A few days ago, we had a 'special day' with the girls… where Nick took Dell for a day with Daddy, and Paisley and I stayed home together. Paisley loves to cook in her play kitchen, and set the table for her and I to have a delicious meal. This is the kind of clutter I can totally handle. Adorable.
When she announced that we were ready to eat, we sat down together and this happened:
I die of the cuteness.
Nick brought my old electric piano down from the attic recently, and the girls have been having a blast playing around with it.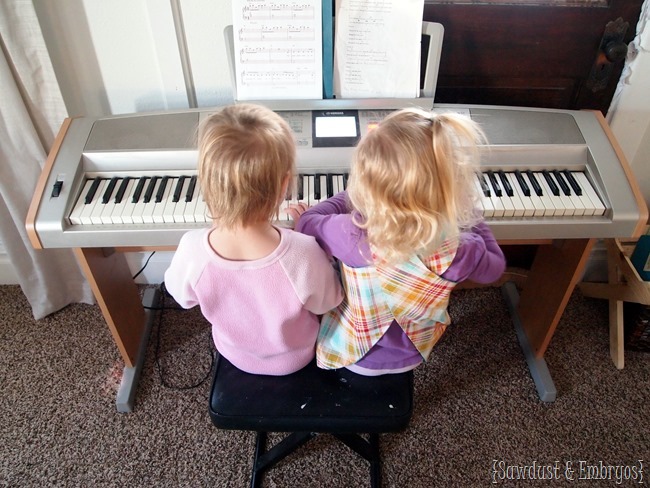 When they ask to use it, they say 'Mommy can I make music?'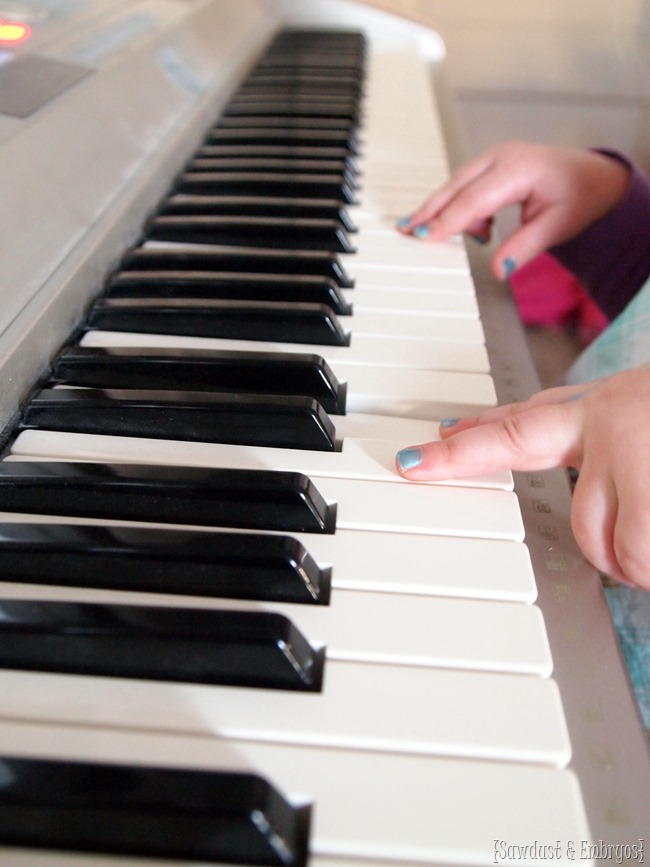 Sometimes Nick gets out his guitar and we have a little family jam session. And sometimes the girls just jam together.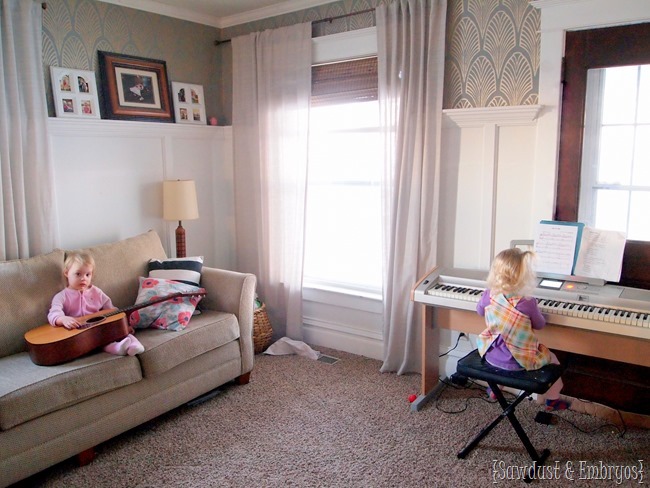 I took these pics below fairly early in the morning when it was only KIND OF daylight… still dark enough to have the overhead lights on. The first pic was with the light on, and the second pic is with the light off. Even though it felt like it was way too dark to get a good picture, the one with only natural light turned out SO much better. I love learning little photography tricks!

Well that's all I got for now! We're enjoying some unseasonally high temperatures (40's? GASP!) and are looking forward to a fairly uneventful weekend… our fave! What are you up to this weekend?