It's not like we have a huge plot of land, but I'm embarrassed to say that there are more than one spots on our property that have been… LET'S JUST SAY VERY NEGLECTED.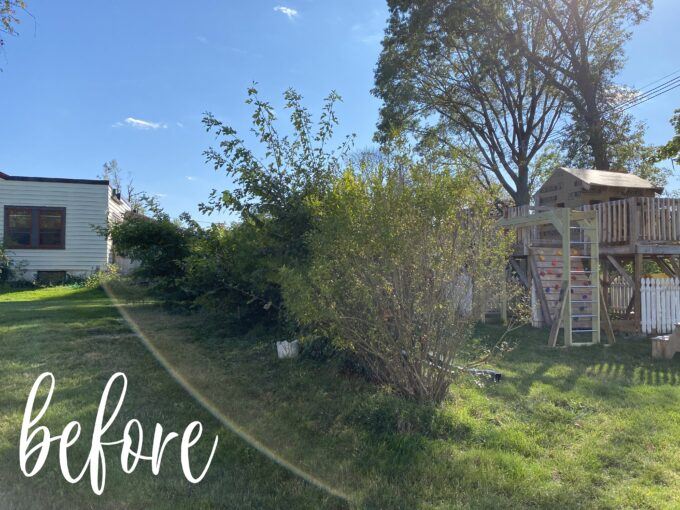 *This post is sponsored by our friends at STIHL! Thank you for supporting the fabulous brands that make Reality Daydream possible. This post may contain affiliate links.*
The above picture features what is meant to be a perfectly straight/tidy row of Common Privet. But over the past few years, vollunteer trees and weeds have made their home among the Privet, and now it's just a disaster.
Here's an angle of it looking toward the Solarium.
The hedges look like they've had a few wild nights out on the town and never fully recovered.
But then also, have you seen this little garden pruner?
How darling, right?! The small size and light weight of this GTA 26 Battery Garden Pruner makes it easy to move quickly and clear things out with minimal effort. (we were given a sneak peek, but this sweet tool will be more widely available in 2021)
Some of these volunteer trees had been neglected so long that they were pretty good size and needed to be cut into several pieces before getting all the way down to the earth.
This little pruner is so versatile, we find ourselves using it often for different projects around our property!
To prevent regrowth, we've learned to treat the stump with this stuff as close to the ground as possible. Otherwise that tree will come back bigger and more annoying than ever!
We have plans to cut back our Privet in the spring, and make an effort to trim them more regularly so the become full and lush. But until then, it still looks SO much better than it did, right?
Here's that before pictures just to jog your memory.
We hope you're inspired to tackle some of that unruly brush on your property too!
~Bethany