I wanted to share some encouragement and creative ideas for those of us that have found ourselves homeschooling against our will. BUT… having only been a homeschool mom for two years (and only homeschooling one child) I didn't feel that I had any authority on the matter, nor could I bring much value to the table.
So when I gave it a little thought, my dear friend Katie came to mind. She's a homeschool veteran, and pulls it off beautifully. And I was so grateful when she agreed to share some of her experience and knowledge with all of us.
And honestly, after reading through her tips below, I desperately wish I had had these encouraging words back when I first started homeschooling!
So this is a gift to you… from my friend, Katie:
~~~~~~~~~~~~~~~~~~~~~~~~~~~~~~~
Hi friends! My name is Katie!
I've been homeschooling now for five-plus years, and while this community is an ever growing one, it's kind of cool that the whole world is joining in on the fun with us right now! Still, I know the change can come with its challenges and it may seem overwhelming at times. But let me ease your mind! Here are my go-to tricks that keep me going when I feel like I'm losing a war against an army of tiny warriors I created myself.
Find Your Homeschool Rhythm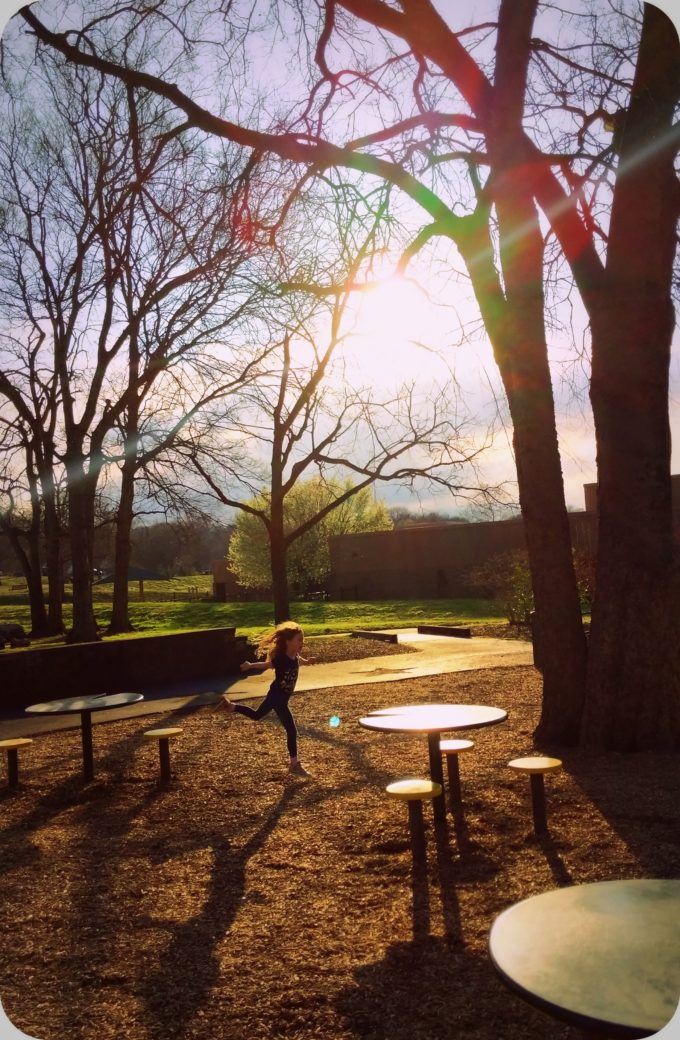 *This post contains affiliate links*
Just relax!
I'm serious, you and your kiddos are going to be alright. Something a homeschool veteran told me when I first started was that in any type of schooling there are going to be on-days and off-days. This stuck with me! Take joy in those on days and relax when you need a day to relax. You will start the next day with a fresh perspective and more than enough to give. These are usually my BEST days.
Create a rhythm
I choose rhythm over routine because it seems less rigid to me, and life can be messy and chaotic. So instead of starting school at 7:30 sharp, let's say we start the school on the couch with a good story. Consistency is good for us all but so is learning to go with the flow. So, find your balance and take your time when finding a good rhythm that works well for you and your family. Maybe you like a slow start with some music and a craft and want to hit the books after. Or maybe you'd rather start strong and end the day with a cooking lesson. Finding the flow to your day may take some adjusting as you go, but take heart, you're finding your way. It will surely look different from one family to the next. For some inspiration read below for an example of a daily rhythm.
Read
Less is more, my friends! Reading is an activity you can do with all of your children at once, no matter their ages or grades. Let me repeat that: All kids, all ages, all at once!! This is a winning tool! And, you'd be surprised how many subjects you can cover when you're reading a good book. Find some books on a subject that you already know interests your kids. Do they like birds? Read the Burgess Bird Book by Thornton Burgess. After you're finished with the reading you can give a writing assignment and go over some grammar. Have an art lesson and draw a scene from the book. Act out a scene. Or just talk about what you read and practice narrating skills. The Awe Filled Homemaker has a great list of novels full of knowledge that will excite your little ones, and I know you'll recognize many of these titles. Some of our favorites are the Life of Fred series (math), The Thornton Burgess books (natural science), and the Beautiful Feet Books (history).
Audiobooks Count!
When it's a slow, rainy day, find a good classic and let it play while you cuddle up on the sofa. Need to get out of the house? Put on a story and drive around while you listen to it! We listen to audiobooks while we fold laundry, when we're working on a project or craft, or while we're making cookies. Your library likely has some good options for you to download on the computer or your phone. Audible also has an amazing selection.
Be Prepared
You might be juggling a handful of kids – all different grades and ages. It can be a lot! I have found it helps to have some activities set aside for those busy hands. While you're reading aloud to them, let them draw, make perler bead creations, or bracelets. When you're working with one kiddo on math, have the others work on an art project or play with playdoh. This helps keep everyone focused while allowing you some peaceful teaching/learning time. Getting a child setup on some independent writing or workbook sheets before you work one-on-one with another child can also be helpful.
Limit screen time
I know, I know, I know! Sometimes screen time is what we need to get through the day and that's alright. And there are also some great educational resources online. I love all of this – but please, hear me when I say, limit it! It is such a drain on our little one's attention span because it is so over stimulating. We use Khan Academy math daily for our main math curriculum but other than that, my kids get 20 minutes a day and it's the first thing to go when they act up or misbehave. Sometimes they can earn more time and of course we make exceptions during crazy times. Overall, I find that I have more calm, well behaved, and focused children when we have limited the screens. The opposite is true when we have not.
Learning happens everywhere
Aside from reading, this might be my favorite tip! I've seen myself fall into the trap that they just need to do all the book work and worksheets all the time, and what happens is my kids (and I) are miserable and they've shut their brains off from learning for the most part because of it. Then I remember, learning happens everywhere! Go outside and explore. Cook together. Let them cook on their own. Make some art. Do a crossword puzzle or word search. This is such an exciting and engaging way for your kids to learn real life skills, and the possibilities are endless. Good old fashioned imaginary play does wonders for our kids self-esteem. Good self-esteem gives our children confidence when learning new and sometimes difficult stuff.
Take a break
If you've all been sitting around the table and you're feeling stressed, or the kids seem antsy, get up and have a dance break. I promise you will thank me for this! Who doesn't love a dance party? Maybe some cosmic yoga is more your thing? If you're feeling bored, switch things up and light a candle and bring a special snack to the table. If it's beautiful outside, go outside! Take your lessons with you or leave them behind for another time. And don't forget to give yourself a break! This is real, hard work you're doing. As we know, nothing of value ever comes easily to us. It is ok if you feel the weight of it all and just need to lock yourself in the closet with a chocolate bar. I will love you more for it and so will your kids in the end. You got this!
~~~~~~~~~~~~~~~~~~~~~~~
A Daily Rhythm
Breakfast together with music
Gather around the table for math, grammar, spelling/writing and activities for busy hands

We rotate around the table as we need to, depending on what they can do independently or need help with

Go outside or Read Aloud

If it's cold or rainy we read. If its nice out, we go outside

Quiet time for reading and resting

This is also when the toddler takes his nap

This also when I usually take my nap

Free time to create and play, go outside, and use that screen time to talk with friends on messenger
Hands on learning like cooking, or a science experiment

These two are basically the same thing, but you can eat one of them!

Chores
Dinner
Showers and baths
Reading aloud with mom or dad
Bed time
~~~~~~~~~~~~~~~~~~~~~~~~~
Hi! Me again! Bethany! Isn't Katie a GEM of a human? Be sure to follow her adventures on her Instagram @katiedolfie!