Y'all.
We have an epic problem.
And I don't use the word epic flippantly and without consequence like most of the universe.
Do you see that? Melty, muddy snow.
*hold me*
We don't have the good fortune of having a mudroom. Apparently 114 years ago, architects weren't concerning themselves with mudrooms. (or linen closets, coat closets, or pantry's… just sayin')
This is where we walk into our casa.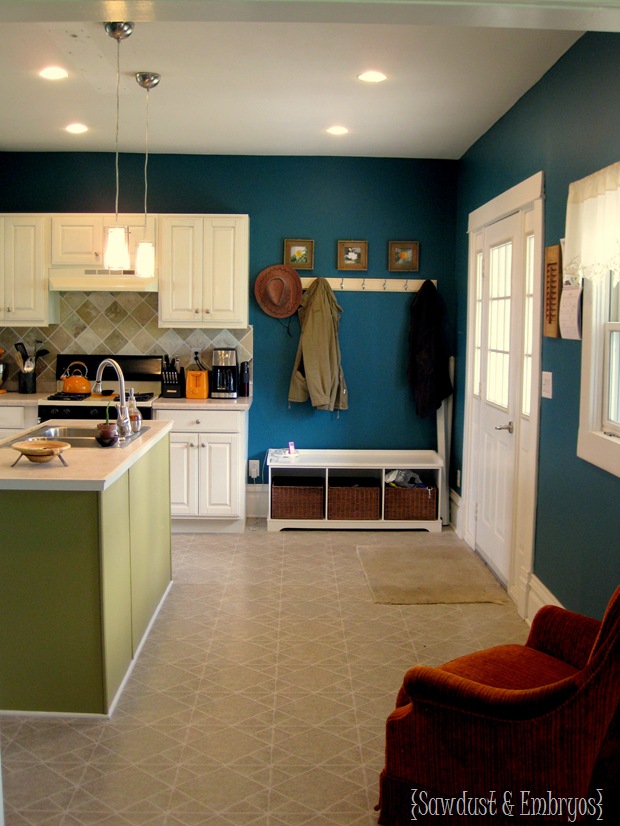 What happens when a girl gets sick of stepping stocking-footed into cold puddles throughout the kitchen?
THIS:
La la la la la!
Let me show you how. This is an EASY build!
This is what you'll need: (includes affiliate links)
(2) 1×3 maple boards (8 footers)
sheet of Plexiglass (24" x 48") …you'll only need half
Sheet of 1/4" MDF (24" x 48") …you'll only need half
bag of 'River Rocks'
We started out by cutting the 1×3 boards down on the miter saw as follows: (2) 48" and (2) 12.5". We chose these dimensions because we wanted our 'drip tray' to be 4 feet wide, and deep enough to accommodate Nick's GIANT boots. You can adjust the dimensions to fit your needs.
We drilled angled holes with our Kreg Jig for easy assembly, glued the ends, and screwed these bad-boys together.
Now that our 'frame' is built, It's time to cut the Plexiglass and MDF to size! The goal here is to have a water-proof system (plexiglass) that's still sturdy and supported (MDF) for the bottom of our 'tray'. We cut them down to 48" x 14" (the exact dimensions of our 'tray' thingamajig). We used our table saw, but you could use a circular saw or band saw too! Whatever ya got!
We used the Kreg drill bit to drill counter-sink holes 8" apart. You can use two different size drill bits to achieve this same effect. The reason we needed counter-sink holes is so that the screws will screw in far enough that they won't stick out and scratch the floor. Make sense? We used 1" fine thread screws.
I stained the 'tray' using Rustoleum Dark Walnut, and then varnished and let it dry overnight. Then we taped things off in preparation for the silicone (to seal all those cracks)! You can see that we didn't bring the tape all the way to the corner. That way the silicone will get where it needs to go, and after we smooth it out, we can remove the tape and have a perfect crisp line!
All that's left is to dump in the 'river rocks'!
We ended up rinsing our rocks in a 5-gallon bucket, because they were pretty dirty. Then we just spread them out in our 'tray', stood back, and admired our handiwork!
Isn't it THE BEST when you're able to identify a problem in your home… and come up with a solution?!
No more dirty puddles!
No more wet socks!
I love how simple this was to build… and it comes at a perfect time since we're in the midst of a perpetual snowy polar vortex that gets tracked into my kitchen. And believe it or not? The girls leave the stones alone!
Are you lucky enough to have a mudroom? Do you have a system for shoe storage? Let's chat!
UPDATE! We've overhauled our whole entryway and kitchen since writing this post! There are tutorials for everrrrrything! (including those cubbies for hats and mittens! Check it all out here!
Disclosure! we're SUPER HONORED to have been chosen as a "Lowes Creator", and were provided with a Lowes gift card to help with the cost of supplies… but as always, all ideas, thoughts and opinions are 100% our own. Because that's how we roll yo.