Today, I awoke refreshed and excited for the start of a new week! It didn't hurt that the girls let me get a good 9 hours of sleep, and I was able to jolt myself back to life with a strong cup of black coffee. And I'm excited to show you one of several little projects we have going right now!
We've been clearing out the garage, one thing at a time. And so this involves fixing up some smaller little pieces that have been collecting dust and overspray over the last year or so. This unfortunate coffee table has obviously seen better days.
The wicker on the bottom is all broken, and the open panels on the top presumably used to have glass in them. If you saw this little gem on the side of the road, would you slam on the breaks and load it up to be your very own personal coffee table?
OK, so let's talk about what we did. We originally thought about turning it into a bench with an upholstered top. But the price of foam is so obnoxious, we decided it wouldn't be worth it, and started brainstorming how we could make the biggest transformation with the smallest dollar sign. First we ripped out the nasty wicker from the bottom, and put a panel of pine in it's place. The top surface also got a nice new sheet of pine, and everything got sanded down real good. And got a stain job using Minwax Pecan, and sealed things off with a coat of poly. (this post contains affiliate links)
Of course there's no pictures of this. So let's jump straight to the VINYL! You know we're going through a little phase of loving the woodgrain peeking through paint. A nod to all you wood purist out there. And our vinyl "dealer" Dana totally rocks. She whipped up this amazing leafy swirly vinyl for us, and we slapped her onto the coffee table. BAM.
Using similar techniques from our Profile Plaque project, we polyed over the vinyl.
Then primed (with this stuff).
Then painted a chic glossy black.
Then we slowly and carefully peeled off the vinyl, to reveal our beautiful pecan woodgrain!
And to make things feel seriously GLAM, we put several coats of poly on this baby, for a legit lacquer surface that's overthetop glossy and very durable! (this is our favorite Polyurethane!)
We love that this coffee table is one-of-a-kind!
And we love introducing exposed woodgrain to paint, and setting them up on a date. So far, we're a pretty good matchmaker! Successful relationships have been cultivated every time!
Be sure to check out all of our other unique furniture transformations by clicking the image below!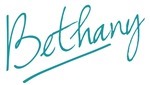 Thanks for pinning!