Guess what?! WE ADOPTED A COUPLE FISH!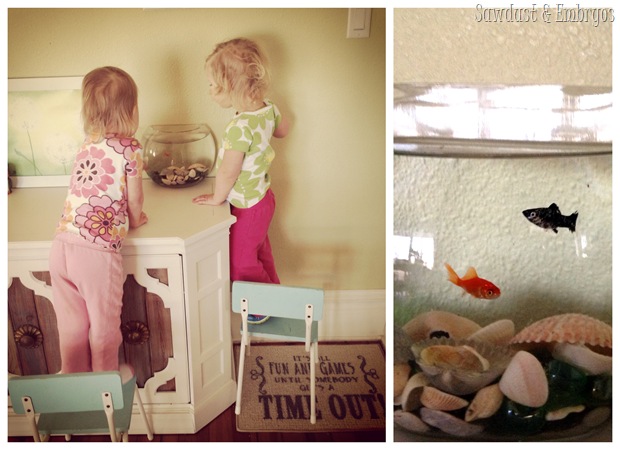 It's all very exciting for sure. The girls are enamored… and we're enamored with the amount of time they spend quietly watching them swim around. Free babysitters! Their names are Boomerang and Bandit.
But that's neither here nor there.
I'm here today to discuss how  our 'Operation Laundry Room' progress goes in spurts (as our time and finances allow). We left you last time with the room looking a lot like this.

I recall being overcome with happiness that the washer and dryer had finally made it to their new forever-home. I think I had made that my short-term goal so I would have something to look forward to in the semi-near future.
Well last weekend, my brother Tim and his family came over… and I took it upon myself to initiate a 'Tear-Up-Peel-And-Stick-Tile Bash'. Nick was thrilled, as you can imagine.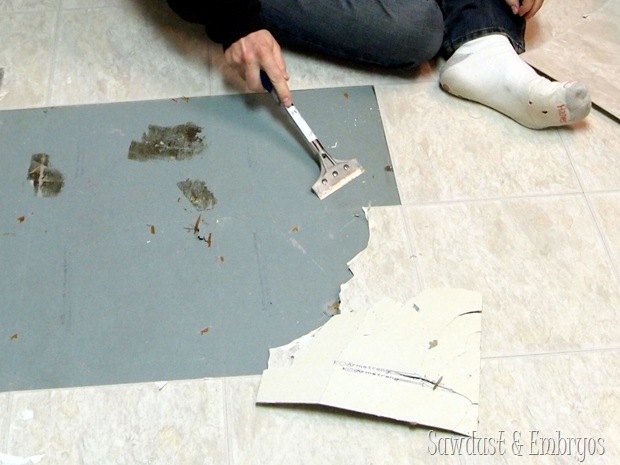 It ended up being super productive! Tim and Nick successfully peeled up all those nasty peel-and-stick tiles that the previous owners had laid. The adhesive below was soooo tacky (both literally and figuratively) that the tiles came up harder than we expected them to. But we're glad we invested in the proper tool, or there really would have been some weeping and gnashing of teeth. Our poor vanity unsurprisingly didn't survive the demolition. She had been going downhill for the past couple years, and just wasn't strong enough to pull through the trauma. RIP shawty vanity.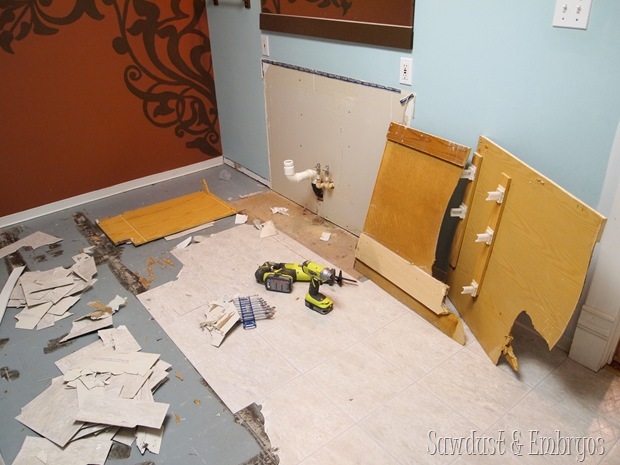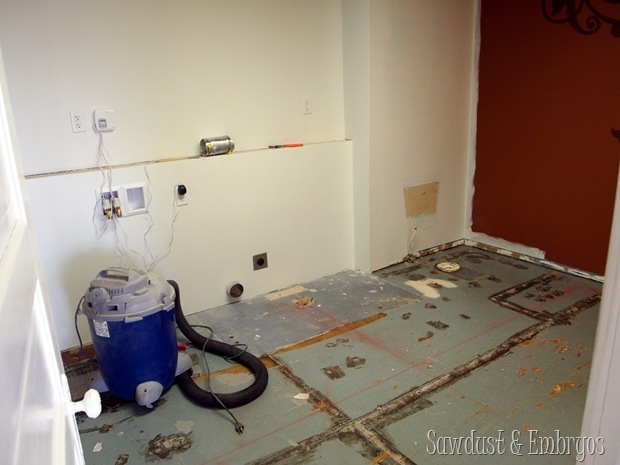 But before I get ahead of myself, let me tell you about the non-traditional flooring we chose. We were originally planning on saving our pennies for ceramic tile. However after doing some research, we discovered CVT tiles… which is what they use in school hallways (Commercial Vinyl Tile). It's simple to install (compared to traditional tile) and SUPER durable… (Hello! Industrial grade!). And we loved that we could make it into a checkerboard pattern. But the thing that really pushed us over the edge was the .66 cent/sq ft price tag. You just can't beat that! We seriously keep asking each other why more people don't use this highly affordable/durable/gorgeous option (definitely not getting paid to say that either).
Here's Nick and the girls laying them out to see how they'll look (pre-floor demo).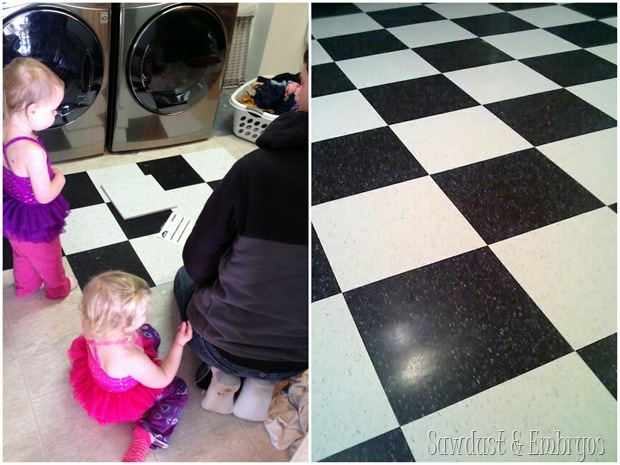 I feel like I should explain the fact that I recently bought the most adorable swimming suits at Target, and the girls got wind of it and insist on wearing them. I at least make them wear pants… I mean. It is March in Iowa.
Nick started in the far corner of the room and applied the flooring adhesive with a notched trowel. After it almost completely dried (a couple hours) it was time to carefully start placing tiles! We used a chalk line to find the exact center before spreading the adhesive to ensure perfectly straight installation.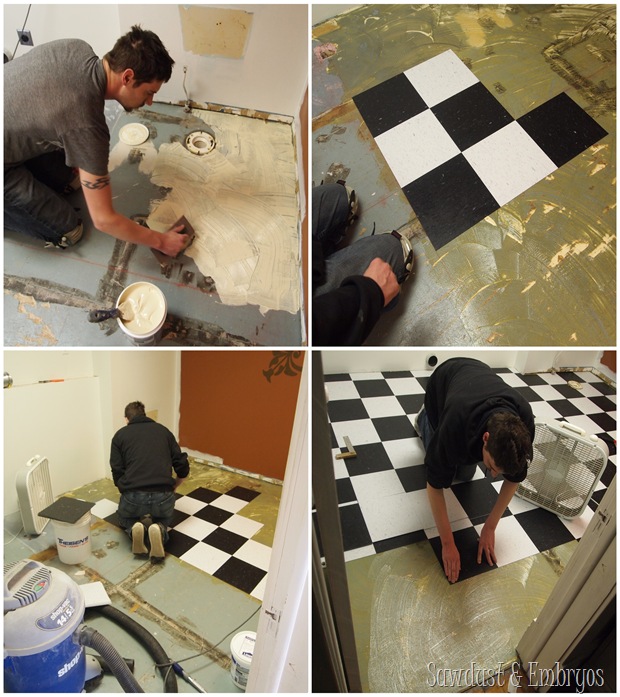 The other handy thing about using CVT over tile is that you can just use a band saw or scroll saw to cut the smaller parts for the corners and around vents and the toilet biz. Heck, you could even use a coping saw. They cut like butta and it was glorious.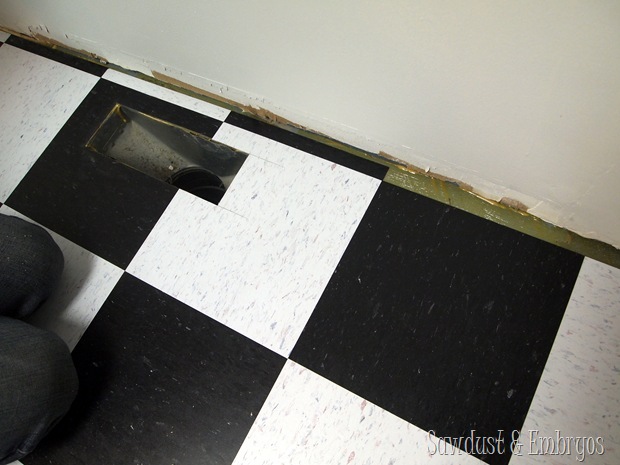 We rented what they call a 'Tile Roller' at our local home improvement store. This is basically an extremely heavy rolling pin that pushes al the 'tiles' down snug and flush with each other. I suggested that (since I weigh well over 100 lbs) he could just roll me around and save a few green bills, but he mumbled something about my weight not being evenly distributed. I'll take that as a complement?
With this room feeling more crisp and bright, I was starting to feel threatened by the giant mural that felt like a sea creature descending to attack me when I'm tinkling.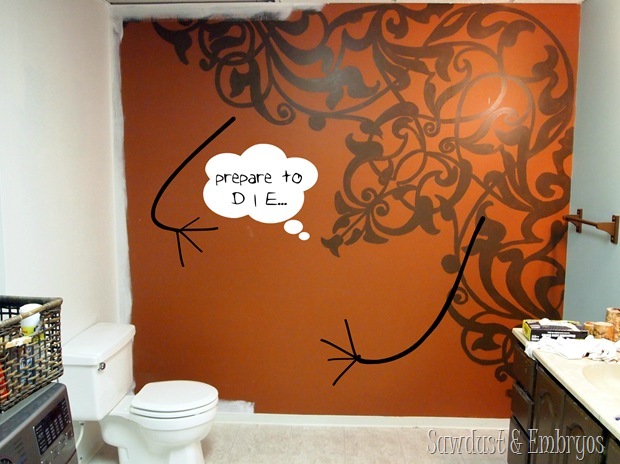 His days were numbered anyway. It pains me to show these pictures without trim along the floor to make things look more crisp and finished, but I've been informed that it makes no sense to install trim before adding the cabinetry and such…. soooo.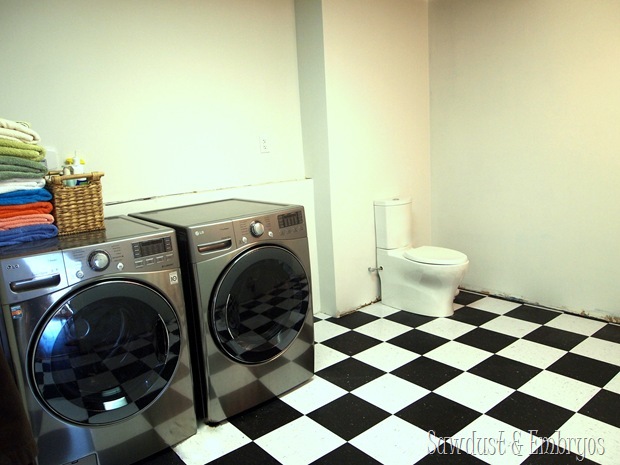 You may also have noticed the new toilet? No? Maybe that's because a toilet is a toilet! However, some toilets don't keep up their end of the deal when it comes to flushing, and we were getting pretty tired of plunging for even the smallest of turds. Plus we felt justified in this purchase because of the wad of change we saved on flooring.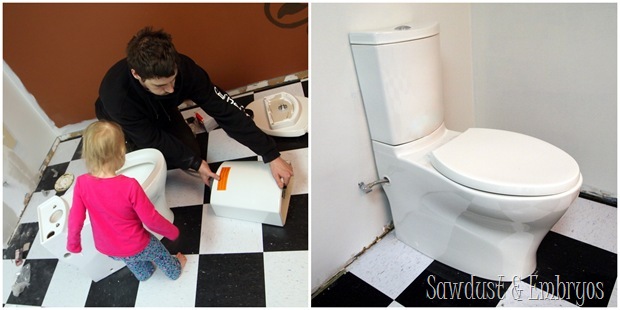 Although this room is almost unrecognizable compared to just a month ago, we still have a LOT to do… namely the cabinetry and vanity (which Nick is building from scratch). Here's our list breakdown in no particular order whatsoever.
Tear out shower

Reroute water/electrical for washer/dryer relocation

Insulate/drywall/paint

Move washer and dryer!

Update flooring

Fix ceiling and install recessed lighting
Build custom cabinetry and countertops
Add trim / crown moulding(?)

Replace toilet that gets clogged by even the smallest of turds

Figure out wall color
Backsplash
We will continue to update as progress is made! Until then, we'll be playing life-size chess over here on our awesome checkerboard floor. I just love the bold high-contrast-ness of it!
Have you installed CVT in your home? Or used any other non-traditional flooring? Are there any murals in your home that threaten to eat you alive? I crack myself up!
UPDATE! Click here to see the rest of this transformation!