We only need 5 things, so let get them and make some popcorn balls!
Pop your popcorn. In a medium saucepan combine the butter, brown sugar, and corn syrup. Stir until the butter is melted…
Add the marshmallows and continue to stir until they are all melted…
Pour the popped popcorn into a large mixing bowl and pour your melted marshmallow mixture over it…
Stir until completely covered…
Grab handfuls and roll into balls. Set on parchment paper until cooled…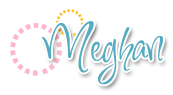 Be sure to check out all of Meghan's other delicious recipes by clicking the image below!