UPDATE! Silly me! Scheduling conflict! I'll be doing this in the morning on Saturday instead of the afternoon. Let's do 10am CST!
FYI friends! I will be doing a LIVE workshop of my Shading with Wood Stain using Periscope this Saturday (10/17) at 10am CST. I'll be demonstrating the technique, sharing tips, my favorite products, and answering questions in real time. I hope you can come! It's FREE!
If you're not familiar with Periscope, it's an app for your smartphone where you can watch (or share your own!) live video broadcasts and comment too! It's such a awesome way to connect and for me to be awkward and embarrass myself live. Should be fun! Snaps for Periscope!
If you don't already have Periscope on your smart phone, go to your 'App Store' on your phone, do a search for Periscope, and Download! Once you have it downloaded, it'll walk you through your profile and whatnot, and be sure to add @SawdustEmbryos (no 'and' between the words) so that can join our free workshop on Saturday.
Nick snapped this pic of me staining outside the other day. This weather has been AMAZING in the midwest, and I loved staining a little plaque for a friend's charity auction.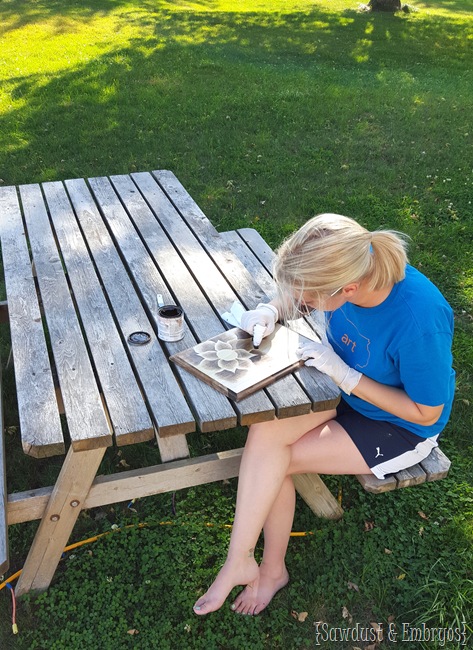 You can just come to watch, or you can stain right along with me! If you plan to stain, please be ready with the following:
A board or scrap wood (about 12" square? ish?)…pine or poplar are great for this technique. Be sure to sand your board till it's smooth as a baby's butt. Finish off with 220 grit at least.
Clean cotton cloth… can be a simple cut-up tshirt.
Can of dark brown wood stain… any brand will do. Oil-based is best for getting the hang of it, but if you're pregnant, use water-based or wear a respirator.
Rubber gloves
Pencil
Yay! Who's excited?! If this goes well, I might do a series and progressively make each broadcast more advanced.
If you're not free on Saturday at 10am CST …don't dismay! You can come back and watch the broadcast replay for up to 24 hours afterwards.
And if you're not familiar with my 'Shading with Stain' Technique, click around to see some of the pieces I've done previously! Each image below links to a post, so feel free to click around!