Well it's been a week, and I STILL LOVE my chartreuse kitchen cabinets! It was fun to watch the wide array of comments flow in. I think it's fair to say… you either loved it or ya hated it. And that's ok! A lot of my design choices are off the wall… it's just my style. And you still read my blog, sooooo…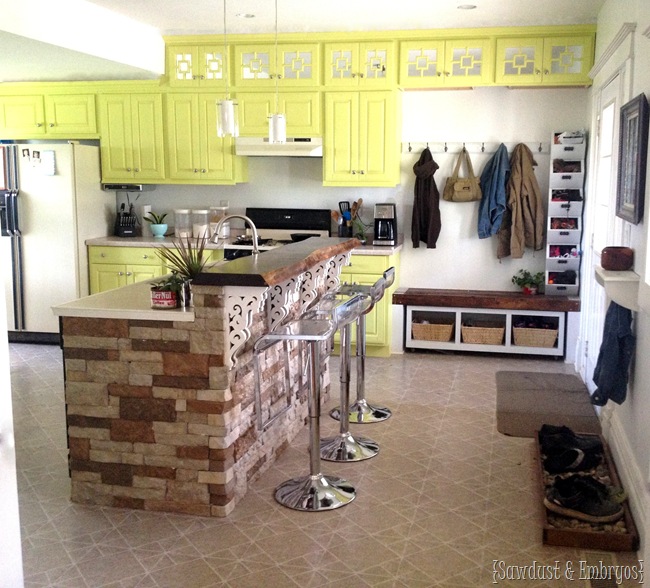 I love to mix different design genre's to create my own personal style. If having white walls, white cabinets, and white counters are what it takes to have a magazine-worthy kitchen… then I want no part of that! I think we should all just decorate our home with colors and things that we love, instead of what's all over Pinterest or HGTV. Touché?
High fives!
Group hug!
I affirm you!
Now let's talk about mah backsplash…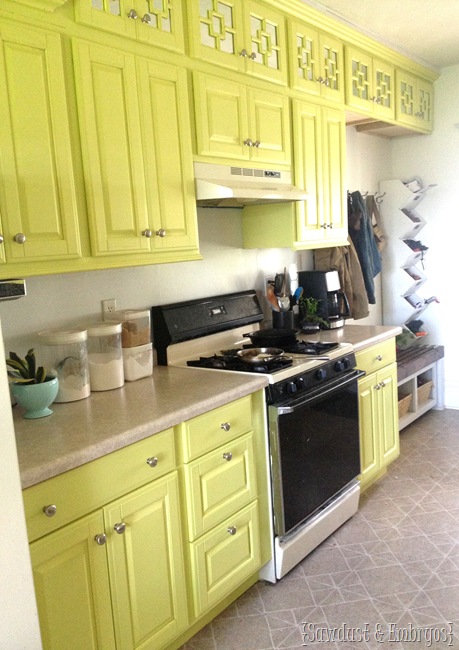 (I feel like I should say this again… WE'RE SAVING FOR STAINLESS APPLIANCES. Because, ew)
With the cabinets being so bright and the island providing visual interest, I knew I wanted the backsplash to be subtle yet still complement the whole design… pulling everything together!
So far, I've found ways to incorporate wood elements, color, and natural stone into my design. But I'm missing something shiny / metallic. This is the key to meshing all these styles together!
I asked my BFF's at Royal Design Studio if I could try out their Pearl Oyster paint and their Honeycomb Allover Wall Stencil to give me that shimmer, as well as a bit of texture that wouldn't fight with the stone on the island.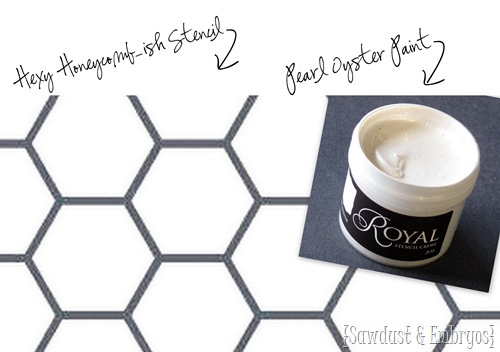 I did a little test run, and I loved the idea of it… but it just seemed so one dimensional. See what I mean? (old wall color and cabinet color in this pic obvs)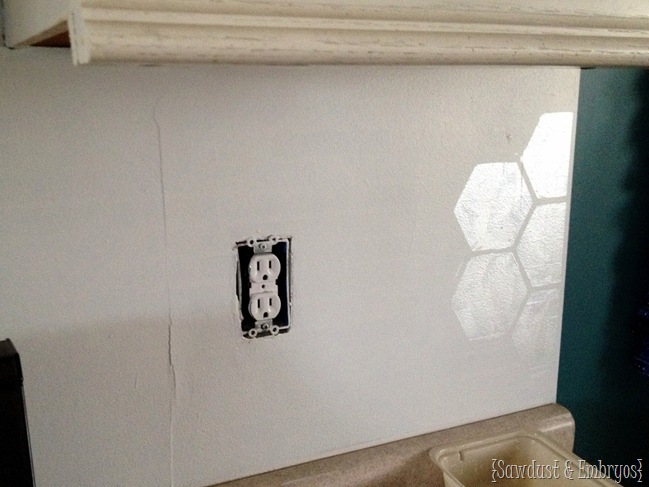 The technique we normally use to paint backsplashes incorporates a handful of various matte neutrals to create a natural stone look. But since I wanted this to look like shimmery classy white tiles, I had to get creative to make these 'tiles' look genuine.
As you can tell in the video, I just blotted on the shimmery white paint with a sponge brush (in hindsight, I would have used a stencil brush for a more even finish), then while that paint was still wet, I very lightly blotted on some tan acrylic paint on the same 3 sides of every hex to create a 'shadow' effect.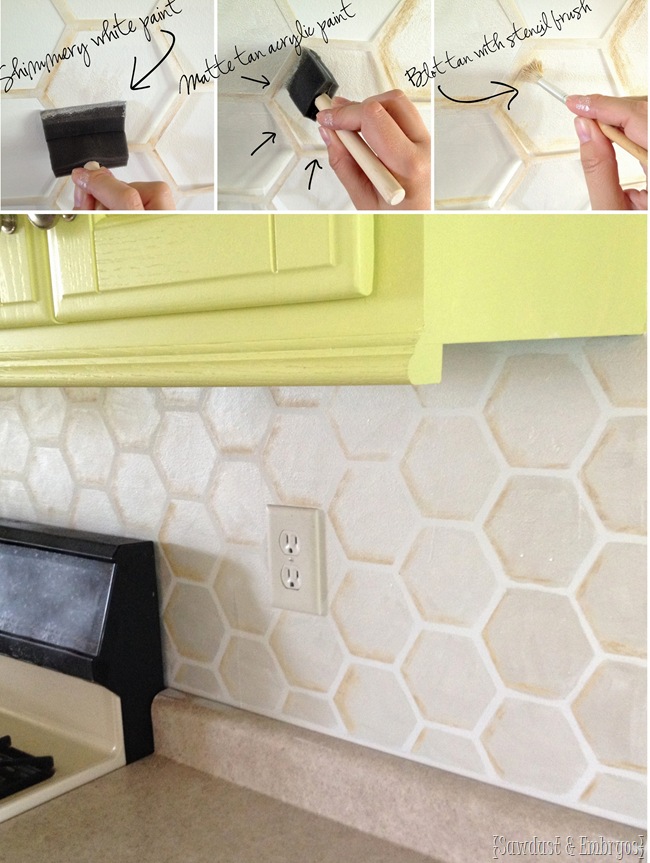 If you value your life, you won't say anything about my grimy stove.
This shading truly makes it look like the 'tiles' stand out away from the wall! And is so S.I.M.P.L.E. You could pull this off while eating a candybar and with a toddler pulling on your leg. Pinky swear. I would know.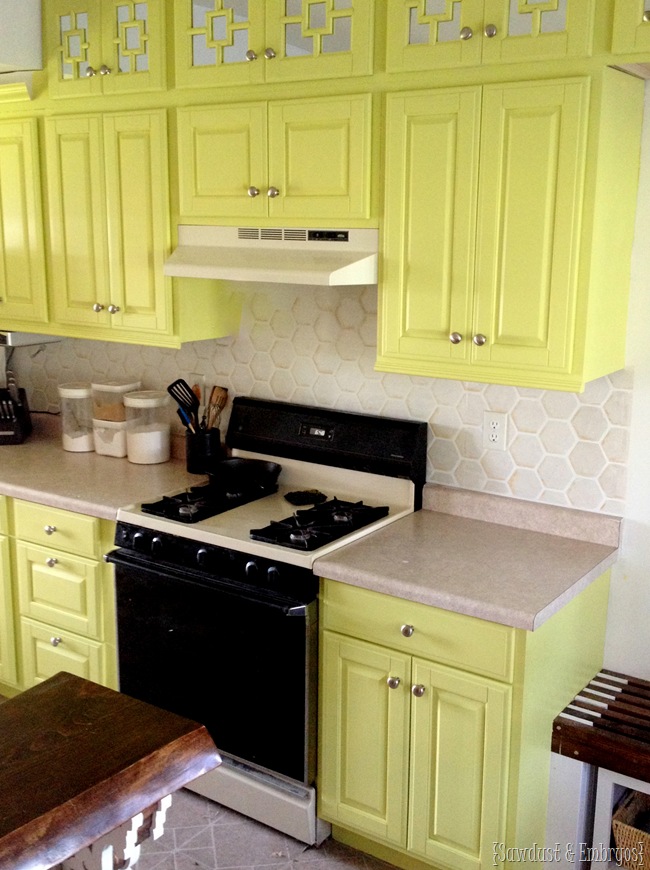 I love that it's unique and makes a statement, but still subtle and reads more as a texture than a pattern. A perfect middle man between the rustic and modern elements in my kitchen!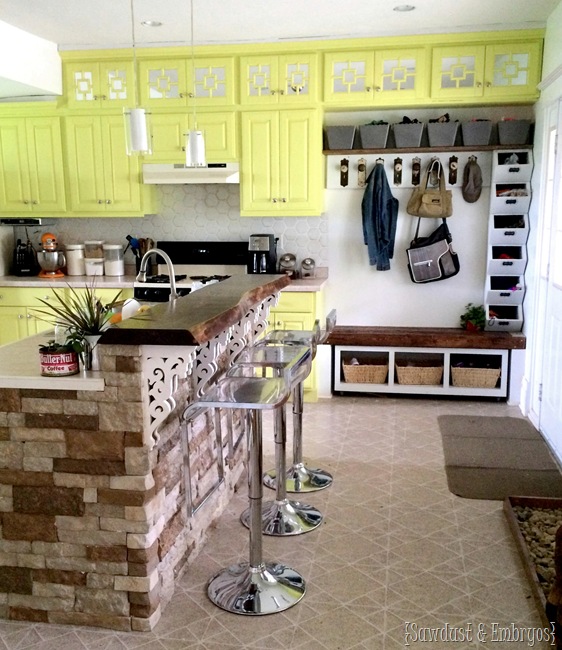 OH YEAH… did you notice any little changes to the mudroom corner? We slapped some old vintage door handles (that we found in our basement from the previous owners) on a board to use as coat hooks. It just DOES it for me! Don't you feel like it's just speaking to you? Whispering 'I'm awesome'.
Cocky SOB.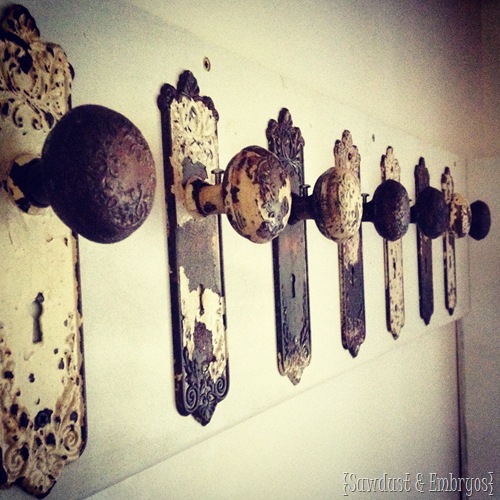 I also finally got the shelf up above the coat hooks too. I bought some bins to keep off-season items. Hats/mittens and such are up there now. The girls are currently using their cubbies for sidewalk chalk, bubble wands, and umbrellas. The bins are just plastic containers I bought at the Dollar Tree, but eventually I'd like to buy some galvanized bins to put there. I'm keeping my eye out for the right dimensions!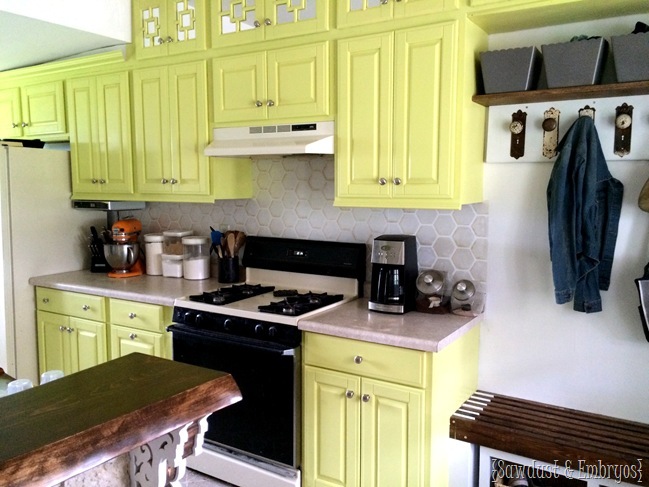 The other day I found a tutorial for PAINTING YOUR KITCHEN AID MIXER professionally! So Awesome. It actually explains how to take your mixer apart and which areas to tape off, and which kind of paint to use! I'm tooootally going to do this! The orange just doesn't work anymore with the chartreuse cabinets. I found a handful of colors that I kinda like, but I super need your opinion. What are your thoughts?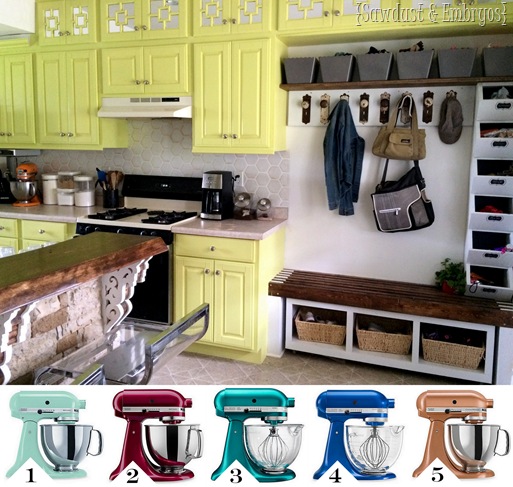 I even numbered them to make it easy for you to vote. I seriously don't know! Do I want another bright pop of color as an accent? Or something more subtle? Tell me in the comments!