Winter is… OKAY. I used to love it when I would go snowboarding 3 times a week in the Rocky Mountains.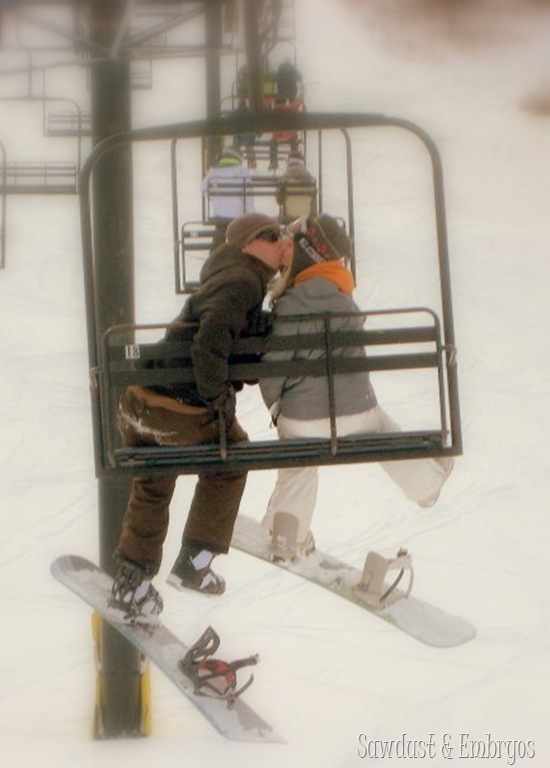 But now I tolerate it and try to stay positive.
The point that I'm trying to make here is that WINTER = NO GARAGE SALES. And as a mommy, garages sales are my escape. My special place. My alone time every weekend.
And it's not really even about being alone… I'm just happy when I'm looking through other people's junk. I'm sure there will be a psychological name for this someday.
The next best thing? THRIFTING.
Dell and I left Nick and Pais at home last weekend and went running errands together. And I decided to treat myself to a Goodwill stop.
It was glorious.
And I found this clock that was giving me heart palpitations.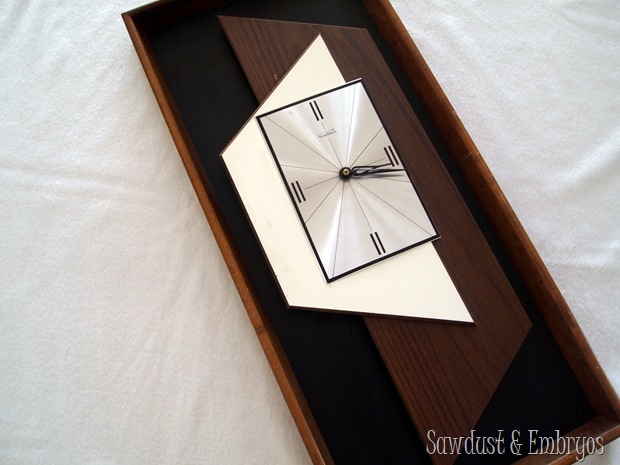 (you can't tell by this picture, but this clock is over two feet tall (!!!)
I thought about staring at it for 5 minutes to make sure it was keeping time, but then I remember that my hubs can fix anything! So I really didn't care if it worked or not. It would be mine!
As it turns out… It didn't work.
And my hubs proclaimed that I should buy a clock kit and fix it myself. And I did! It was an intimidating thought, but it turned out to be simple enough that I'm gonna show ya so you won't be intimidated either!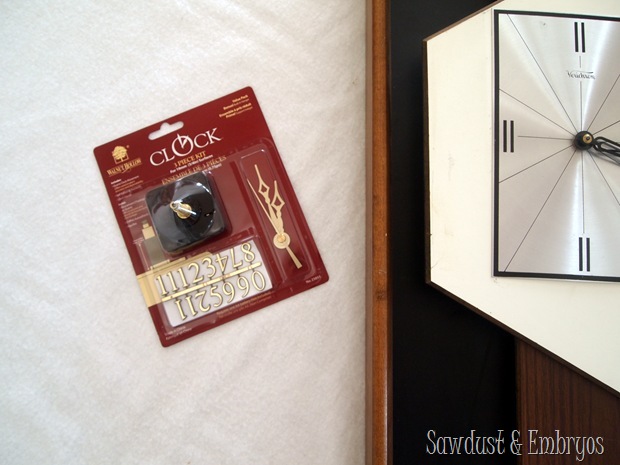 I bought this clock kit at Menards for something like $8 smackeroos. You can get them at any hardware store though. I wouldn't be surprised if you could even buy them at walmart.
I started by unscrewing both bolts on the front of the old clock face using a pliers. One in front of the hands, and one behind.
Once those bolts are off, the hands should just fall off and the square back thing can be pulled out.
While holding the black box in place on the back of the clock, put the new washer on the front, then thread on the new nut on top of the washer, securing tightly with a pliers or socket.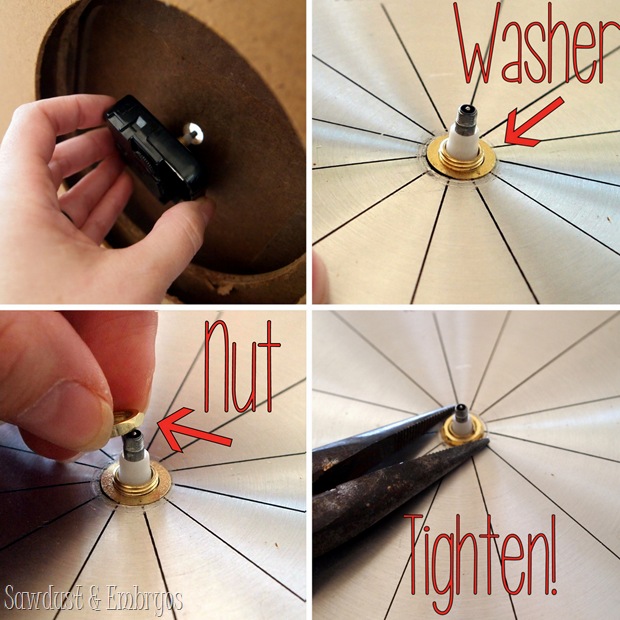 Finally, put those hands on (which I totally spray painted black)! Small (hour) hand first, then the minute hand. Then thread on that last tiny nut to keep the hands secure. BE CAREFUL not to cross-thread!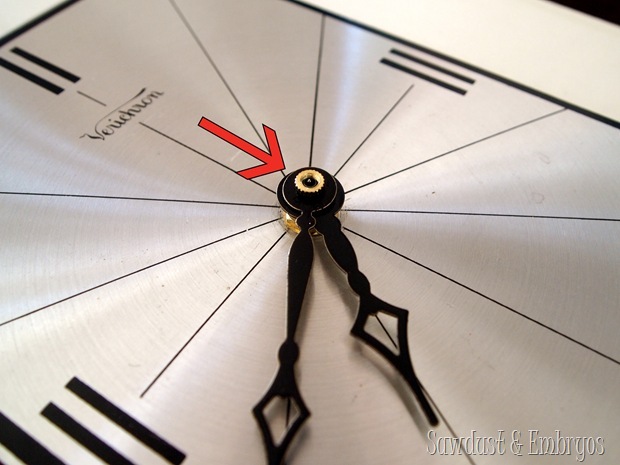 And then pop that second hand into place and give yourself a high-five!
I freaking LOVE this clock. And I love how it looks hanging on 'the pillar'.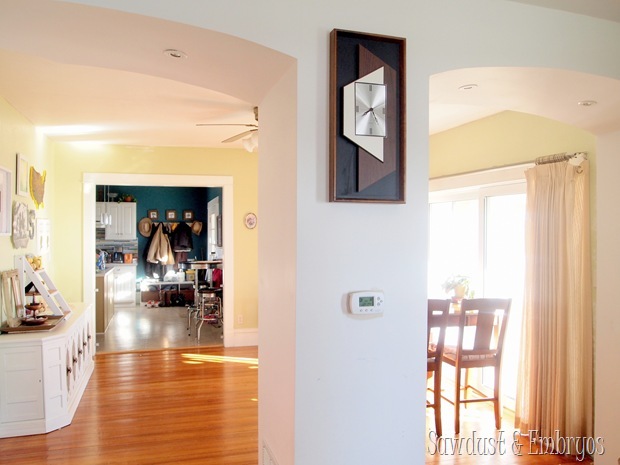 Let me tell you, fixing a clock is SIMPLE and a valuable skill to have… because when you fall upon that PERFECT vintage clock, you want it to function as a clock for your family too! You're welcome!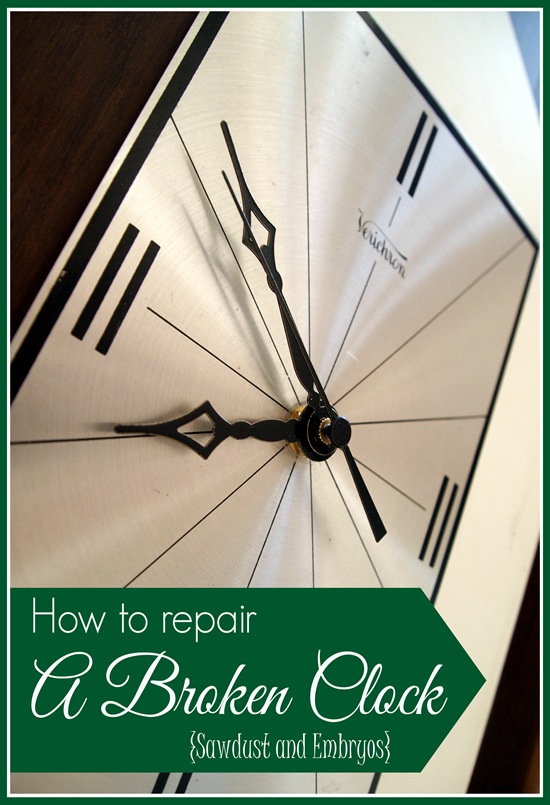 Hope you all are gearing up for a Happy and TASTY Thanksgiving! I know I have soooo many things to be thankful for!