Hello, my name is Della and I'm 9 years old!
I love to crochet, but recently tried something new, and I LOVE IT! It is called macramé!! It's easier than it looks, and it's funner than it looks! But it takes a little bit of practice to get the feel for it.
Today I'm going to show you how to make this hanging macramé planter that's perfect for beginners!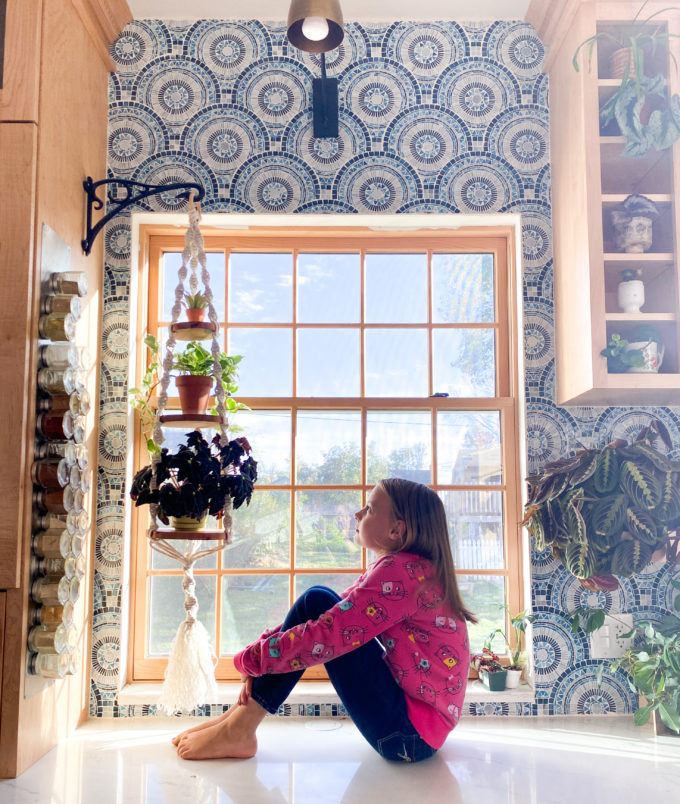 *This post contains affiliate links.*
You only need a couple supplies!
Supplies for 3-tier Hanging Macramé Planter
STEP 1
Lay out your macramé rope so you have 6 lengths of 30 feet. Then gather them up and find the center.
Once you've found the center pull through the wooden ring and make a knot.
STEP 2
Now you should find a place to hook your ring that's at a comfortable height. I used my kitchen cabinet.
Divide the strings into 3 sets of 4. We're going to start working with one group of 4 to start with. (I pulled the strings I'm not using off to the side so I'm not confused)
This is the EASIEST macramé knot! We do the half square knot over and over and it makes a cool spiral!
As you keep doing more and more half square knots, it will make this amazing swirl! Isn't macramé easier than you expected it to be?
Keep doing the half square knot until it's about 10 inches long. Then it's time to move onto the next two sections of four. You want them also to be 10 inches.
STEP 3
Once you have all 3 sections the same length of 10″, it's time to add a wood circle! You can purchase wood discs on Amazon or at craft stores. But my mom just cut them for me with her scroll saw for this project. Either way works!
Our first (smallest) circle has a diameter of 5 inches. And we drilled 3 holes equally spaced. Then sand! You want to make sure your drill bit is big enough that you'll be able to shove two macramé cords through them.
Take the center two cords from one of the spirals you have completed, and push them through one of the holes in your wooden disc. It's ok if it's a tight fit, as long as you can get them in.
Then pull the cord through until your wood disc is snug with the spiral portion of your macramé.
Now you want to bring the other two cords together, and those will be your center cords this time when you start to macramé again. Just get a couple half square knots on each of the 3 to hold the board in place.
Step 4
Continue to macramé each of the 3 sections in exactly the same way we have been doing it!
The length of these totally depends on your personal preference, and what type of plant you want to display here. For ours, we did a length of 10 inches on all of them.
Keep going!
STEP 5
Continue until they're all 10 inches, then add a slightly larger wooden circle and repeat. (we used a set of nesting bowls as templates to trace our wooden circles.
STEP 6
When you've finally gotten down to your third tier of wood circles, it's time to finish this thing off!
Instead of continuing the spiral half square knots, just do two so your wood circle is held in place. Then gather all the strings together, pull out the two longest strings that are let, and use those to make square knots around alllllllll the other remaining strings!
When you're macramé-ing such a giant section, sometimes you have to use your hands to tighten the spiral and turn things to look just right as you go.
Continue this giant spiral until it's as long as you want it to be.
STEP 7
Now it's time to make a big knot, cut off the excess, and unravel those tails!
Guys, YOU'RE DONE! Time to load that sucker up with plants!
Using this macramé technique was so much easier than I expected, and I really love it! I'll be opening my very own Etsy shop soon!
I hope that you're inspired to try macramé, even if you're a beginner. If I can do it, so can you!
Thanks for having me!
Della
P.S… be sure to check out my mom's other plant-related tutorials!!
~~~~~~~~~~~~~~~~~~~~~~~~~
Thanks for pinning!