It's starting to get real y'all. We only have one backsplash  left to paint before things get serious. If you've been following along on our journey for a little while, you know that our twins were a result of IVF. You also know that we have been saving for 'round 2' which will be a frozen embryo transfer. We're getting so close to our financial goal, and my anxiety level is through the roof. We know how lucky we were with that first round, and absolutely don't take it for granted. Knowing that we have two more frozen embryos, it's easy to hope for a similar outcome… but statistically, we need to prepare our hearts for the worst.
Ironically, this week is Infertility Awareness week. Because of the shame that often accompanies infertility, it's something that often goes unsaid. So many women (and men) are living in such pain and despair without anyone to talk to. Let's make it common knowledge. Let's not be ashamed. Let's discuss our feelings and reach out to others experiencing something similar. Let's be brave women.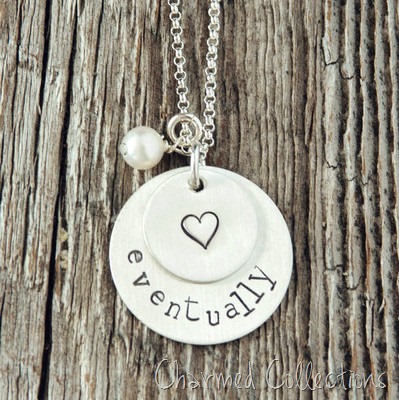 Charmed Collections
Dear Embryos,
I've been missing you. I'm so excited at the thought of being able to meet you and hold you in my arms one day… yet also terrified that something might go horribly wrong. The scariest thing for me is knowing that you might not even make it through the thawing process. I'm so grateful for these medical advancements, and have to remind myself often that we wouldn't even have this opportunity 20+ years ago. Your sisters aren't old enough to understand, and we don't want them to be disappointed, so we're leaving them in the dark for now. It's hard to believe that you have a complete set of DNA… a tiny microscopic person. I love you with a mothers love. Be strong little embryos! It won't be long now.
~Mommy