It's hard to believe I'm 23 week pregnant already! It seems like it's gone fast… yet at the same time, March 1 seems sooooo far away.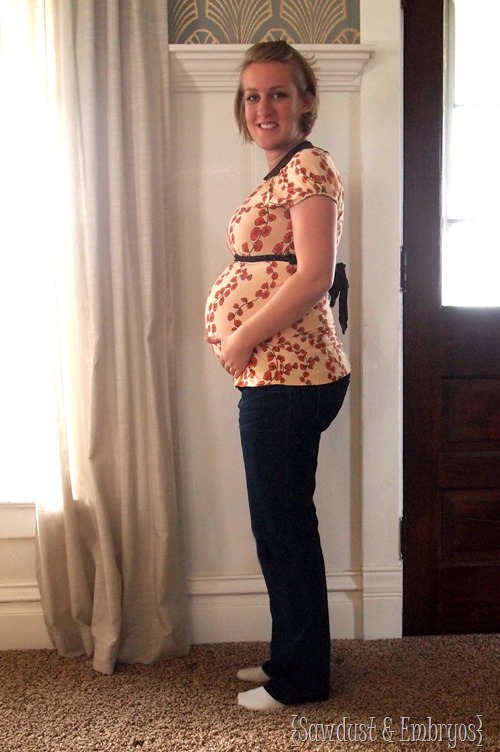 As you can see from the photo above, my butt is growing pretty much in proportion to my belly. This is a mystery to me, because I've never had much 'bass' if you know what I mean. I'm sure this phenomenon is directly related to my constant hunger pangs and everything-bagel cravings.
I've still got tonnnns of energy, and am trying to get the most out of it before the 3rd trimester zaps it like Olaf on a hot summer day. But stooping, bending, and getting up off the floor are starting to be a little cumbersome. It seems a little early for that, doesn't it?
I'm often asked about how this pregnancy compares to my last (twin) pregnancy. I would venture to say that I was a little sicker and tired-er this time around, believe it or not! But I'm banking on the 3rd trimester being less uncomfortable. I certainly won't be complaining though… it's just fascinating to be able to experience both a twin and singleton pregnancy and be able to compare!
One thing I was lucky to avoid last time was HAVING A HERNIA. Have any of you ever had a hernia during pregnancy? My sister-in-law Sarah discovered it when she was molesting my baby bump (we have that kind of relationship). Since nothing can be done about it until I'm no longer pregnant, I just need to deal with it and be sure to press when I'm sneezing or coughing. TMI? Is this grossing you guys out? Sorry… real life here.
ANYHOODLE!
I've been thinking/dreaming about making a quilt for baby girl to hang on the wall behind the crib in the nursery. I've never made a quilt before, but it's totally on my imaginary DIY bucket list. Check out all these ADORABLE quilts I've been finding as inspiration!
Several of you have been asking about sending a baby gift… which is TOTALLY UNNECESSARY! We're having a girl, and have an over-abundance of girl-related items and clothing already. However, I've been thinking of a meaningful way to let everyone feel involved, AND I would love it if each of you would send us a piece of scrap fabric for our quilt! You know how sentimental I am, and I think it would be so meaningful and awesome!
It doesn't have to be very big. 12"x12" at the most. And you can just fold it and pop it into an envelope! This is going to be so much fun! I can't wait to see what you guys send and get started on this quilt! Here's our address:
Reality Daydream
PO Box 1647
Marshalltown, IA  50158
I'm hopping on a plane for North Carolina today… and leaving daddy-o to play Mr. Mom for a few days. I'm hoping that between the 3 of them, they'll have the bathroom vanity built by the time I get back. Bahaha! NOT. Be sure to follow his Instagram for all the daddy/daughter drama.